Description
What can a magic multi-purpose ballpoint pen do? It is a phone holder, 7pcs of screwdriver bits, capacitive stylus, ballpoint pen!
What a cool handy tool pen, can also deform!
MAIN FEATURES
Multi-functions
Integrate a variety of functions in one, it can be used as a mobile phone stand, ball pen, stylus, and 7 screwdriver bits, to meet daily needs.
Handy Phone Holder
The cap of the pen can be used as a phone holder, making it easy to hold your phone while you're at work, studying, watching videos, etc. It also has the function of a stylus, which you can use to play games and control the screen of your phone, tablet, and other electronic devices.
undefined
7 Common Screwdriver Bits
Built-in seven commonly used screwdriver bits to meet routine maintenance requirements, for example, replacing screws, tightening screws, removing, installing, and other situation that needs a screwdriver.
undefined
Small and Portable
It is a 15cm ball pen that can be carried in your pocket or bag for easy use. Suitable for use at home, office, school, coffee shop, plane, high-speed rail, travel.
undefined
SPECIFICATIONS
Material: ABS
Color: Red, Blue, Black
Size: 15cm
Weight: 29g
Package Includes: 1x Pen-shaped Phone Holder with Screwdriver Sets
What can a magic multi-purpose ballpoint pen do? It is a phone holder, 7pcs of screwdriver bits, capacitive stylus, ballpoint pen!
What a cool handy tool pen, can also deform!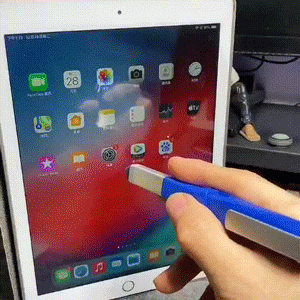 MAIN FEATURES
Payment & Security
Your payment information is processed securely. We do not store credit card details nor have access to your credit card information.