Description
If you do love buying nice and beautiful toys for your kids to let them have fun, you should definitely pay attention to Dino Rattle by Pebble. It's a unique and educational toy for your children to play and explore. Let your child's imagination wander back to prehistoric times with this darling stegosaurus rattle!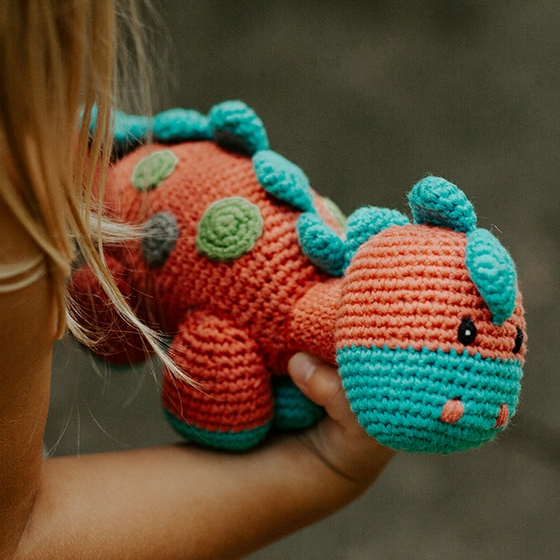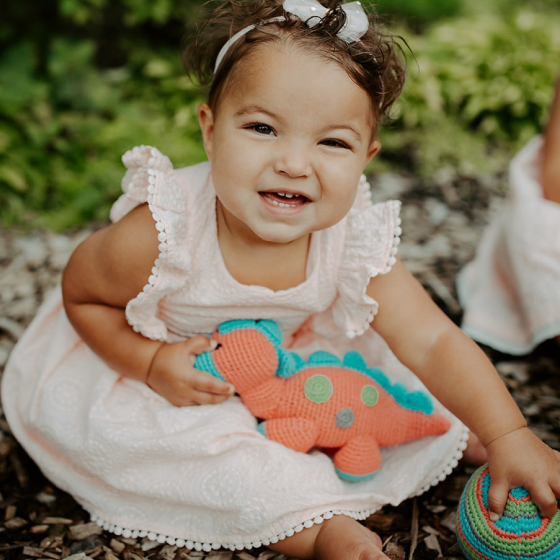 Steggy Coral Dino Rattle
A delightful gift for a baby shower or baby's first birthday
Handmade & fair trade
Pebble is a guaranteed member of the World Fair Trade Organization. Each Pebble toy is lovingly crocheted/knitted with gorgeous, contemporary design.
Extremely easy to care
This toy is machine washable: for best results, place your Pebble toy in a mesh bag and launder with cool water and non-toxic.
100% safe materials
100% soft cotton outer with a polyester fill. Safe for ages 0+, this toy has been safety tested to ensure there are no choking hazards or toxic dangers. No batteries are needed!
Child development
Colors, textures and shape spark tactile, auditory and visual stimulation. Great for role play, storytelling, and imaginative play.
Nice & educational toy for your kids
Dino Rattle by Pebble is a quality gift that will be treasured for years. It's perfect for baby shower gifts, baby's first birthday, or to decorate your nursery.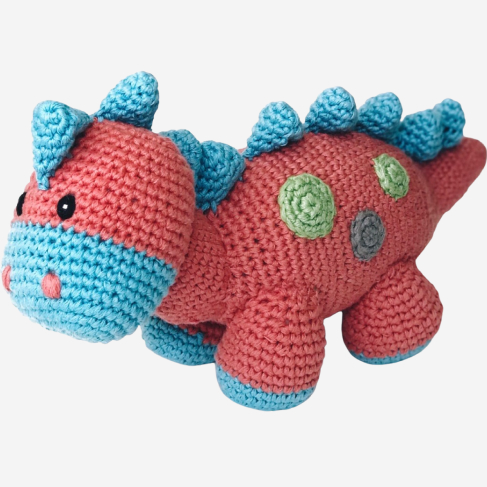 About Pebble
Once upon a time, a young woman from the UK fell in love with a young man from Bangladesh. Eventually they moved to Bangladesh and had a baby. As the new mother cuddled her tiny boy, she couldn't help but notice all of the young women streaming into the garment factories every morning. She was deeply saddened when she discovered that many of these woman had babies back home in their villages, left for months at a time with grandparents while the mom worked in the city. Lack of rural employment for women was separating families and putting the mothers in harmful situations and the babies without their mothers. So this new mom did what she could. She gathered a few women around her and taught them how to knit and crochet little dollies that could be sold in the Western markets. Samantha Morshed dreamed that this would grow and become an alternative source of income for women throughout Bangladesh. 15 years later, her dream is becoming a reality. More than 13,000 women are now employed making Pebble toys in their home village. They walk to work, taking their babies with them. There they sit together, yarn spilling onto their laps as they knit community and love together in each heirloom Pebble toy. Pebble was born out of a love for babies and their mothers. Pebble : Putting Smiles on Faces Worldwide!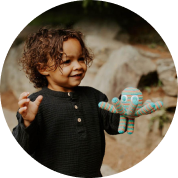 My little one just love it...the colors are really nice.

I love this little guy. It's precious

Adorable Delightful Durable Dinosaur!

This little toy is so cute and colorful. It's a great present for any gender. It lasts. It's an interesting natural beanie baby. It's always a hit.

My granddaughter loves it. It was a little smaller than I expected.

This is such a cute dinosaur. Our little 2 year old granddaughter won't go anywhere without it. People keep walking up asking where we purchased it. Great size, soft, can stand up on its own and is simply well constructed. Would not hesitate purchasing this item as a gift .

For softness it isn't super soft. My 2 year old prefers a super soft dog vs this dinosaur, most likely because of softness. Regardless my 2 year old loves dinosaurs and she also loves the colors, so this is a great gift for her.
Payment & Security
Your payment information is processed securely. We do not store credit card details nor have access to your credit card information.