Description
The perfect companion for a new adventure
He's popping his head out of his woodland den to say hello! This fox loves making new friends and is the perfect companion for a new adventure. Handmade with soft cotton yarn, this knit toy is sure to be a friend for life. The rattle inside gives a soft jingle when shaken.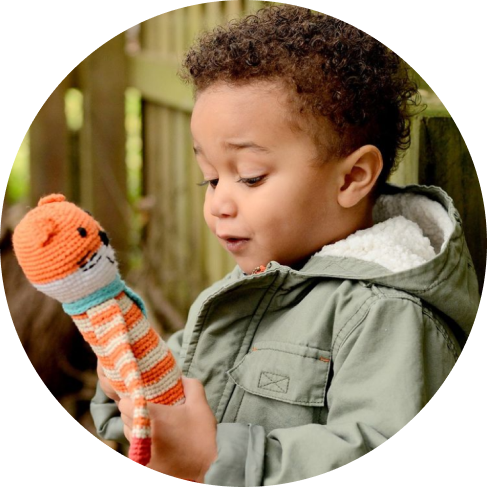 Fox rattle details and specifications
This stuffed toy is waiting for your child to cuddle and squeeze it
Handmade & fair trade
Each fox rattle toy is lovingly crocheted/knitted with gorgeous, contemporary design by artisans in Bangladesh.
High-quality materials for added safety
Safe for all ages, this toy is non-toxic and has been safety tested by a third party testing company to ensure there are no choking hazards or toxic dangers.
Machine washable
For best results, place your toy in a mesh bag and launder with cool water and non-toxic detergent. Fluff in the dryer for a few minutes and then air dry.
An excellent gift
A quality gift that will be treasured for years. Perfect for baby shower gifts, kids' birthday paties, or to decorate your nursery.
Puts smiles on faces worldwide
This orange and cream colored striped happy fox is sure to brighten your child's day. It's ears are pointed at attention and its whiskers thoughtfully stitched into place. With a turquoise scarf sewn round its neck, it's ready for any weather. It's dangly arms and legs that are oh so graspable - this stuffed toy is waiting for your child to cuddle and squeeze! Made of 100% soft cotton outer with a 100% polyester fill.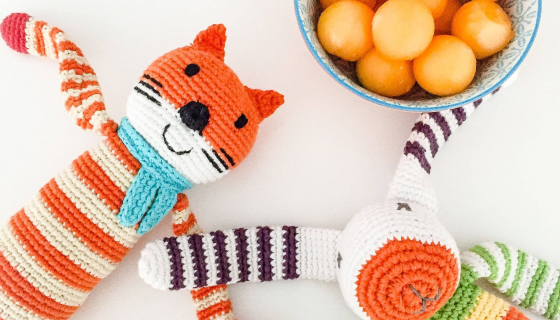 About Pebble
Once upon a time, a young woman from the UK fell in love with a young man from Bangladesh. Eventually they moved to Bangladesh and had a baby. As the new mother cuddled her tiny boy, she couldn't help but notice all of the young women streaming into the garment factories every morning. She was deeply saddened when she discovered that many of these woman had babies back home in their villages, left for months at a time with grandparents while the mom worked in the city. Lack of rural employment for women was separating families and putting the mothers in harmful situations and the babies without their mothers. So this new mom did what she could. She gathered a few women around her and taught them how to knit and crochet little dollies that could be sold in the Western markets. Samantha Morshed dreamed that this would grow and become an alternative source of income for women throughout Bangladesh. 15 years later, her dream is becoming a reality. More than 13,000 women are now employed making Pebble toys in their home village. They walk to work, taking their babies with them. There they sit together, yarn spilling onto their laps as they knit community and love together in each heirloom Pebble toy. Pebble was born out of a love for babies and their mothers. Pebble : Putting Smiles on Faces Worldwide!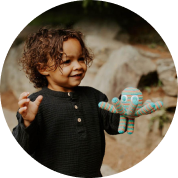 My 5 years old granddaughter loves this FOX.

It's sooo cute! Very well made and not too small. Just decor for me, but I could see kids falling in love with it. Very soft.

super cute, daughter loves it

My son loves this toy. Unfortunately some of the accessories (the scarf, etc) are sewn on to the main body of the toy; that would be fine, but the knots came undone so Mr. Fox (really Calvin the tiger, no?) is gradually being disrobed... But really, who cares? This is adorable, great for the baby, and fair trade!

On the smaller side but so cute . It was a gift for my nephew

So sweet and very well made. This was a great gift for my baby's first Christmas.

Gave to this to my daughter for her 3rd birthday. She loves it. It is a great color, and very cute.Seems very well made.

Very cute fox. My son was having difficulty giving up binkies and I offered to buy him a stuffy of his choosing if he left the binkies behind. This was his choice. Foxy is now a treasured family member who sleeps with him every night.

My son liked the fox so much that I also bought the Pebble bunny. They're soft and tactile but this is more durable and won't get matted down. I've washed them on a gentle cycle, air dried and they came out great. I love the whimsical, floppy design! This little fox, and his friends, appear to have come straight out of a storybook
Payment & Security
Your payment information is processed securely. We do not store credit card details nor have access to your credit card information.