Description
Royal Rosie Silicone Llama Teether
Gentle yet effective solution for sore teething gums
Llamas are all the rage — and it's easy to see why! With curly locks and a fancy crown, this South American sweetheart is ready to soothe your baby's sore and swollen gums. Made of textured food grade silicone, our teether features an oval opening that's just the right size for little hands. Bring on the llama drama!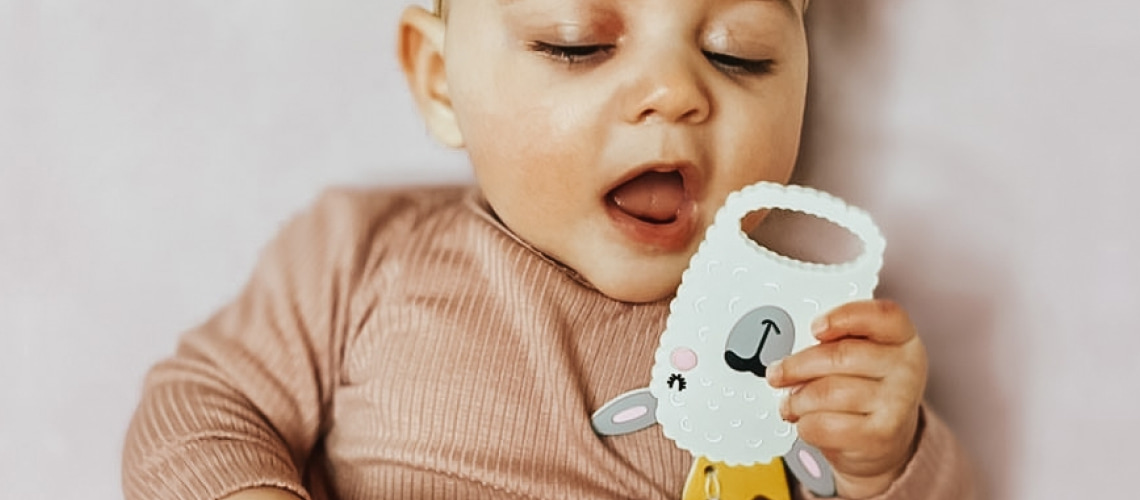 A must-have for all teething kiddos!
Silicone Llama Teether: features and details
One of a kind llama design
Our original llama design is fun and cute for both babies and parents. The level of detail gives your baby something to look at and explore while teething. Your baby will love this sweet royalty llama teether toy and you won't be able to pull it away from them!
Baby gums relief
Designed with tiny teethers in mind, this cute sensory teether relieves and soothes baby's pain caused by inflamed or sore gums, while ensuring safety and comfort. It also has a handle at the bottom for little baby's hands to grip and hold on to easier.
Multi-textured
The back side of the teether is textured to help the baby discover and explore new senses while also massaging the emerging teeth.
Safe for your baby
Our Llama Teether is made of non-toxic food grade silicone and is BPA-free, PVC-free, phthalate-free, lead-free and cadmium-free. CPSIA safety certified. 3 months +. As a bonus, it pairs perfectly with pacifier/ teether clips that keep it from dragging on the ground.
Details and care instructions
Wash the teether toy with soap and water. Let it air dry. Dishwasher safe, top rack only. Colorful foods, dyes, and/or other liquids may cause discoloration and staining. Disclaimer: Suitable for babies aged 3 months +. Do not use it without supervision. Inspect before every use and discard if damaged. Dimensions: 3" l x 3" w x 0.5" h. Weight: 0.06 lb.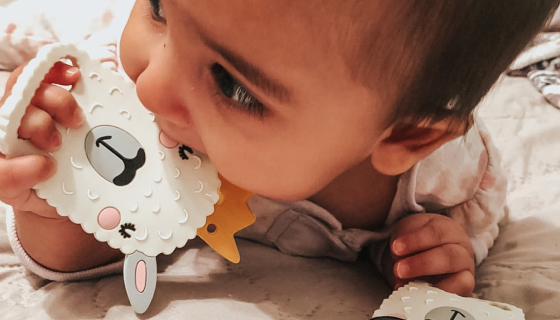 About Little BaeBae
I had just had my first baby, Ella, and was a new stay at home mom. I wanted a creative outlet and decided to teach myself how to sew and start a little online baby shop—selling handmade baby accessories. During this time I also came up with my idea for a retractable pacifier clip. Ella was obsessed with pacifiers. Once we discovered pacifier clips, we were so happy that they kept us from losing her pacifiers. They also kept her from throwing her pacifier the ground. But we quickly realized there were two major problems with regular pacifier clips—they are a long and loose enough to accidentally get wrapped around baby's neck and they allowed the pacifier to drag on the ground while baby crawled. As a tired new mom, I was afraid I'd forget to remove the pacifier clip when Ella fell asleep with it, which meant removing the pacifier from her mouth in order to remove the pacifier clip—which risked waking her (every parent's nightmare!). Sometimes during her naps, I literally sat and watched the baby video monitor because I realized as I closed the nursery door, that I had forgotten to remove the pacifier clip.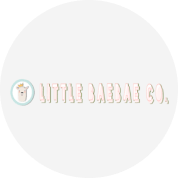 Designed In
Sacramento, California
My niece loves this toy. She was teething and this calmed her, good purchase.

Absolutely the cutest llama. My granddaughter loves it.

My baby girl has a llama theme for toys and some decor, but this did the trick for her teething!

My daughter is teething and loves this toy! Unfortunately we have already had to order a new one because it fell out of the stroller and was lost. So put a binky leash on it if your kiddo is extra athletic and tosses toys ;-) Comes in a cute package that is seen thru on front-great for gifting.

I think this is pretty ideal as far as teethers go. My baby is not a fan of any teethers but she seems to like this one enough to give it a try a few times a day. It's smaller than I thought it would be, but fits perfectly for her little hands to hold it. And there are so many different textures that she has instant variety for different parts of her gums. It's well made, stands up to my steam sterilizer without issue and doesn't attract dust or pet hair. Overall a good buy, and one I would recommend to other parents.

This is an adorable teether. I bought it as a little gift to go in my almost one year olds Easter basket. It is well made, soft, and has the perfect material for a baby to chew on. I absolutely love elephants and couldn't resist this. However, my daughter prefers to use this to throw on the ground multiple times a day, so that seems to be much more appealing than chewing on it 😉 still a great purchase no matter how she decides to play with it!

Very satisfied with this product, convenient because you can attach it to baby's clothes and not worry about falling out of their little hands. She likes it is flexible and soft and best of all is washable and dishwasher safe too.

I like that this teether is silicone and seems to be good quality but my son doesn't chew on it for very long I think because it is so big. Would be perfect if it was just a tad bit smaller!
Payment & Security
Your payment information is processed securely. We do not store credit card details nor have access to your credit card information.