Description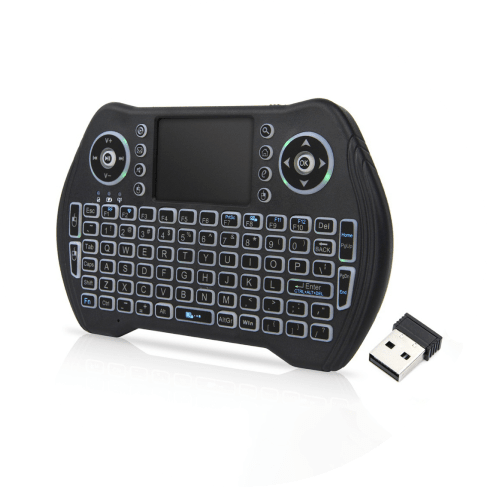 A 2-in-1 solution for many devices
It might have sounded weird before, but not anymore. Yes, they can. And they can do it quite well and seamlessly. This device is a perfect example – it can do everything a standard keyboard and a mouse do, and its size isn't much different than an average game console's controller.
Capabilities are not to be compromised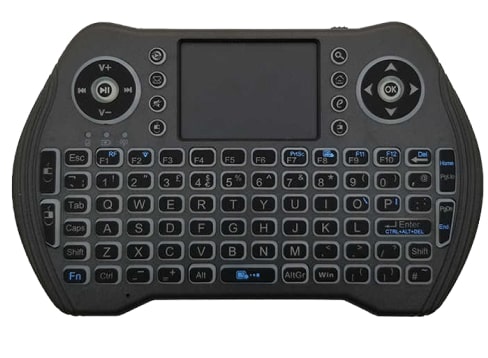 Bingo versatility
This device combines all the valued capabilities of a keyboard and a mouse at the same time. It works greatly with projectors, smart TVs, laptops, Android TVs, and desktop computers.
Fits your hand like a glove
5.74x3.81x0.66 inches in size is just perfect for comfortable usage. It's enough to have everything under control, but not overly cumbersome. Enjoy the ergonomic qualities and user-friendliness!
Nifty savior of your space and sanity
If you have ever struggled with the size of the keyboard and/or mouse or the capabilities of a regular remote control – this rechargeable device is perfect for you. Small and quick – it'll delight you with how simple it can be to operate any electronics of yours. It will be just as easy as playing your favorite console!
The battery lasts a long time. I haven't had an issue with it dying on me yet. The battery inside looks like a cellphone battery, and it's behind a little hatch that is easily popped open, so in the event it needs to be replaced, you actually can extend the life of the product. I appreciate it very much. Would buy it again, but I don't think I'll have to.

I got this so I didn't have to keep getting up in between episodes of a show while using my laptop on my TV. Lazy? Yes. This gadget? A new necessity and I can't believe I lived without one. The light is super helpful and it's small but not too small you can't type comfortably. Sleep works great to conserve the charge. Freakin awesome!

Because of the low cost, light weight, and materials I was worried that it was cheap junk that wouldn't work properly or would break shortly after getting it. But I've had a very good experience with it! Range is good, rechargeable battery lasts a decent amount of time between charges, and it functions very well overall. Good buy.

This little guy is perfect! With 2 children, I have a dedicated computer that only plays their movies 24/7. With this keyboard, I can turn it off, put it on a shelf, and grab it when needed! These things are also perfect for any technician! Throw it in your bag, and you always have a known good keyboard and mouse at the ready!

I use it to control my computer from a distance and find it very ergonomic for typing and pausing or playing videos and movies. I don't have to be hunched over my tiny laptop keyboard, so I can sit up straight or recline while typing. It's just a really useful, lightweight gadget.

I was pleasantly surprised with this unit. I have bought several of these mini keyboards but this particular one is the best I've bought so far. It just simply works better. It also doesn't feel cheap like the others. Well pleased with this product for the price.

I lay in bed at night and often watch my laptop. Either on the nightstand or plugged into the TV. This little keyboard is exactly what I was looking for. Small yet effective. Good quality for the money.

For the most part, the qwerty keyboard keys work fine for the letters, but all the numbers and symbols are too heavily mixed around for me to keep track of which key is actually assigned to which symbol.

Loved at first, now not so great. Little keys not working right. Like if I push just a tiny bit hard gives me several. If I try to push lighter I get nothing. Sorry to say I am disappointed

The positive notes: the buttons function properly, it has a good handle and feels. The negative notes: a few buttons layout may be confusing for some.

I bought this wireless keyboard for my Android TV Box. Works great. I highly recommend this product. Best purchase I made this year.

The touchpad is sensitive but not overly so. Buttons are very responsive and the range is excellent. Great keyboard for the price.

I'm in love with this keyboard! Works flawlessly on Mac and windows. Have had no issues using it and it's size is perfect!

Everything about this device is amazing, it's small but functional, and super light weight with long battery life.

This is great for the price. I don't use it a lot but it keeps charge for a long time. Works great with firecube.

Great bargain for the price. Works very smoothly and the keyboard is very responsive.

Touchpad has a tendency to freak out and act like a mouse on a shiny surface sometimes.

It was bought to use with my smart tv and I can say nothing bad about it. I love it!

Works great! Really lightweight and easy to use. I use it with my XBOX one.

I got it to replace my Sony Smart TV remote and it works perfectly.

Smaller than I expected, but it serves its purpose.

So easy to set up, even a 3 year old could do it.

Works as described and even better.

Plugged directly into the USB port on the back of my LG TV and doesn't run all functionality
Payment & Security
Your payment information is processed securely. We do not store credit card details nor have access to your credit card information.