Description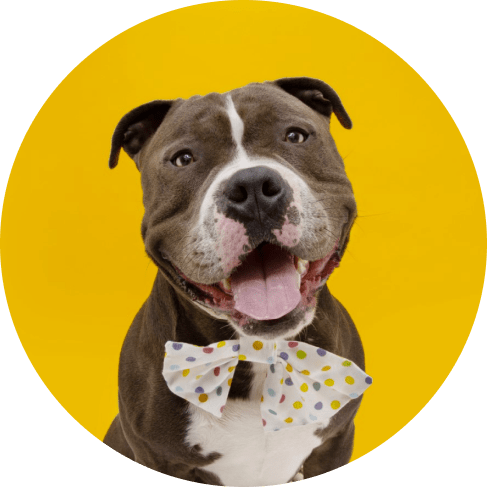 Prepare to paw-ty in style
A dog is a very important member of our family that brings us a lot of happiness. That's why we do our best to make sure it lives to the fullest… and these efforts include throwing just the best birthday parties!
Make your pet the focus of a birthday party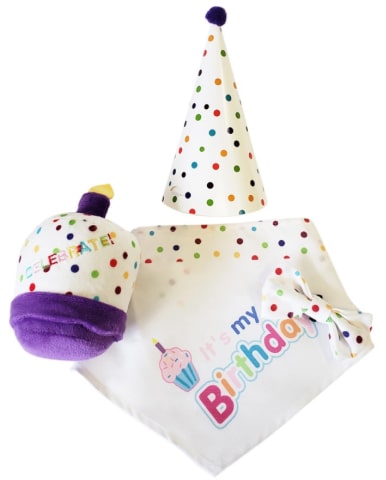 This 4-piece kit meets all your needs
Each kit comes with a party hat that fits all sizes of dogs, a bandana, and a bow tie. Also, there is a plush birthday cake toy with a squeaker inside.
Make everlasting memories
Dress up your adorable canine companion with the funny hat and the bow tie, give it the plush toy, and create a happy atmosphere for the birthday party.
A birthday present your doggo would love
Dogs deserve to be spoiled endlessly for all the joy they spread. Surely, their birthdays are the days to do your best. Deciding on the perfect gift for your canine friend can be difficult. While they are not picky at all, it's always best to figure out what would suit them best. This kit is an amazing option to consider for your dog's next big day.
About Jojo Modern Pets
Jojo Modern Pets started with the idea that people want beautifully designed pet products that match their home. JoJo Modern Pets has great offerings for small boutiques and regional pet chains. We provide the basics with a unique twist and something people can't find other places. We can pre-ticket some items with your brand or help you source products you know your customers will love. JMP is stocked with domestic inventory at our warehouse in Illinois. We work with customers to do it "their way." Case packs, moqs and pricing that makes sense for independent stores. At JoJo Modern Pets we pride ourselves on making our customers more money.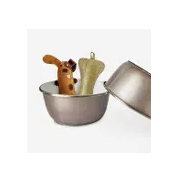 Designed In
Oswego, Illinois
I thought the hat would be small but it actually fit my German Shepherd pretty well! The bandana is big and he looked handsome.

Even though I bought it mainly for the hat and bowtie, I didn;t expect the toy to be of such a good quality. My dog plays with the squeaker all day long.

This birthday set is absolutely cute. It includes everything I needed to decorate for my pup's first birthday photos. Everyone loves the outfit included.

The bow tie will get used on my smaller dog for his birthday. I left the bandana on for a few days, mind you my dog is a dirty terror. The bandana survived and even looks good after a wash.

So cute! I love this hat because it actually stands up well on Sirius' head & maintains its shape. He has another birthday hat, but it isn't as thick. I was quite happy with this & pleasantly surprised by the bow tie. I can't comment on the bandana because that's not the kind of stuff he wears. I'll probably give that to a friend, but based on the rest of the set, I'm sure it's fine. All in all, I definitely recommend it.

Bought this ridiculously adorable birthday set to take 1 year old birthday photos for my pup (who's birthday is Christmas day!). It was a hit! Great price, fast shipping and smiles all the way around!

VERY Cute and worth the money! But if you have a small chihuahua like me, the bandanna will not fit your dog! It's made for a medium sized dog. We have a 5 pound chihuahua, the bow fit okay. The hat was the best thing in this package! Very cute 💕
Payment & Security
Your payment information is processed securely. We do not store credit card details nor have access to your credit card information.