Description
A flexible balance ball chair for school and office
This non-roll away weighted balance ball doubles as a flexible chair for school, office and home, enabling a healthier posture, increased focus, and improved performance.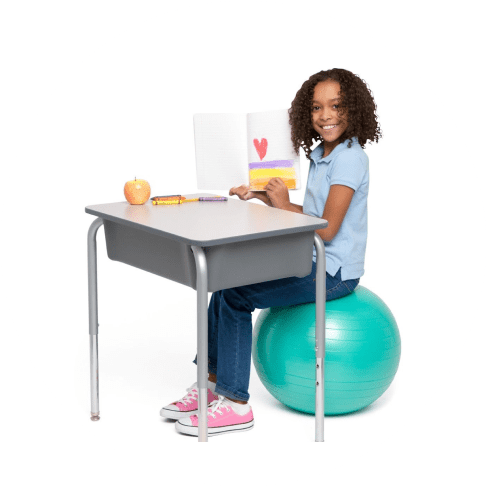 The seating ball specifications
A balance ball for kids and adults
Stays in place
The weighted ball seat reduces fidgeting and increases concentration with an original weighted feature that prevents the ball from rolling, keeping it in place when not in use.
Increases your focus
This alternative seating option for classrooms, offices, and home use helps to keep the mind engaged as the constant ball movement increases blood flow to the brain.
Improves your posture
Using a weighted ball as a flexible chair helps to build core strength and a healthy posture. The ideal ball size for active seating allows for a 90-degree angle at the knees and thighs, so they are parallel to the floor while sitting.
Stress relief
Active seating improves performance by providing an outlet for excess energy and helps to alleviate anxiety, stress, and boredom.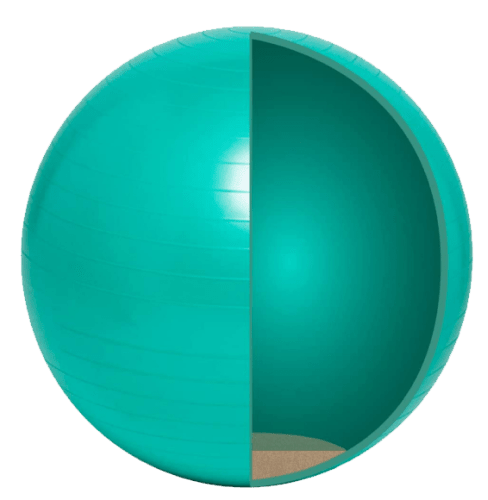 A safe high-quality ball
The weighted ball seat is lab tested and made with heavy-duty PVC, an anti-burst material. It also includes a foot pump, 2 stoppers, measuring tape, and a stopper remover for user convenience. Latex-free. The 17.7" ball suits people less than 5' tall.
Kids use these at school and love them!

Follow the directions. It works perfect. When the kiddo isn't using it - it holds my hefty hiney.

I teach first grade and ordered the small based on the size rating. If I ordered them again, I would order the medium ones. The smalls are a little small for my first graders. However, I loved that they already came with sand in them and were easy to air up.

I bought this for my son for use while doing remote learning at home. He found it fun but also helped him to focus.

Just what we needed. My son can not sit still and has a special seat cushion at school. Now that we are doing school at home, we needed something and this ball is great! We got the small and it is perfect size (7 yo). The stuff inside the ball makes it heavy and sturdy too.

Best medicine ball I have ever used as a chair. I use it in my office and sit on it for 10 hours a day. It has been a game changer for me!

I use this as my desk chair. It helps me sit up straight an use my core more. I blew mine up bigger than the ribbon they included -the ribbon is a great feature though!!

I bought these for my classroom for flexible seating. The sand inside does keep these in place, which is awesome. The color is beautiful. Once this pandemic goes away for good, I'm definitely purchasing more for my kiddos to enjoy!

I have been using a yoga ball as a desk chair for myself for years. But I hated that it rolled away every time I got up. I love that this ball is weighted and eliminates that problem! I got one for me and one for my kids to use for homeschooling. This size S (45cm) is perfect for my 48" 6-year-old. Can't wait for mine to get here!

My daughter LOVES this. We have modified and she uses it for her feet because if she sits on it at our standard desk, it is way too short. Still helps get her wiggles out and she uses it when we she does school work not at her desk.

Great for e-learning at home. Kid sometimes falls/rolls off ball but he finds it hilarious and gets back up. Can be distracting though. Kid has trouble sitting properly in chairs do that's why we chose this.
Payment & Security
Your payment information is processed securely. We do not store credit card details nor have access to your credit card information.