Description
Designed for ultra-modern looks
Make a bold move
The eccentric shape of the earrings together with their variety and exquisite details will add the ultimate modern touch to your regular looks.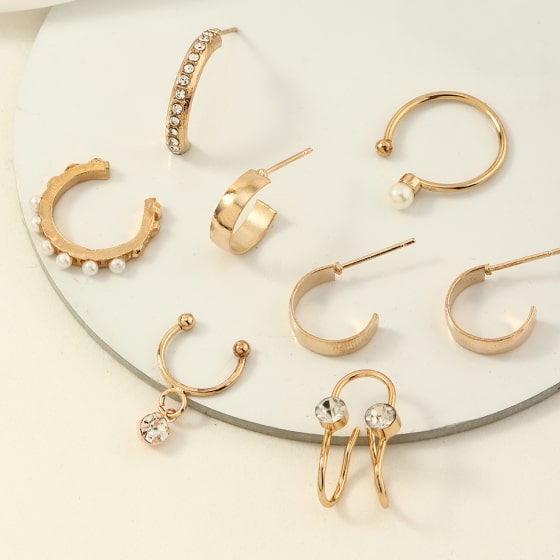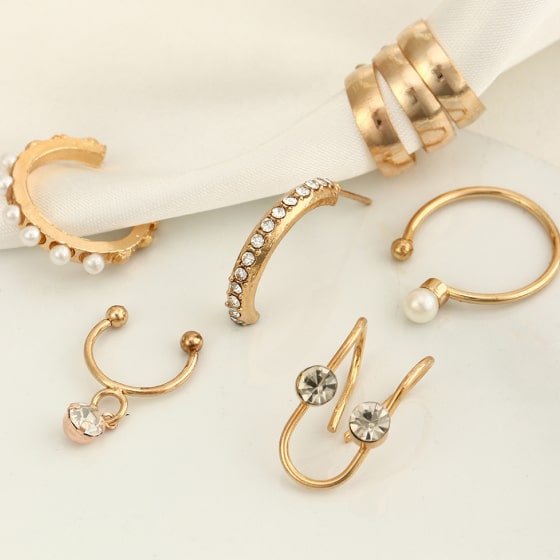 Your new favourite jewel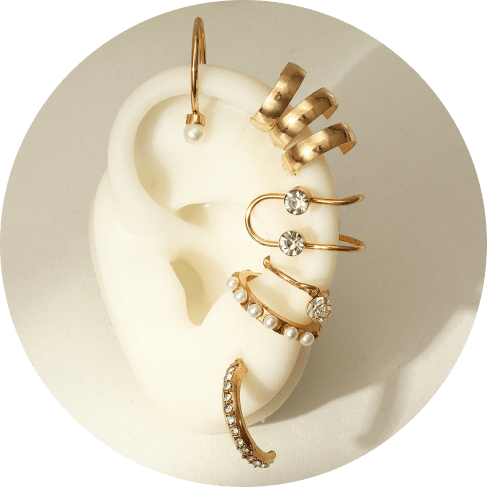 Earrings details
Color: gold-toned. Pieces: 8, including 3 identical ones. Material: zinc alloy. The weight of the set: 2.5 oz.
Care tips
Store in a dry place in a ziplock bag. Wipe with a soft cloth. To prevent your skin from turning green, coat the cuffs with clear nail polish before wearing.
Swinging design
Don't want another piercing? We got you! Edge up and layer your ear game with these stunning cuffs. Just slide them on! You can wear the one you like most on its own or stack them all together. Creating a fashionable look has never been easier!
I'm so happy with this set, I'm not sure I want more piercings so this is a great opportunity to wear it for some parties or something. They are comfortable to use, I almost don't feel them. I was afraid I'll lose some, but I haven't (yet :)))

Amazing I love them I had to adjust mine tho as I have really thin ears it didn't seem to break 4 of them require and actual piercing though

These are so cute I love the gold and how well made they are! They didn't irritate my skin or even discolor my skin after swimming!'

Like this set sooo much! They are bright and cool, and I like that there are so many of them at once, so I don't need to buy more

As I am afraid to do more piercing I was looking for something like these, and it is a perfect set for me!

these are so cute but i thought more of them would be cuffs lol, but adorable anyway

They didn't look very good on me plus most of the ear cuffs are only for one ear

Love them they are so cute and very stylish. 10 out of 10 recommend!!!!!!❤️

Fashionable and stylish, they are absolutely what I wanted and expected.

they are so cute!!! some of them are really big and don't fit my ear

They're comfortable and cute! Look real and don't pinch!

love this set , good variety to mix and match with

Lovely earring 😍 I can't wait to wear them

Quite uncomfortable but still looks good

Super nice and quality is really good

Great quality and same as picture
Payment & Security
Your payment information is processed securely. We do not store credit card details nor have access to your credit card information.