Description
Stylish & versatile hobo bag
For your next secluded picnic adventure or trip to the beach
From sun up to sun down, our bags are that stylish accessory you need for the day. If you want a simple and neutral but cute tote bag, this one is perfect! It can carry your essentials like a small computer tablet, smartphone, keys, and wallet. Also, this bag makes a great gift idea for every occasion.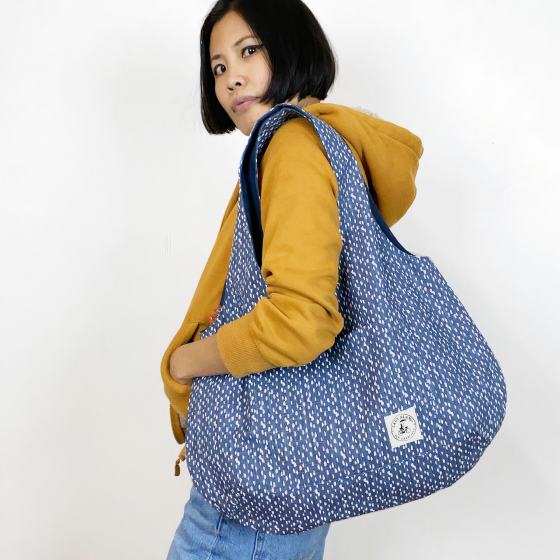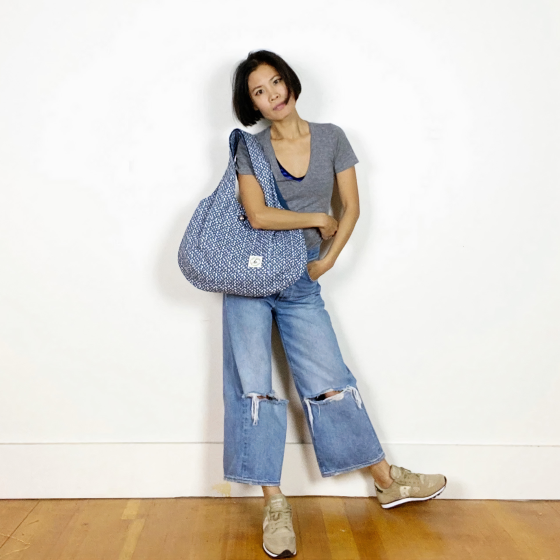 Ideal for everyday use
This bag is a popular choice for every season
Reversible design
It is reversible: turn it inside out for a marina navy alternative. Features a patch pocket on both sides and a metal button closure.
100% eco-friendly
The Amelie Reversible Hobo is made from 100% organic сotton which makes it good for you and for the planet.
Easy to care
Care instructions: machine wash in cold water with similar colors only. Do not use bleach. Line dry. Warm iron.
Sizing information & details
The Amelie Reversible Hobo bag measures approximately 18" x 13" (from bottom to opening) x 5" - perfect size for all your goods.
Made in the United States of America
We are very proud to say that the Amelie Reversible Hobo is manufactured locally, in the United States of America! By ordering this bag, you support a local business.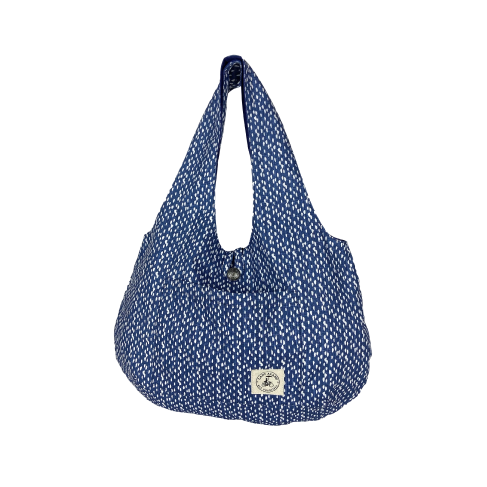 About Lady Alamo
Lady Alamo is an accessories brand based and manufactured in San Francisco. Since 2011, we have been on a mission to bring joy to people's everyday lives with original prints & vibrant colors. In 2011 wife & husband team Yiva & Bryce began printing and sewing bags out of their tiny apartment in San Francisco's Alamo Square neighborhood, home of the Painted Ladies (Alamo Square + Painted Ladies = Lady Alamo). Having since moved into the City's Mission District, the commitment to producing locally and finding happiness through design remains. At Lady Alamo we strive to create everyday items that bring joy with each use. Focusing on natural materials, versatility and of course color, we've created a variety of Zipper Pouches, Backpacks and Reversible bags that you will want to show off every chance you get.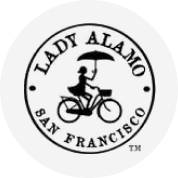 Designed In
San Francisco, California
This reversible is just something. Usually with reversibles there is one side that is ok and the other one is complete trash, but this one is just PERFECT. Both sides look absolutely stunning! My friends genuinely thought I had two different bags!

This bag is 100% cotton, it is supereasy to clean and wash. I actually washed it only once with all my other dark stuff and all went according to plan. Looks great no matter what side you pick and even better, it is just the right size for everything I need. I can fit my umbrella, purse, phones and all my other things without needing to shove stuff into it. It even has enough space for my laptop (though I wouldn't recommend carrying a laptop in a bag like this). It closes with a metal button rather tightly, so there's no risk it will open on its own in the middle of a busy street. make sure you put all the valuables inside the bag, because the outer pockets don't have any buttons or zippers.

I've never had a reversible before, since I simply couldn't believe that it can really work properly without wasting a bunch of time on actually you know… reverting it, but this little baggie proved me wrong. It literally takes seconds to change the look of the bag and both of the sides look really well and unique. The bag itself is sewn together properly, which is super important for me, cause I really load a bunch of stuff in there and hope that it doesn't tear.

This is a perfect bag for everyday use... Things like grocery shopping, going to work or a walk in the park… It is really a high quality product - all seams are even and straight, the fabric is cotton, really soft with no loose threads. I haven't washed it yet, but it seems to be like any other cotton product, so I expect it to last a while.

A great affordable bag with a nice pattern. I personally wear it only with the drops on the outside (I just like it this way), but you can surely use both sides. The bag is large enough for most of the things I need anyway and it closes securely with a button. The stitching is equally good on both sides and the bag didn't shrink after a few washes. A great investment on my part, will buy again when I need to.

Excellent quality for a decent price. It's just perfect for someone like me who loves big size bags. And it's reversible so you have 2 bags in one!

Well made cute bag! Perfect for my computer and all the other things I need. It's my favorite now. It's lightweight, easy to carry and the colors are great! Make sure you don't use bleach by accident though, cause that's exactly how my mom ruined her bag.

This is a perfect carry-on bag that keeps your stuff with you at all times and is very comfortable to carry around, since it's so easy. You basically have two pockets in the bag - the inside one and the outside, so it's really easy to organize your things on the road and to find something quickly if you need it. just make sure that you have all the valuables in the inner pocket. Overall, good purchase and worth the money spent!

A good bag, but I wish it had more pockets, maybe two instead of one??

I love the idea of reversibles when they are done right and this bag is okay, I would definitely recommend it quality-wise, but design-wise i'd just love the inner blue part have some pattern as well, would just look amazing imo…
Payment & Security
Your payment information is processed securely. We do not store credit card details nor have access to your credit card information.