Description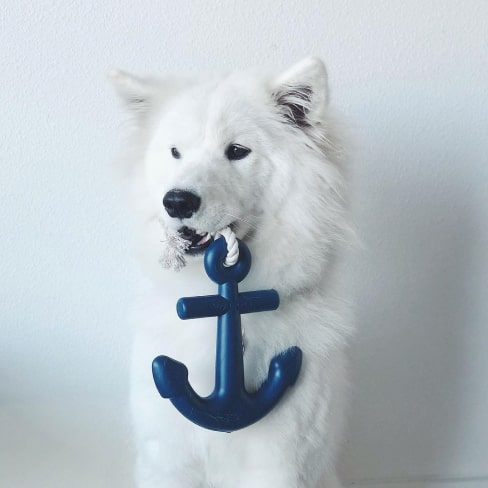 Your companion will love this toy
Dock in playful waters with the Anchors Aweigh Rubber Dog Toy! Just perfect for the playful, preppy pup: this durable nautical dog toy is built to last. Made for your nature-loving dog, the Anchors Aweigh Rubber Dog Toy in mint will keep your water pup busy on land or sea - enjoy your playtime together!
Cruise in to playful waters
Your water dog will be busy on sea & land
Sturdy & durable
This sturdy chew is built to last for non-stop chewing and chomping. This durable rubber Anchor dog toy will stand up to hours of fun!
Floats in water
Fun fact: unlike a real anchor, this one floats in water! Great for chomping, fetching — or just lying around in your beach decor.
Keep your furry mate entertained
Do you have a nautical beast? Or more of a land lover? It's time for all to come together because this toy will bring hours of fun on land and at sea!
Designed for doggo safety
It's 100% non-toxic and free of BPA and phthalates, so it's safe to sink dog's teeth into. Also, it meets US Child Safety Standards.
Unique, durable and fun!
With the Anchors Aweigh Rubber Dog Toy in a cool summer mint color, bouncing or floating, fun and fetching will follow. Start a spirited game of tug-o-war, or toss this floating toy in the water for an aquatic game of fetch with your deep-sea doggy. Toss your furry first mate the Anchors Aweigh Rubber Dog Toy and let the fun begin!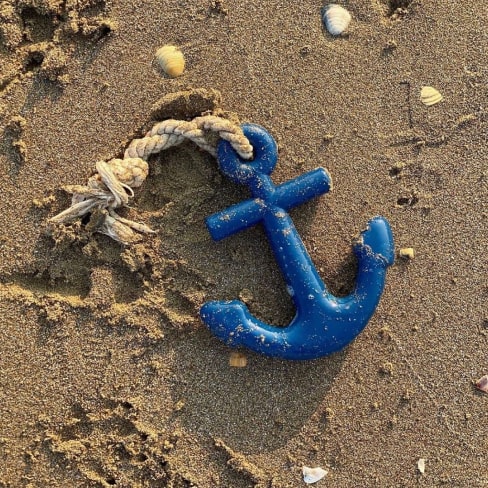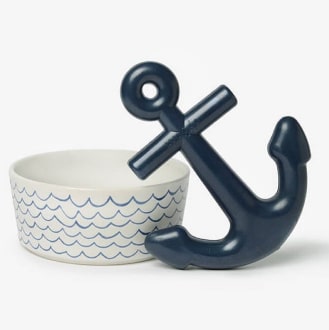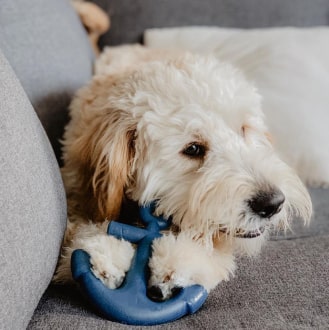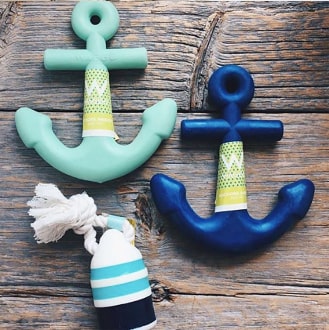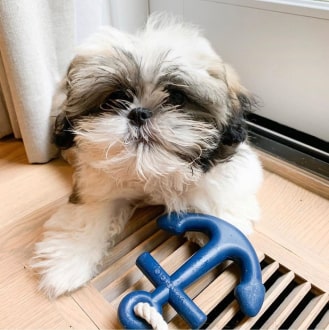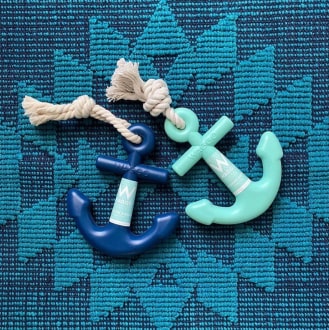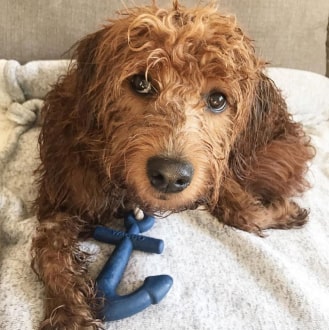 Very durable and floats. Dog loves it.

Our labrador puppy loves this (we also have it in red). It was a great chew toy for puppy teeth and now that his puppy teeth are falling out he loves this for teething and his "itchy gums". This has been one of his favorites since we first got him and I am sure will continue as such.Plus I am partial to anchors.

Would 100% buy this again, but I don't have to because it's still going strong and my dog loves it!

great quality rubber toy and rope for chewing

A little pricey but overall a good dog toy.

Originally bought this for a toy anchor for our kids swing set. They have since taken it off and our Airedale puppy has been having her fun with it. Has held up wonderfully to both kids and the dog. Still looks great after being kept outside as well.

I bought 12 of these for my dogs as a summer gift (I'm a pro dog walker), I thought they were going to be a solid, hard rubber but they actually have a core inside. Still, they are very thick and durable, very good quality. I just mention that they aren't solid for those of you with aggressive chewers. They are really cute, colors are great, overall very happy.

Best price around! I saw this on a luxury pet website and found it much cheaper. I bought the small mint anchor for my 10-week old pug. He is absolutely obsessed with it! It looks gorgeous in photos, which I am mindful of because you always end up taking a million photos of a new puppy.I can already tell it is going to stand up to abuse and last a very long time. He is teething right now, so I give this to him when he is lazy and doesn't want to play, but wants to calmly chew something on his own unbothered. It has saved many of my blankets already. Buy this if you have a chewer and you won't regret it! (They also offer a larger size without the rope as well.) Hope this helps :)
Payment & Security
Your payment information is processed securely. We do not store credit card details nor have access to your credit card information.