Description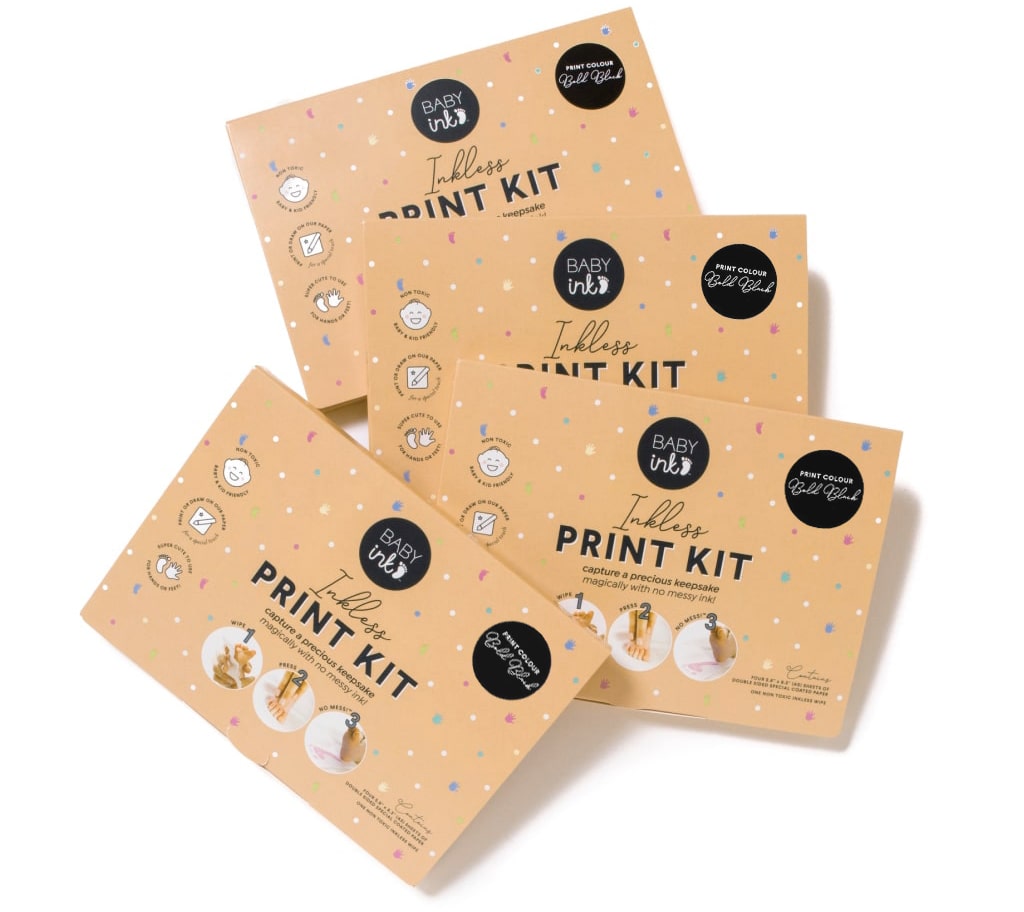 BABYInk: an inkless baby print kit
Taking your little one's footprints has never been this easy! No ink or paint, mess or fuss – just the perfect prints of your baby in seconds. Simply wipe the baby's feet or palms with the magic cloth and press onto the magic paper. Within seconds, their handprint or footprint will appear while your baby's skin stays clean and dry. Truly amazing!
Celebrate your baby's earliest days!
BabyInk: features and details
Save your treasured memories
One wipe will achieve at least 4-8 prints depending on the size of the subject. Your precious print is permanent and can be digitally scanned for thank you cards, scrapbooking – ideal mementos for your precious baby book.
What's included:
1 non-toxic inkless wipe / towelette; 4 x sheets of special coated paper measuring 5.8" x 8.3" or A5 size (fits even adult size feet and hands); Detailed instructions
A great gift for new parents
It couldn't be easier to capture those treasured tiny hands and feet with our inkless baby print kit. It is an adorable baby keepsake gift for moms and dads.
Made in the USA. Certified non-toxic
The Inkless Print System is safe and easy to use from birth and is used in maternity hospitals across the USA for newborn identification. The paper is clean without any watermarks or logos.
Tried, tested & recommended by parents!
Made for Mums Awards | 2019 – Shortlisted Baby Gift / Keepsake & Innovation of the year 'Brilliant Bronze' Color Platinum Winner – Best Baby Keepsake | 2018 Loved by Parents Awards (UK) Platinum Winner – Best Baby Print | 2018 Loved by Parents Awards (UK) Winner – Favorite Keepsake | 2018 My Child Magazine Excellence Awards (AU)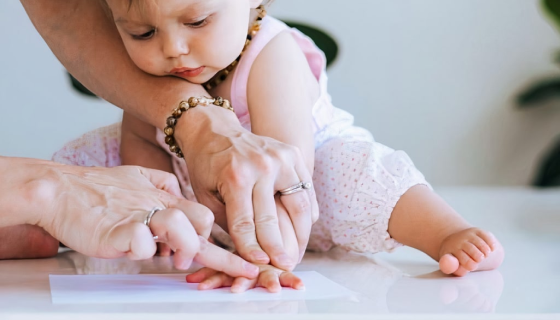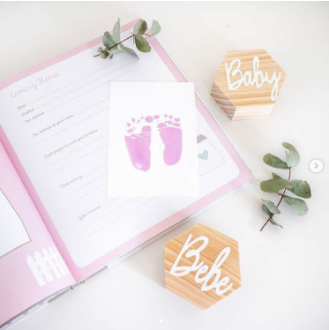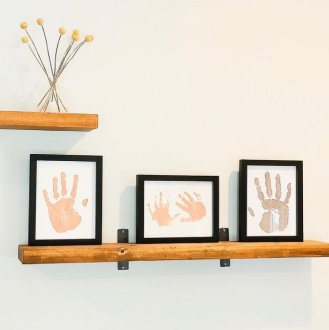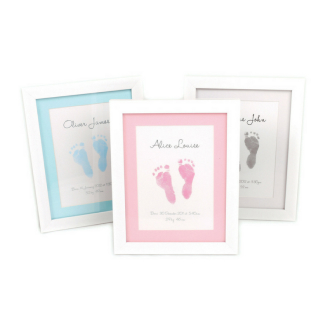 About The Evolved Parent Co
Like all parents, we love our little ones more than anything else in the world – even though this means "personal time" becomes an often limited, and sought-after commodity. With "time" in mind, we set out to develop a range of products that are not designed to reinvent the wheel, just to make life's daily tasks a bit easier and a bit less time consuming. Because let's face it, behind all the diaper changes, baths, feedings and sleepless nights is the most precious baby who needs every ounce of your love and attention.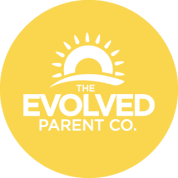 Designed In
New Hyde Park, New York
This is an amazing product and was a great bonding experience for my husband and daughter! We all thoroughly enjoyed it! It shipped fast! It was easy to use and oh so cute! Customer service is also great! Thank you for our beautiful memories!

We got sooo many prints! Company claims you can get a couple prints from each pad, but I just kept rotating the pad to find another ink spot. I held the pad up to the light to be able to see where ink remained on its surface then placed her hand or foot in that spot. I did this when she was sleeping in her swing. I recommend using a small book behind the paper and area that you are trying to stamp for better support as you press their foot or hand on to that spot.

My best friend had her first baby and she loved it! There is something special about creating memories that will stay with you for years! Came in a nice box, everything was organised. I love the fact the kit includes different supplies that everyone can create the one that will fit them. It's good for boys and girls.

Let me start with the packaging, very presentable and well organized box, every piece is so easy to find! Quality of the materials: great! Nothing feels cheap! The ink didn't leave any stains and the provided tools are easy to use. I would highly recommend it as a gift or for self use.

My daughter's (2.5 yr old) hand and foot prints were perfectly captured. I am very satisfied with this product. Bought this to get a stamp of our triplets girls feet and hands. This product was very easy to use.

Excellent products. It was super easy to figure out. My only issue is that I wish the color was darker. I wouldn't call this black but more of a grey print.
Payment & Security
Your payment information is processed securely. We do not store credit card details nor have access to your credit card information.