Description
All that glitters is freshness
Discover beauty + function in one
Undo nose-turning smells from wild nights out, smoke, and accidental spills with this Bedazzled Fan Air Freshener. It's a perfect way to freshen up your car interior while introducing some girly glam for a touch of you.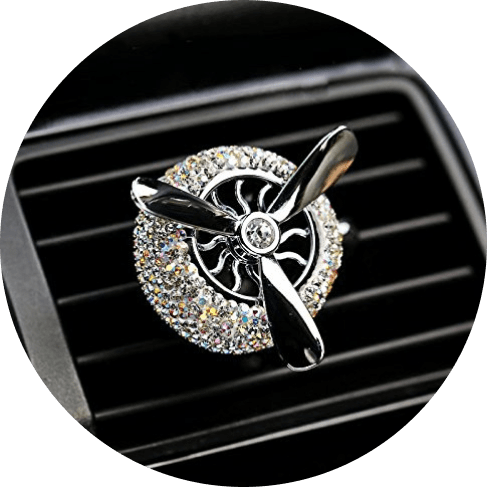 What a girl wants
(A touch of beautiful bling)
Exquisite design
Adorned by sparkly white and pink jewels, this freshener also features an external fan that will spin once you turn your A/C on.
Clip it on and turn it on
An easy-to-operate claw clip allows you to stick straight into any air vent in your car for sturdy hold.
Easy to set up
Your purchase comes with one fragrance tablet that you must place inside the fan.
Brighten up your driving space
Freshen the air and add an unmistakable shine of glamour with this beautiful car accessory.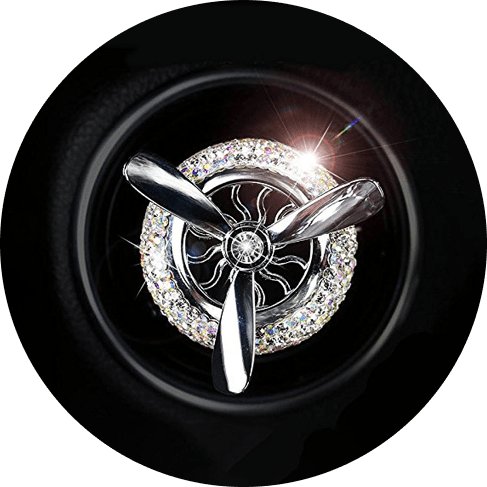 Spruce up your space
Hit refresh on your car cabin with this gorgeous Bedazzled Fan Air Freshener.
This is the best air freshener that I've tried so far. First of all, it spins like a fan and spreads the scent better in the whole car. Second, it glistens so nicely in the sun!! The cutest and most functional thing I own in the car, even though the smallest

This is even better than I hoped it would be ! It's really pretty and it actually spins ! My husband used to be a propeller plane pilot in the Navy, so this adds a little nostalgia to my car

I was expecting something small but to me this is just the right size. For someone who loves the bling, I so love this air freshener, and I must add it has some weight to it as well

This car freshener smells amazing! I've only had it in my car for a day or so and so far it's holding up well. Besides the smell, I actually fell in love with the pretty design. Very nice!

This is the cutest thing I've ever bought!!! The little fan blows and the odor follows 😍😍😍 I've had several friends by them after they saw mine in my car

Absolutely adorable! I bought it as a stocking stuffer from my daughter who is getting her pilot license. So cute and original!

I love these !!! Can't wait for the other one to arrive, and they smell great

Didn't like the smell it came with but I love the cuteness of it
Payment & Security
Your payment information is processed securely. We do not store credit card details nor have access to your credit card information.