Description
Call me (maybe)
Leave your number on your car for emergencies or safety with this shiny, bling-bling Bedazzled Phone Number Placard.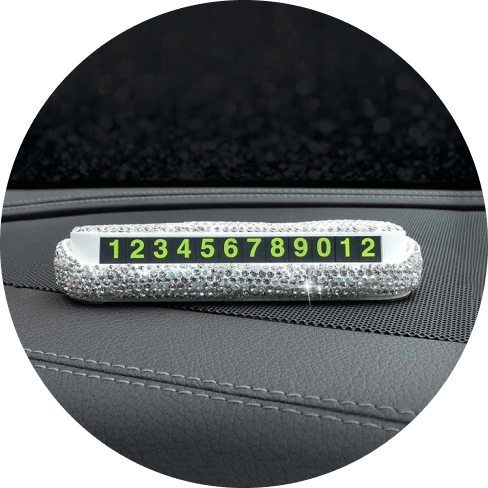 From convenience to safety
(This accessory does it all)
Light up your digits
Our numerical stickers help you spell out your number -- and the stickers light up in the dark for better visibility.
Let it shine
Bright rhinestones adorn this sleek and smart accessory for a touch of girly glam to your ride interior.
Small + petite
Measuring just 1.7" x 5.4" (L x W), this placard can sit beautifully on your dashboard facing the windshield without obstructing your driving view.
A super hold
At the bottom of the base, find two super-sticky sticker mounts that allow you to place anywhere on your car dashboard for a secure and sturdy hold.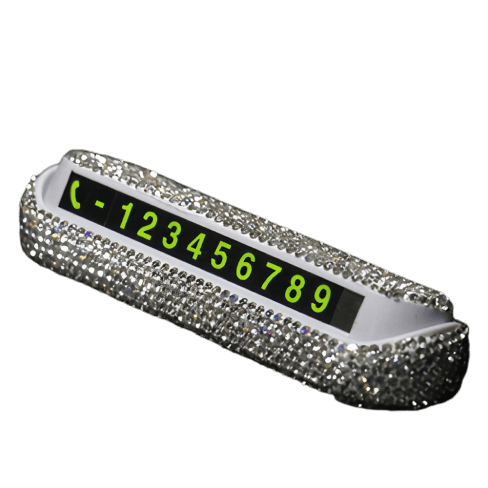 A smart safety solution
Whether your car is blocking someone else's in a parking lot or should an emergency occur, leaving your number somewhere in your car can help diffuse a troubling situation (or danger). Let our Bedazzled Phone Number Placard give you a helping hand.
I'm in love with this product! It looks gorgeous and serves as a decoration for my car, but it's also there for emergencies. I checked the visibility of my number through the window, and it's as clear as day!! Now I feel way more comfortable leaving my car at any parking spot, and generally safer. Recommend!

Oooh, this one is amazing!!! I absolutely LOVE the design, it's so sparkly 😍😍 when the sun shines onto it, it glistens so nicely, I'm charmed by it lol. It's also pretty secure and easy to attach

It's made really well, no drawbacks. The rhinestones are attached well and I managed to firmly secure it to the dashboard, so I'm not worried it will fall off. The numbers are easy to attach too, and they glow nicely in the dark. Very useful item.

This is exactly what I was looking for!! I love glam, and this is a 100% match for my car interior! All my friends complimented me on how it sparkles haha well, I hope it will serve its purpose well too

I only saw these boring black number cards before and never wanted to buy one until I saw THIS. The design is immaculate, the stickers are amazing and bright, the size is perfect - an ideal accessory for a girly car 💖

Just as in the pictures and works great!! The diamonds spark in the sun, and the numbers glow bright at night. Charming design and even more charming price 😁

For some reason, I expected it to be bigger, but now I see that it's just as in the pictures… I don't know what size these things usually are, but I guess this is enough. The number is visible if you're close enough

Had a bit of trouble putting the stickers on and messed up a couple, but thankfully there were extra ones. Otherwise, pretty good, would recommend
Payment & Security
Your payment information is processed securely. We do not store credit card details nor have access to your credit card information.