Description
An edgy accessory for anyone
An expression of power and strength
Whether you're a gun person, or you just like the powerful symbolism of it, this pendant can be a perfect accessory for you. Made with attention and consideration, it'll look much more expensive on you than it actually is.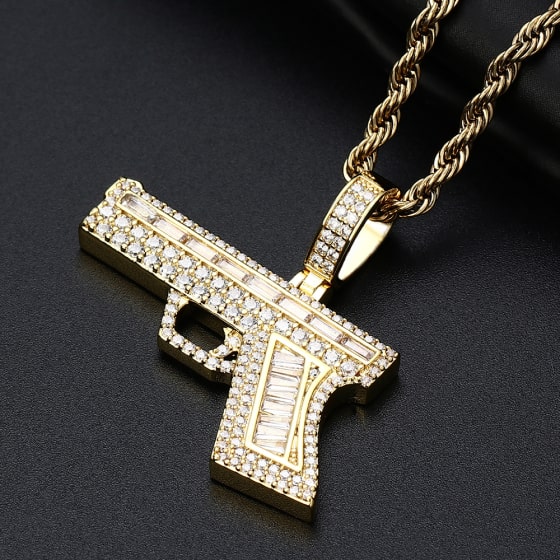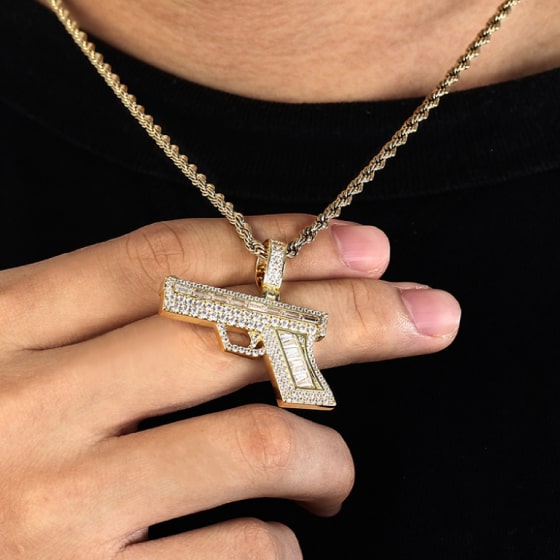 An amazing shot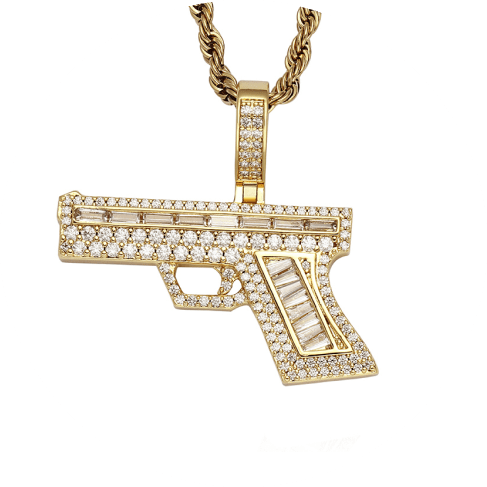 Just the right size
The approximate size of the gun is 0.78x0.70 inches. The edgy look of it is balanced by its size. It's not cumbersome, just perfect for everyday wear.
How to care for it?
It's made from golden-toned brass, and has 5A zirconia stones. The best way to care for it is to keep it dry, and rub it with alcohol when it gets dirty.
The protection from the basicness
Add some spice to your outfit with this cool accessory! The pendant is quite versatile because it can work as an object or a subject of your look. Experiment, have fun, or stay in the classical and traditional lane – whatever you choose to do, the pendant will work to the benefit of your overall look just as well.
I don't generally do reviews but I was genuinely impressed with the amount of love and care this product was sent with. The pendant appears as advertised but there's a weight and sturdiness to it, without being overbearing. The whole thing was a pleasant surprise and worth purchasing if you're in the market for such a thing.

My son liked the chain. I gave 4 stars because one of the stones had fallen off before we even took it out of the packaging. Overall worth the purchase.

There are a few spaces that are silver like they didn't paint it well, which makes me wonder if it will tarnish, fade, or paint chip, peel, or fade.

It is beautiful! I bought it for my boyfriend and he loves it. It's the perfect size and it's well made. Colors and everything is just as shown.

The quality of all of it really isn't bad considering how cheap it was to get. It's a nice thing to have to stand out just a tiny bit.

Product arrived on time. Exactly what was advertised. Great purchase. Would definitely refer to friends.

Already getting compliments.This is the perfect size and weight also resembles the more pricier version

I just received this a few minutes ago and the quality definitely shocked me. It is veryyy nice.

I absolutely love this pendant it is exactly as pictured and it's a great size

The pendant is dope as heck and looks good on the right chain.

Amazing!!! I wear this every single day!! Never taking it off!

This item blings awesome. No fading and as described

It's beautiful I love it it's not to big or small perfect size

Absolutely fantastic for such little money. Nice size.

The charm is great! It's thick and durable.

Good looking but it's a little bit weak

Great item for the price, it was for my son and he loves it.
Payment & Security
Your payment information is processed securely. We do not store credit card details nor have access to your credit card information.