Description
Safe, durable, fun to play with
This colorful stacking set is pure entertainment with endless possibilities! Bioserie 2-In-1 Stacker is suitable for babies and toddlers.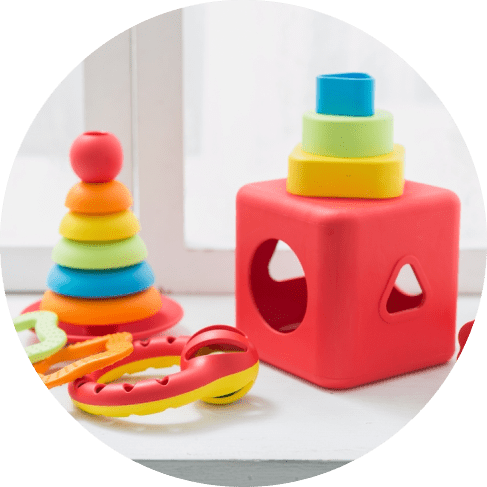 Let the fun and discovery begin
Stack it, arrange it, then flip it and do all over again
A new kind of green
Biodegradable, compostable, with a significantly lower environmental footprint, this stacker received the USDA's 100% bio-based certification!
Made with babies' development in mind
The Bioserie 2-In-1 Stacker helps in developing motor skills and hand-eye coordination. Easy to grasp and hold for little hands.
Easy to use & clean
Includes 8 pieces in 5 five bright colors! Dishwasher safe. Can be used in water as the bigger pieces float.
Countless ways to stack
The base of this toy can be reversed to be flat or rock. Sorting pieces can be stacked in both directions.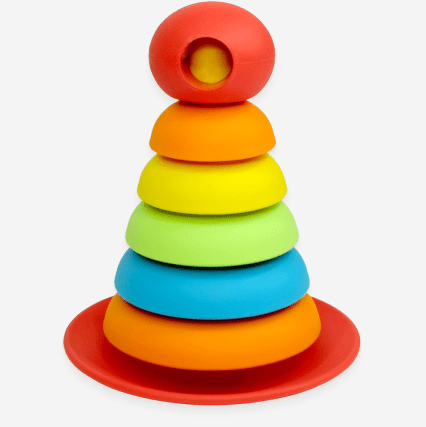 The best possible product quality and finish
Bioserie toys are made from a unique blend of bio-resins derived from cornstarch and natural additives used to improve heat resistance, durability, and allow for bright colors. Suitable for ages 12 months and up.
About Challenge and Fun, Inc.
Simple - Natural - Adorable: Our tagline sums up our approach to sourcing the very best children's products. Our products: Engage the imagination! No need for batteries or screens! The open-ended nature of our products opens a world of opportunities and adventures for those that use our crayons, put on our puppets, or enjoy the companionship of our sweet dolls. Made of the purest ingredients and materials possible - beeswax crayons, wooden balance boards, non-toxic nail polish, biobased material, and organic cotton dolls and puppets are some examples. Adorable toys teach children of the beauty in the world around them - and should help make them feel warm inside.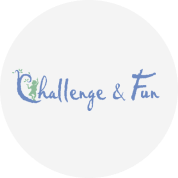 Designed In
Los Osos, California
Super adorable stacking rings!! The colors are beautiful and very chic. The rings are the perfect size for my 13 month old to grab. She hasn't quite got the stacking part down but she will!!

My 6 month old son loves this! He likes picking up the rings. He has yet to learn how to stack the rings but he's very intrigued watching me do it. This is such a great developmental toy!

I love these stacking rings. The colours are very pleasing and soothing to look at, and more importantly, my 20 month old son absolutely loves this toy! Everything about it feels very nice and high-quality; the rings are shaped so that they fit in his hand much better than traditional rings. Basically, they are as nice to hold and play with as they are to look at. My son hasn't put them down since receiving them yesterday.

One of my son's favorite toys! Absolutely love it for easy to clean, great for on the go play!

My infant loves this item and I love that it's easy to clean. The only thing is the top circular ball does not fit on the top and falls off easily. The groove it's supposed to fit into does not match.

My 3.5yo started playing with it & trying to figure it out as soon as I pulled it out of the box. Very vibrant colors. Love it so far!

I like this set and it reminds me of one I had as a child. But it's much shorter than expected. Probably my fault for not looking at the measurements before I bought it. Still cute though! Great toy and decoration for baby's room

This is a great little toy for the price. I'm always happy to find high quality toys and this one was a good find! My 14-month-old likes taking it all apart and putting it back together. It can grow with him as he starts to learn shapes and colors.

A very cute puzzle toy! My son spent a while trying to figure it out so it kept him busy without frustrating him. I love that you can take the some poles apart from each other like a puzzle. And the colors and shapes are really pretty and fun. My son who is 20 months old loves this toy. I highly recommend it!

I really don't have anything negative to say about this product. It's cute and exactly as pictured. I own a child development home and the kids play with this for hours. They like to tell me the colors and shapes. They have a lot of fun mixing the pieces up. I love how the turtles connect, too.

So so cute!! We've been doing shapes for preschool so I was interested in adding another shape learning toy. It's a bit smaller than I imagined it to be but super adorable and my almost 3yo went straight to this when presented with their new weekly cabinet set up. I rotate toys in a free-play cabinet space every week. She lived linked by them to make her own design and of course toddlers are obsessed with organizing and stacking so it's perfect. Hoping my 1.5yr loves it too- if big sibling can share!! Lol
Payment & Security
Your payment information is processed securely. We do not store credit card details nor have access to your credit card information.