Description
Simple design watch for men
This classic simple gentleman's wrist watch will be greatly suitable for any occasion, all kinds of clothing, any style you can control.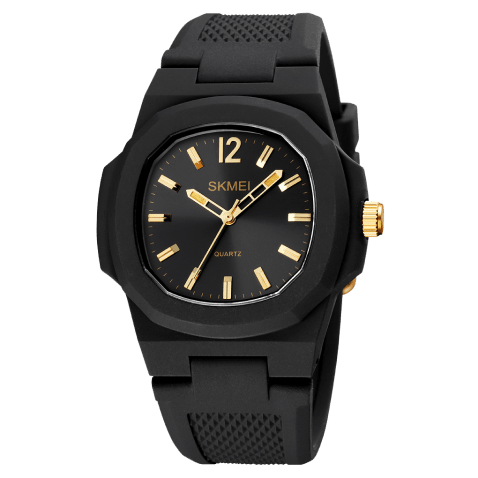 Watch specifications
Keep track of time in style
High-quality design
The case is made out of ABS with a silicone band with the buckle and back cover made out of stainless steel.
Water-resistant up to 164 ft
Easily withstands splashes, sweat, handwash, and even cold showering! Perfect for all kinds of business, casual, indoor activities or daily use.
Watch details
Dial diameter: 1.7". Case thickness:0.43". Band length: adjustable 9.5". Band width: 0.8". Watch weight: 1.3 ounces. Clasp type: buckle.
A stylish gift
This watch will make a great gift on any occasion such as birthday, Christmas, Valentine's day, New Year, Father's Day. Provide your father, brother, son or husband, families and friends with a stylish gift.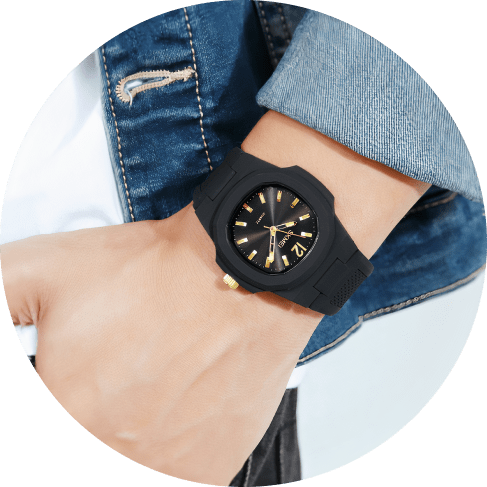 Exactness, Elegance, Essence
Minimalist design with a unique texture of the dial. Gold on black durable style, pair it with any type of outfit from casual to sporty and everywhere in between. It fits for daily use!
Many compliments on this watch! And it's doing a great job underwater! I teach a HIIT class, so it gets sloshed around for an hour and a quarter twice a week, through diving off blocks and extreme hand/arm movements…

I wanted something inexpensive but would be fun for daily wear. This really fits the bill. The rubber material is very soft and feels good on the skin. I have had it for over a month now and had no problems with it accurately keeping time. Overall I am very pleased.

Bought it about 6 months ago and loved it. Very shocked at how the watch held up especially for the price point. Very good watch for me to use at work because I have to wash my hands a lot. Looks way nicer than what I paid for.

Watch looks absolutely stunning. Easy to wear and very comfortable on hand. Feel some premium quality as well. Still have to check how the water resistance works. So far so good :)

I love it as I can wear it to work as a physiotherapist and not have to worry about scratching it, getting lotion on it or anything else. I get compliments all the time from patients.

The silicone band feels a bit weird on the skin, but it's easily adjustable. I really like the design though, black and gold look perfect together.

Such a great watch for the money! I get compliments on it all the time. Comfortable and easy to wear in a hospital setting where I'm constantly washing my hands.

Great watch for a great price. My husband wears it during her swim workouts and pickleball matches. Easy to see dial and waterproof.

I am a nurse and was looking for a waterproof watch that has a second hand and would be easily cleaned when needed. I love this watch.

I use the product for work purposes. I rated it a five because it's a really good watch. The only dislike is that it doesn't give a date.

I like the silicone strap because I have small wrists and the strap is easy to adjust. I wear it for casual wear.

This watch is perfect for me because I can adjust the band to my very small wrists. Easy to read.

The watch is great and easy to read, the only wish is for the numbers to be written out

Love this watch for comfort, for ease of keeping clean, for viewing dial and for value!

Can easily be worn for work or play. Comfortable, lightweight and durable.

Looks exactly as pictured, and the band is really flexible--thin but sturdy.

I like that it is true to size, not smaller than it looks in the picture!
Payment & Security
Your payment information is processed securely. We do not store credit card details nor have access to your credit card information.