Description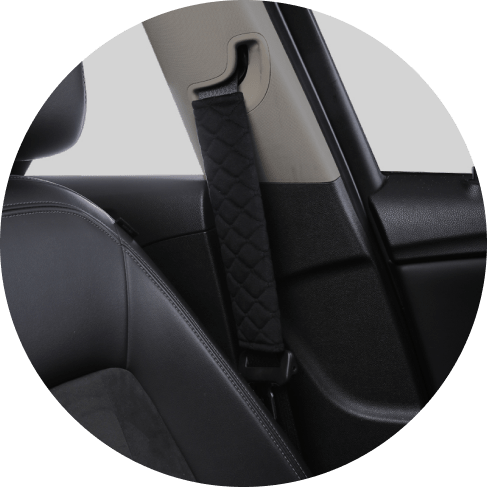 Add some soft texture + padding
(For added support where you need it)
Dial up in-vehicle comfort for yourself and passengers with these Black Polyester-Cloth Seat Belt Covers. They're a great way to spruce up your interior while adding a cushion between your shoulders and arms and the fabric of a seatbelt. No more red marks or imprints from long-term wear while on the road.
Strap on with ease + feel the softness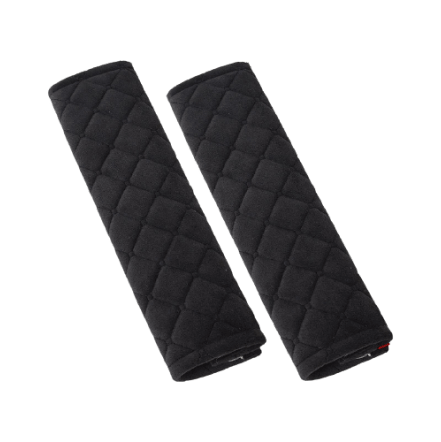 Elevate comfort, reduce pressure
The great thing about these ultra-soft polyester-fiber covers is that they bring that pillowy touch for a boost of comfort.
It takes two, baby
Each purchase gets you a pair of these matching seat belt covers. Order more sets if you want to accessorize more seatbelts in your car.
Fits perfectly
Each strap measures 10.6" x 2.6" (L x W) when strapped on. The size makes it compatible with any seatbelt in any kind of vehicle style or make.
I was worried that these would look and feel like another cheap Chinese product, but was surprised that they were well-made, soft & very functional. You get used to sliding them up and down the seat belts when you extend or retract the belt. Unlike others that are thicker with more padding, you never really feel them while driving which can get annoying. These have just enough padding and are soft enough that they remedy that sharp belt digging into your neck! The price is right also!

I bought these because a few of my favorite work shirts are of a silky material that was piling diagonally across the area where my seatbelt lies. I adore the shirts and plan to wear and replace them indefinitely (or at least as long as they are available). I installed two of these sleeves backwards (with the velcro facing out) to cover the entire area where the seatbelt rubbed against my shirt. Perfect solution!

I love these seatbelt pads. They look 👀 very nice and very soft and comfortable to put on. They are very easy to install as well. I have a lot of compliments from friends. They really keep my belt clean as well. My old car's seat belt got dirty because of the sweats after my workout. Yikes! Now this is a good idea that I have this protection so my belt won't look that bad anymore 😊

Soft, works well, kids like it, I like it. It slides down from gravity but easy to slide up and down so just slide it up to where you want it when buckling if needed. Thin, so less noticeable and doesn't make your car look cheap. Very happy.

I bought a new car and wanted these to keep the seat belt from rubbing my neck. The seat belt didn't do that as much as my previous car, but the covers still work to keep the seat belt where I want it. These are not bulky and provide just the right amount of "cushion."

Comfy, looks nice, unobtrusive, easy to install. Perfect for the kid's car seat, the wife, and myself. Gave the 4th to my grandmother, and she also likes it. Nothing to complain about. Overall just a good option for belt covering.

Comfortable and stays in place. This is a great use to keep the strap in my car from digging into my neck. Easy to put on the strap and doesn't come undone. I've been using mine for months and it works well.

Work well. Nothing obstructive and ridiculous like the furry-esque ones. I like that they're black and go with my black seat belts. Bought enough for my two cars and my in-laws cars.

Great product, looks super classy. It's nice and soft looking forward to comfort in the summer as well especially when your wearing a tank and not wanting the strap to be a discomfort

I thought "ok sure they'll be a thing on my seatbelt", but it's night and day how much more comfortable I am when I'm driving now.

They look attractive, they're soft and comfortable, and they seem well made. There was a bit of light shedding onto our clothes for the first week, but that soon stopped. Unlike the bulky sheepskin seat belt covers I had in my previous car, these pads blend into the interior more seamlessly. The sheepskin covers also made me feel like I had a warm and furry ferret draped over my shoulder while driving — just too much of a good thing for me, haha. I'll stick to these lower profile pads from now on.

Like the feel of these protectors, they work well. This is not a criticism, but a note to others, if you do not slide the protector down before getting out of the auto, the belt strap will not rewind and could get caught in the door. You just have to get in the habit of pushing it down. Once I was trained, I was happy with the purchase.

These were easy to add and work perfectly. The good thing about them being snug is they stay in place while you are driving. The bad thing about being snug is you have to remember to slide it down so the seatbelt can go back up and not get shut in the door. LOL
Payment & Security
Your payment information is processed securely. We do not store credit card details nor have access to your credit card information.