Description
The inspiration for the design
Look at the beautiful setting of the looming nightfall as the sun sets down in the jungle. Witness the elegance of tree shadows drawn on the dial of the watch.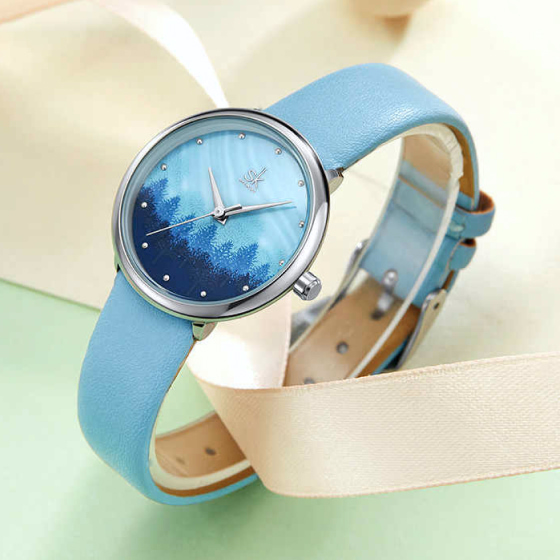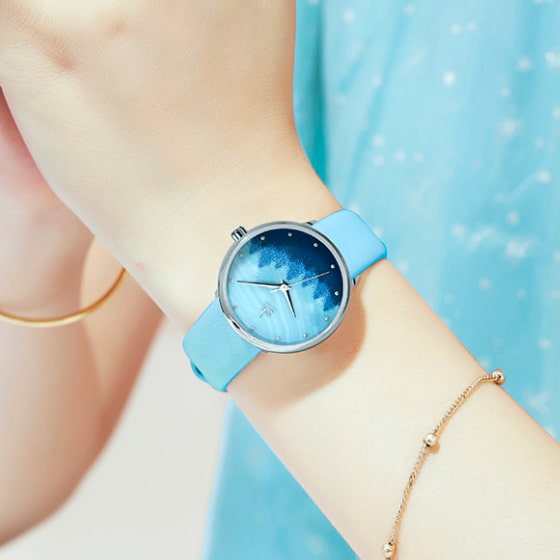 An exceptional women's watch
Watch parameters
Movement: quartz. Dial diameter: 1.2". Dial thickness: 0.26". Band length: 7.87". Case thickness: 0.26". Band width: 0.55". Weight: 1.5 ounces.
Water-resistant
The waterproof features of this beautiful watch allow you to safely wear them on a daily basis, ignoring any water splashing when you wash your hands, walk in the rain, or take a cold shower.
Watch materials
Case materials: high-quality alloy. An elegant and comfortable leather band. The crown wheel allows easy time adjustment.
A great gift
This wrist watch is a great birthday, Christmas, or New Year gift for yourself, your family and friends.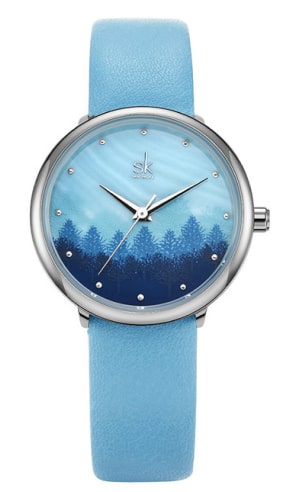 Great for practically any occasion
A wrist watch with a sophisticated design that fully shows the wondrous and more enlightened side of the women. Perfectly fits the wrist, is comfortable and suitable for any occasion!
My main watch needed to go in for an overhaul, so I needed a watch to wear for a few weeks. This one is so nice that I am putting off my old watch for service! It's so pretty and easy to wear, and the face is easy to read! I love the sky blue face and baby blue band, neutral but not boring. The slim leather band is comfortable and doesn't feel heavy or sweaty like wider bands can feel on me. Even my watch snob husband said he loves it on me! Be aware it does tick, if that kind of thing bothers you. So happy with this purchase

I absolutely LOVE this watch! It is so simple but cute and it goes with a lot of outfits. For $6.99, I think this is a good value. I did notice that when trying to set the time, the minute hand would fall a little like it was weak. I did get it to the right place and after setting it I've had no problems. If you're using this watch as a fashion statement, go for it! If you're using it as a fashion statement and for time purposes, go for it!

I ordered this watch not expecting to be blown away because of the price. Boy, was I wrong! This watch was packaged very well and came delivered fully intact. I immediately put on the watch as soon as I opened it up, it fits comfortably and the band isn't too small, which I was a little concerned about. Great buy, especially for the price!

I'm actually surprised at how much I love this watch. I figured the price would mean it would look cheaper and feel cheaper but the packaging was really cute and the band shade of blue was exactly what I wanted. The face size is comfortable for my wrist and I have relatively smaller wrists.

I am so happy with this watch. It looks very nice and feels very nice on my wrist. It is also fairly lightweight, so if you're looking for a watch that's not very bulky then this is a good pick. I would suggest measuring your wrist before purchasing. I did not and I'm cutting it close.

I have been looking for a blue watch forever. I'm so happy that I have stumbled upon this watch! I love it, it's the perfect color. The face is large enough that I can actually see it, but the band is thin (and fits my skinny wrist)! So it looks very feminine. Love love love it!

This is a beautiful watch for the price! It comes exactly as pictured, and it was even set to the correct time zone when I opened it (likely a coincidence, but I was pleasantly surprised).

Very cute watch. I wanted something cute and elegant because my Apple Watch doesn't go well when I dress up and it was perfect!

I am in love. This is exactly what I wanted and was searching for. Great price, fast shipping, nice packaging.

I love this watch! I wanted something that looked professional enough for work and this is beautiful.

Very cute and elegant looking. It's lightweight also.

Very nice watch for an inexpensive price.

It's so cute, but it ticks loudly
Payment & Security
Your payment information is processed securely. We do not store credit card details nor have access to your credit card information.