Description
A touch of softness
For peace + comfort
Whether hung from your car's rearview mirror or above your bed, bring positive vibes and happiness to your everyday life with this Bohemian Chic Cotton Rainbow Charm.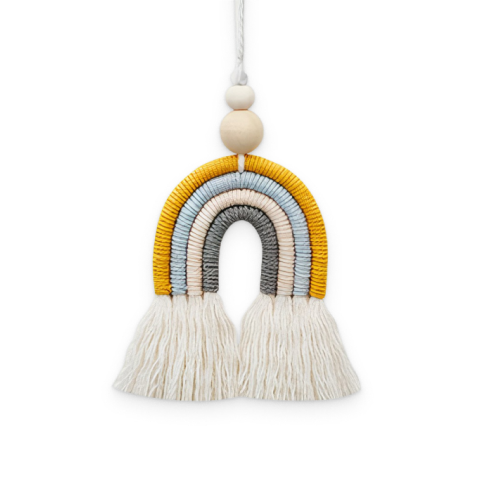 Give some chill + calm
(Everyone can appreciate some of that)
Earthy details
Our rainbow charm features wooden beads atop and cotton tassels at the bottom for chic charm.
A thoughtful gift
It's no dreamcatcher, but this dangling rainbow can add some sunshine to your day-to-day goings and happenings.
Hang it anywhere
Our soft-touch charm measures 12.4" in length from head to toe and is 2.44" in width. You can adjust how (and where) you want to hang with ease.
Faded but bright
The yellow, lavender, cream, and gray color combo of this rainbow isn't loud and vibrant, but still brings a warm glow to wherever you put it.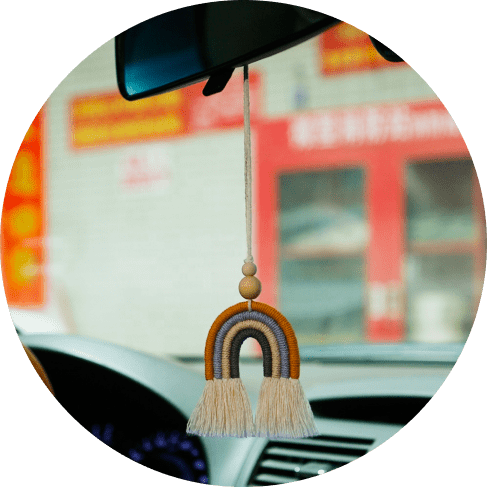 Everyone loves a rainbow
Gift the perfect birthday or going-away gift to someone special with this stylish yet simple Bohemian Chic Cotton Rainbow Charm.
This product is very nice for my teen daughter's car. She knotted it at the end to make it a little bit shorter, originally it hung too far down but it was an easy fix. She loves it and adds color to her car in a fun way.

It is just as described and REALLY cute!!! I just got a new SUV and wanted something new and different and I found these. I love how you can either use essential oils or perfume on it to make your car smell good. I used a sample of a designer perfume and my car still smells amazing weeks later. Overall, I definitely recommend these!!!

I purchased this for my car and then bought 2 more to gift. I personally love it and think it is so cute! Others have also complimented it so it is definitely a cute addition to my car and I would definitely recommend it!

Was a little worried about this bc it has so few reviews and pics but i got it and it looks exactly like their pictures it's super cute 10/10

Very cute!!! And like that u can put your essential oil in it for the car!!

Super cute hanging from my rear view mirror.

So cute!! A little too long though.

Not as big as the picture shows
Payment & Security
Your payment information is processed securely. We do not store credit card details nor have access to your credit card information.