Description
Bohemian Lace Stretch Headwrap
Your new must-have accessory has arrived.
Our wide stretchy pink lace headband is your new go-to accessory! Wide in the front and tapered in the back, it is perfect to be worn whatever way you choose. There are no more bad hair days here!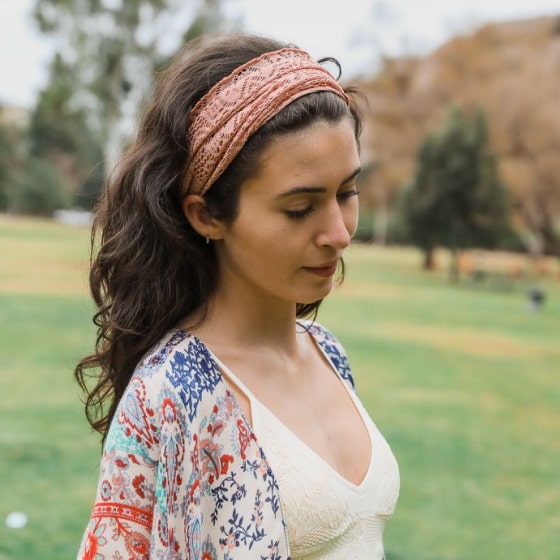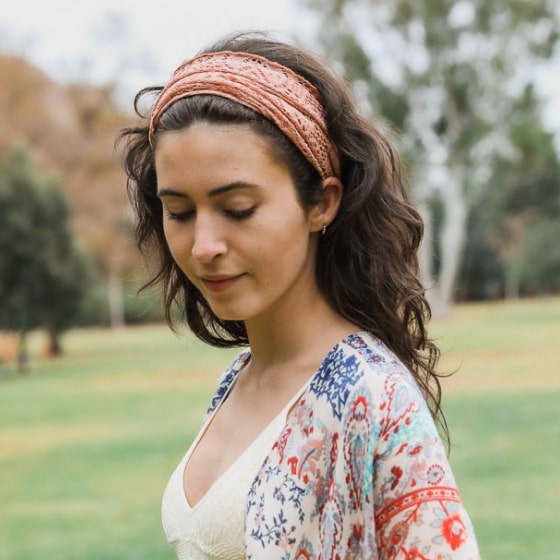 A Boho chic touch to your wardrobe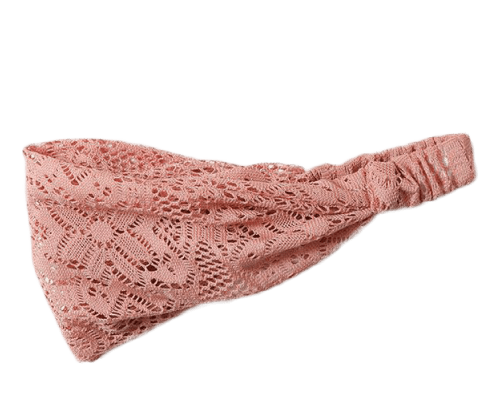 Perfect for any occasion
Whatever your needs are, we've got you covered! Our lace headwrap offers tons of coverage! It looks beautiful with a messy bun, wig, great for a bad hair day, exercise, or any festive occasion!
How to wear it?
The headwrap can be perfectly worn wide, folded and scrunched, on your forehead, back, or as a hair tie. So many different options in just one girlie accessory!
The perfect gift for any fashionista
Whether as a bridesmaids gift, wedding present, birthday gift, or a girlfriend present, this beautiful lace headband will make her smile! Made of 100% polyester, the Bohemian Lace Stretch Headwrap is super soft, stretchy, and comfy for all day use. It's a must have for everyday wear or any fancier occasion!
Love the lace look. Great color. Great fit. This lace headband is perfect to wear with any outfit. It has this natural look to them, very light and fresh, I bought these specifically for summer and I'm really happy with my purchase

This headwrap is just perfect for me, it's wider in the front and thin in the back and it holds my hair well without being a nuisance and having to readjust it every once in a white. You just put this on and forget that it exists, I once went to bed with my band on… The lace of the headwrap is soft, but durable, I've washed it two times and there are no tingled or loose threads, it looks like new.

They're pretty and get the job done, keep your hair out of your face. They're good. If you're looking for a headcovering type wide lace band these will not disappoint. These are like statement headbands or like functional keep your hair out of your eyes bands.

I am an asian girl with a kinda small round face but large head (I know it's weird but I wear large size hats or caps). But these still fit me well. I love them. I was a little worried that these wouldn't stay put on my head - I have a slightly smaller-than-average head and slick hair. Fortunately, these headbands did not disappoint. Not only do they stay put, but the material actually looks much more high-quality than the pictures may suggest. Definitely a great deal, in my opinion. Packaging was nice, arrived quickly, and the headbands arrived without defect.

I love these. I have short hair but they fit great. The lace stays intact after multiple washes, couldn't be happier about them!

My hair is straight and fine. Clamps, barrettes, and elastic bands get in the way and slip off when I'm active. I need something to keep my hair out of my eyes during my yoga stretches and kick boxing. What a relief it is, to discover cloth lace headbands like these!

These headbands are attractive and comfortable to wear while working out. (If I were to wear them all day, I might find them tight after many hours. But for 2 hours, they are great.) I hand wash them and air dry them on a hanger. They dry within 12 hours. When I do the wheel (yoga backbend), I pull the headband down about an inch or two lower across my forehead, to keep it from falling off my head. After my backbend, I push the headband back up for the rest of my activity. I am totally sold on cloth headbands for working out, and these headbands are great for my purposes.

This is my second order and I am just as thrilled with these headbands. Slightly stretchy lace stays in place even on fine hair.

Arrived quickly - would have liked a little more color variations for it but otherwise nice. Slips on my head but I think i will have that problem regardless as my head seems to be too round to keep headbands on without having to add the rubbery stuff that can damage your hair. Otherwise comfortable and pretty.
Payment & Security
Your payment information is processed securely. We do not store credit card details nor have access to your credit card information.