Description
Your handy compact helper
Clean-cut, functional, and hand-crafted
Want your cables to serve their purpose for a long time? With the hand-crafted leather cord wrap, you can easily put all your cables from various devices in one place and ensure they are kept in a safe and secure place. Moreover, the wrap can conveniently fit inside any suitcase or bag, so you can take it with you wherever you go.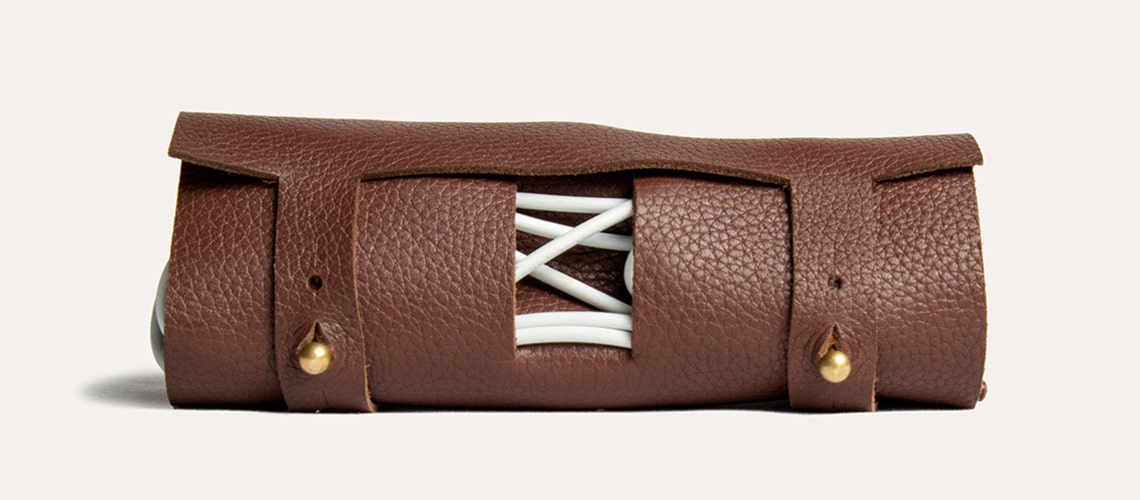 Next level organization meets comfort
All your cables in one place
Butter soft cowhide
The leather cord wrap is crafted with butter soft cowhide leather which creates an incredibly reassuring and comfortable feeling just by holding it.
Store and organize multiple cables
From charging to computer cables to earphones, there is enough storage capacity to store several cable cords regardless of their type.
Fits easily into a briefcase or luggage
5,5" x 3,75" closed and 5,5" x 10,5" open: these parameters allow it to conveniently be placed in any bag without damaging the cords.
Unique stylish accessory
Even though it is made to store cables, the stylish look makes it an ideal accessory that won't feel out of place but will rather complement your style.
Transport your cables with style and convenience
Ensure your cables' longevity and durability while transporting them anywhere you need. Combine comfortability and a unique look with safety and mobility.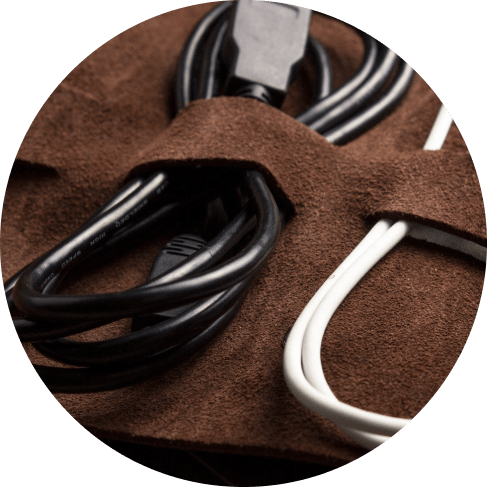 I love this every day! It keeps my odds and ends together and it's my style.

This works great and matched my husband's work back perfectly. Smells of leather too which is always nice.

The quality is very good. Leather looks nice. It only holds 5 or 6 cords. I was hoping to be able to stuff more in there.

I really like that this is leather, so it is really durable and for holding these electronic items it is likely to LAST FOREVER

I was hoping I could fit my MacBook Pro charger, but the straps do not quite reach all the way around when I've placed everything inside.

I bought this for my grandson who is a junior in college. Seems perfect for all his electronic "stuff". Works as it should..

Very convenient for travel. I have extra chargers and plugs, everything I need for my electronics in this classy travel sleeve. I keep it in my suitcase so I never forget these very necessary items

I love this leather Cord wrap. It's perfect for traveling....I hate having cords everywhere or even loose in a bag. I put a lighting/mini usb compound Cord, Apple Watch cord, and an extra mini usb in it along with the wall chargers.

The unboxing was a pleasure. Well packed, and came tidy in a way fine shoes might. For those who like organized bags, and a vintage flair this roll is for you. The product is very nicely made, and should hold up to many years of use.

Just go ahead, you won't regret it..trust me..The size, the leather and the stitches and by that I mean the handcraft of it is great, and it can take most of you things that you would fit in a bigger bag just in a much smaller kind of a hand bag..love it!
Payment & Security
Your payment information is processed securely. We do not store credit card details nor have access to your credit card information.