Description
Flutter with harmony
Let a friend of nature and the sky make her way to your greenery -- and stay forever. Our Butterfly Plant Stake is the perfect add-on for your plants.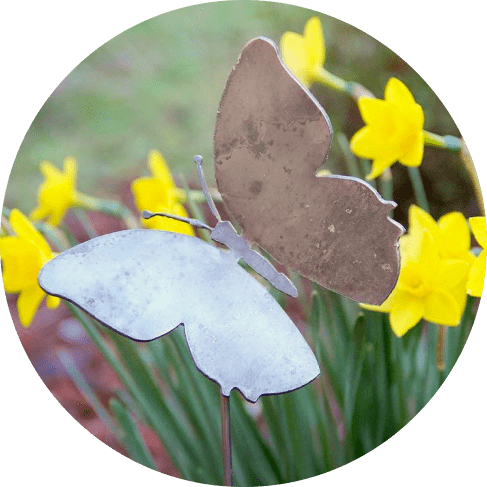 A friend who'll stick around
Personality is key
So make your plants stand out with this sturdy, cute stake that takes your plant from blah to "wow."
Work it indoors or out
SStick this butterfly plant stake into any desktop vase or outdoor plant for a touch of detail. It measures 10" in height with a width of 3.5".
A great gift
Treat those greenthumbers or nature enthusiasts to a unique decorative piece.
Detailed craftsmanship
Highland Ridge plasma-cuts all its metal pieces for stellar detail and smooth curves and corners.
Industrial, farmhouse decor
Get the best in modern decor inspired by the countryside with Highland Ridge and its collection of beautiful garden and home decor pieces. Everything is made with love and care from Tennessee in the U.S.A. for authentic rustic pieces.
Love this butterfly stake. It is in my plant and brings a cheerful look!

This is stunning and I have placed it in my garden.

The butterfly stakes were sturdy and decorative...perfect for garden and patio display.

This is nicer than I thought, love it. I will be ordering some more to give as gifts to friends

Nice addition to the flower bed..

Excellent random purchase 👌

Great butterflies 🦋. Really very durable

it is truly worth the money!

This was better than I had hoped

These are so cute - they really brighten up my garden

Nice quantity for the price

I love it. It made my garden so pretty with the butterflies

These are nice little butterflies for my flower baskets.

my garden now looks prettier

My mother adores this butterfly

This is really nice. We use it to decorate my grandmother's garden

Very pretty little butterfly, we put it all over our butterfly garden outside.

I bought mostly for my granddaughter, she loves butterflies. We put them in the flower pots and grandpa's garden. She gets tickled when a real butterfly lands near them.

These are wonderful! I gave them as a gift to my mother and she loved them so much she re-gifted them the next day and had to re-purchase another set for herself!

Just used those today; in the garden, near my flowers, and even created a "butterfly garden."

Having a great time decorating my yard with them. Great value for the money. Quiet eye-catching.

I love them! It's fall and it's cold so most of the live butterflies have gone to warmer places. We wanted to celebrate our garden. We put them in our butterfly garden

This was a fantastic surprise for a friend who loves butterflies and needed some cheering up during COVID season- I, he looves it

This is one of the best products I've found in a long time. So far it has survived rain, snow, and wind. Price is such that you can give it as a gift without breaking the bank.

I have purchased several brands of this kind of product in the past couple of years and this butterfly is the loveliest of all that I have purchased. It is large, sturdy and pretty.

really nice but i'd like this one in color as well

It's cute, sturdy and east to handle and install, but I want now a longer stake
Payment & Security
Your payment information is processed securely. We do not store credit card details nor have access to your credit card information.