Description
All babies love carrots!
This brightly colored orange carrot is topped with vibrant playful green leaves. Handmade with soft cotton yarn, it is lightweight and so enjoyable for little hands.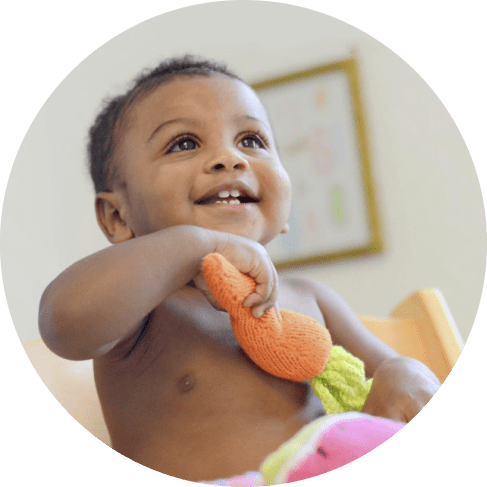 Carrot rattle details
Perfect for hours and hours of play
The materials of the toy
Handknit with 100% cotton yarn and polyfill.
The size of the toy
The carrot rattle comes at 8"(L) x 2.25 (W)
Fully machine washable
Place your Pebble toy in a mesh bag and launder with cool water and non-toxic detergent. Fluff in the dryer for a few minutes and then air dry.
Designed for child development
Colors, textures, and shape spark tactile, auditory, and visual stimulation.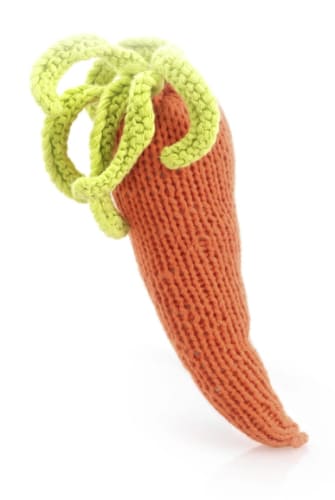 The carrot is just so sweet and loveable
The rattle inside makes a very gentle sound when shaken. Perfect for hours of pretend play, this carrot rattle is bound to be your child's favorite first vegetable.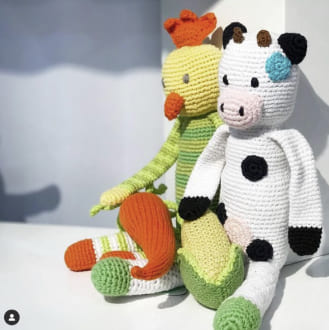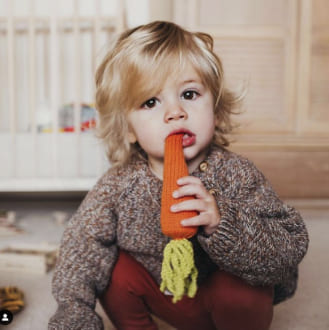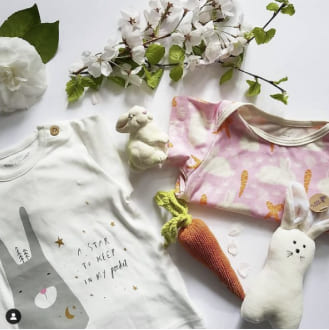 About Pebble
Once upon a time, a young woman from the UK fell in love with a young man from Bangladesh. Eventually they moved to Bangladesh and had a baby. As the new mother cuddled her tiny boy, she couldn't help but notice all of the young women streaming into the garment factories every morning. She was deeply saddened when she discovered that many of these woman had babies back home in their villages, left for months at a time with grandparents while the mom worked in the city. Lack of rural employment for women was separating families and putting the mothers in harmful situations and the babies without their mothers. So this new mom did what she could. She gathered a few women around her and taught them how to knit and crochet little dollies that could be sold in the Western markets. Samantha Morshed dreamed that this would grow and become an alternative source of income for women throughout Bangladesh. 15 years later, her dream is becoming a reality. More than 13,000 women are now employed making Pebble toys in their home village. They walk to work, taking their babies with them. There they sit together, yarn spilling onto their laps as they knit community and love together in each heirloom Pebble toy. Pebble was born out of a love for babies and their mothers. Pebble : Putting Smiles on Faces Worldwide!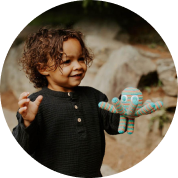 Soft and cute! As described.

My son loves this rattle and will pick it from an assortment of toys. He chews on it contentedly for a long time.

While I love the other Pebble baby toys I have, this one disappointed me a bit. The polyester fill is coming through the knit material after only a few uses. We had to take away from my baby so she wouldn't consume the filling.

I know it's supposed to be a rattle but my baby loves it as a teething toy. She can't put it down! I highly recommend it!

Light weight, easy for baby to hold. :) Pebble could improve these by using a tighter weave but we haven't had a problem. Nice little rattles!

I bought this as a part of a Bugs Bunny Halloween costume, but it soon became my little girl's favorite rattle (she is 3 1/2 months). The tip is really easy to grab, and when she swings it around she can wack herself in the face without it hurting her. Great purchase!

We received this as a shower gift, neatly tied to the outside of a wrapped gift. Thinking it was cute but not much of it otherwise, it sat on the nursery nightstand until I grabbed it during a particularly wild diaper change, and it's now easily one of my son's favorite toys. The rattle is soft and gentle, but satisfyingly audible, and the toy is easy to grab, chew, smush, shake. I love that it's soft and so lightweight, it doesn't hurt when he bonks himself with it and it tends not to get hurled as much as heavier plastic toys. He switches between chewing on tip and greens, so it keeps him entertained for extended periods. I'm considering getting another one so we can wash the one we have more frequently! Luckily it's well-made so has held up great with machine washing so far. This thing is gold!
Payment & Security
Your payment information is processed securely. We do not store credit card details nor have access to your credit card information.