Description
Is your dog a heavy chewer?
Deal with your dog's chewing behavior like a champ
This ultra-durable nylon toy in the shape of a cherry pie slice is designed and built to withstand even the most aggressive chewers. This awesome toy helps you keep the dog entertained and solves problem chewing behaviors, while also reducing the pet's boredom and relieving separation anxiety at the same time.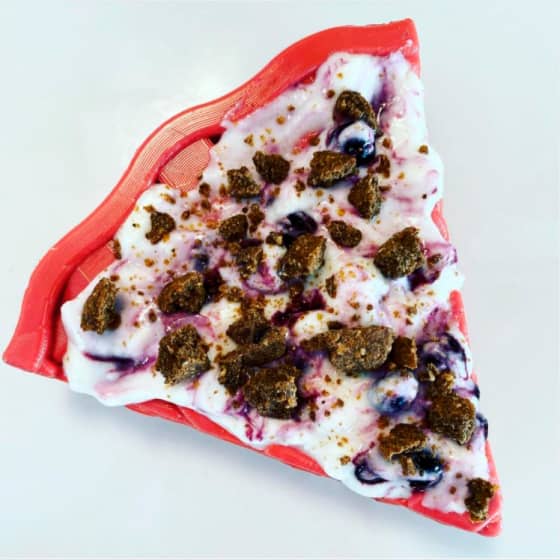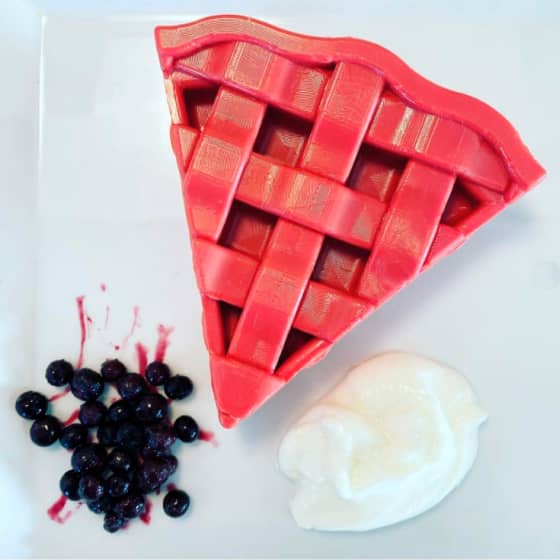 Ideally suitable for power chewing dogs
Never worry about what's going into your dog's mouth again
Peanut butter holder
Smear peanut butter into the cavities on the top of the toy to give your dog a treat and keep it entertained.
Dishwasher safe
This dog toy is dishwasher safe, so you can easily keep your pup's favorite toy clean. Place on the top shelf of your dishwasher or hand wash with warm soapy water.
One size fits all
The universal design is suitable for most dogs, even including large powerful chewers (15-80 lbs / 7-36 kg).
Safe toy for your dog
Never worry about what's going into your dog's mouth again! Made from a proprietary material that is FDA compliant and non-toxic.
Stimulating fun
Fun cherry pie shaped nylon toy with textures and angles that stimulate chewing. Deep flavor pockets hold peanut butter. Helps your dog fight boredom and problem chewing behaviors. Assists in teeth cleaning and breath freshening. Easy to clean and dishwasher safe. Remember that no dog toy is indestructible! Supervise dogs while playing with the toy.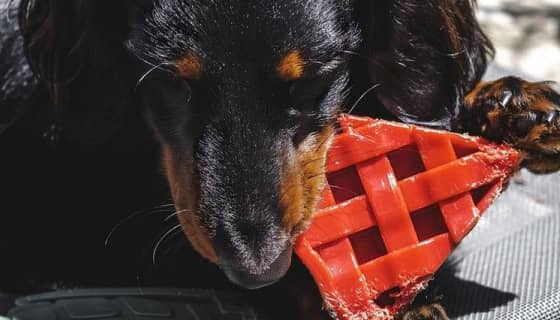 About SodaPup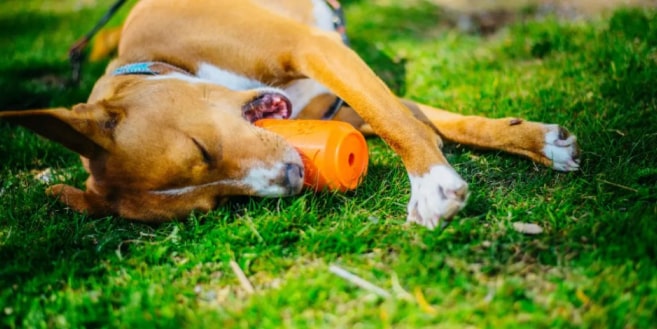 At SodaPup we specialize in creating fun and innovative dog toys for dogs that destroy everything! All of our products are made in the USA and are FDA compliant, meaning they are the safest dog toys in the market today. SodaPup has developed several brands, each with a unique theme that appeals to different consumer segments. Our brands are SodaPup, USA-K9, Industrial Dog, MuttsKickButt, Spotnik, and Harvard's Finest (our brand of grain-free dog treats). SodaPup gives back to the communities it serves, directing contributions to animal shelters as well as dog-related veterans organizations.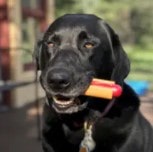 Designed In
Boulder, Colorado
This takes a lot of chewing. Has got bit marks in but it's still in one piece and can add treats to it.

My dog loves chewing on this! It hasn't cracked or splintered in the 2 months my pitbull mix has been chewing on it.

Great durability for dogs that like to chew.

This is a very hard toy, I'm afraid my dog's gonna break a tooth or something, but it enjoys the toy quite a bit

Underestimated it at first but is great quality

That's what I call a chew toy!

Surprisingly still alive and usable

Gave it 4 stars for durability since my aggressive chewing dog took part of the corner off. Did keep him busy licking and playing. Still I am happy with this toy. Will have to keep an eye on him to make sure he stays out of trouble.

I am amazed by how durable this is. I guess you could only achieve that durability by making a toy extremely hard, maybe even too hard for my liking

My dog's very protective over this chewer, she loves it so much.

Had a bit of damage but still fine

2 months in and still looks great

This is a great product for real chewers, just make sure to watch the dog while it plays with it – this is quite hard

My dog loves the smell of it more than chewing it, at least something came out of it

Surprised it actually lasted long enough

Finally, something indestructible for my pup

This is the real challenge for my chewer

Keeps my dog busy for hours. The only thing is that it's a bit big for my dog

So far so good, but the jaw power of a Rottie compares to a crocodile! For the price it's worth it.

I have a shepherd who tends to be aggressive when it comes to playtime. I don't even bother buying him plush toys no matter how strong they look. And this is why this chew toy has caught my attention: I thought it would be a great addition to our nylon toy collection. He loves it a lot! I love to put some hard treats or something soft in the crevices of the pie and he loves to dig it out, makes it more enjoyable that just chewing a rubbery thing.

My pup is quite a picky creature when it comes to toys/food. I don't know what it is about those toys that he doesn't like, but he goes through them quickly and I have to buy another one just for it to be replaced in a month at max. Moreover, he's a chewer. And by chewer I mean a CHEWER. I had high hopes for this chew toy and it did not disappoint. It lasted him for a month and it's the longest he's been interested in anything. I take that as a sign of quality.

We have aggressive chewers who REALLY like to try to rip things apart. They like to pull the squeakers out of squeaky toys... they like to pull the fluff out of plush toys... they like to shred the plastic of the hollow toys. This toy I gave it a week of solid playtime with the dogs before reviewing. It's FANTASTIC!!!! SO durable; there's not even a mark on it, and all the dogs (we have 5 adult dogs) love to play with it, love to just lay and chew on it, and I don't have to worry about any kind of sickness or sanitation issue with anything that's from an actual animal (ie; antlers, marrow bones, etc). We really like this toy a lot and look forward to ordering a few more so they can each take one for chew time and quiet time in the crate if they want. If one takes it and goes to his/her little den, the others get jealous! Will definitely be ordering a few more!!!

I have a rescued dog that looooves to chew on things, whether it's edible or not. I had to teach it some manners before it could destroy my belongings. I've bought quite a few chewers in the previous months and none of them could last long, they were too soft and/or small. However, this one is my savior! It's hard enough so that he can chew on it without damaging his teeth, but hard enough for it not to break in a couple of hours. Hands down the best chewer I've bought, now I'll update when this one's gonna be destroyed.
Payment & Security
Your payment information is processed securely. We do not store credit card details nor have access to your credit card information.