Description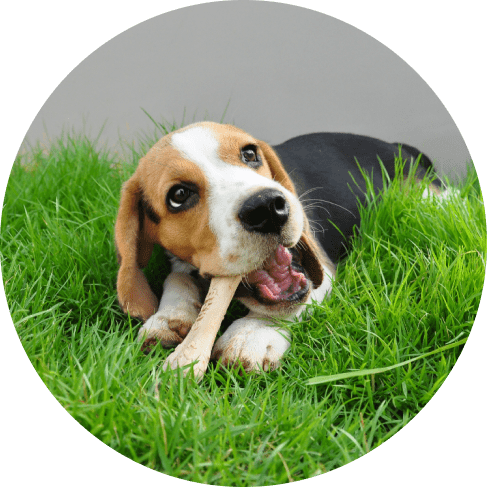 Give your dog something good to chew on
Dogs are born to chew… and chew they do! Give them the most innovative, flavorful, and fun chew toy - the chicken-flavored nylon will keep your dog coming back for more!
Designed for powerful chewers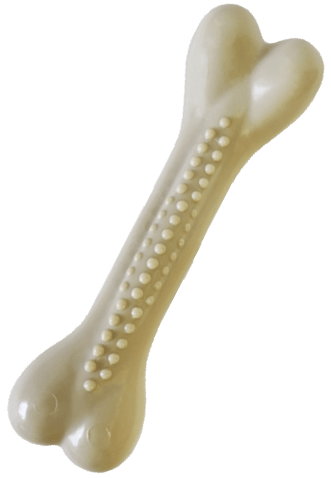 Encourages positive chewing habits
This toy satisfies your dog's natural urge to chew, and the ridges will help with massaging gums to keep their pearly whites healthy and control plaque and tartar.
Made with tough, durable nylon
This 6" flavored dog chew toy from Jojo Modern Pets has a super delicious chicken flavor that dogs love. The material is 100% nylon and it is ideal for heavy chewers.
Keep your companion happy & entertained
Dogs can become a bit vicious with their chewing. This toy encourages non-destructive behavior and stands up to dogs who love to chew. It offers dogs an authentic bone shape and irresistible flavor throughout, keeping your furry friend happy and occupied. Made to solve a variety of chewing challenges!
About Jojo Modern Pets
Jojo Modern Pets started with the idea that people want beautifully designed pet products that match their home. JoJo Modern Pets has great offerings for small boutiques and regional pet chains. We provide the basics with a unique twist and something people can't find other places. We can pre-ticket some items with your brand or help you source products you know your customers will love. JMP is stocked with domestic inventory at our warehouse in Illinois. We work with customers to do it "their way." Case packs, moqs and pricing that makes sense for independent stores. At JoJo Modern Pets we pride ourselves on making our customers more money.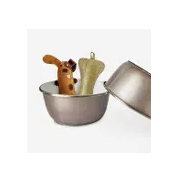 Designed In
Oswego, Illinois
Love this bone, seems like a great exercise for my dog's jaw and good to keep her teeth healthy

My dog is going crazy over this bone! Thank god it's not a squeaky one.

My dog loved this bone and for only this price it was a great treat for him. My dog is a big chewer and he didn't wreck this bone at all, so its fairly durable. I would purchase these again.

My chiweenie doesn't chew this often...but it's the ONLY thing she hasn't destroyed so far. I keep it in her crate for night time so she has something the chew that doesn't squeek or crackle.

Not sure what the deal is but the dogs have 50 different 'bones' and this is the one they fight over. I bought 3 more.

48-pound Siberian Husky loves this freaking bone. I wish he didn't. He has chewed it and chewed it and chewed it... and, now, it has become a weapon of doom and devastation. ALL of us people in the house (my husband, my pregnant self, and my son) have stepping on this chewed up bone and let me tell you... you think stepping on legos is bad? Ohhhh honey, try one of these. It is utter... sheer... devastation. Now, if you can be a bit more observant of your surroundings than the three of us stooges, you might have some more luck. Or, maybe just plan to wear some shoes around in case you can't be bothered to look where you're walking. At least the dog likes it... he probably likes it even more now that he's seen he can use it as a tool of vengeance on the humans.

I waited to review this because I wanted to see how long it would last. My dog is a chewer and has went through the large cow bones in less than 2 hours. $20 gone in 2 hours! He has chewed through a minimum of $250 worth of chew toys in less than 2 months. This one was recommended to me by a person at the grocery store who has a husky (mine is a husky-terrier mix). She said he will most likely never quit chewing. She said she tried this bone and it was a lifesaver for her. I tried it. It has been almost 2 months and he hasn't chewed through more than 1/4 of it and he chews on it daily. Everyday, I pick it up out of the floor and put it in his toy bin and he immediately takes it back out. It's not like he doesn't chew on it because he does. Well worth the money and it has saved my baseboards!

Wish it was a bit less solid as I think it might damage the teeth if you're not watching your dog carefully. Nevertheless, this is my dog's new bestie
Payment & Security
Your payment information is processed securely. We do not store credit card details nor have access to your credit card information.