Description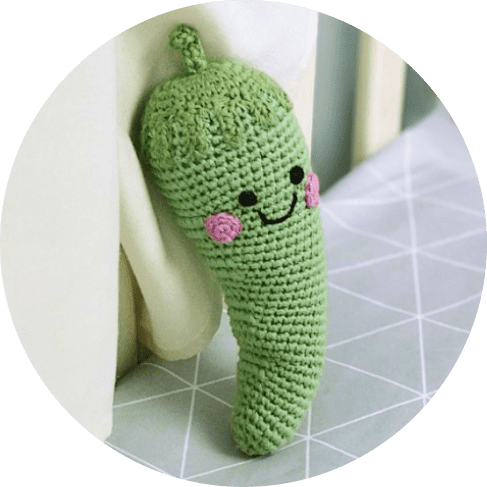 The friendly chilli rattle
This bright chili is ready for hours of pretend play in your little one's kitchen. The rattle inside this knit toy gives a soft sound when shaken.
Organic chilli rattle specifications
The perfect little friend for the little ones
The materials of the toy
Lovingly handmade with 100% cotton yarn and a poly fill. It is super soft and lightweight.
The size of the toy
The chilli pebble toy has the following size specifications: 5"(L) x 2"(W)
Completely machine washable
Place your Pebble toy in a mesh bag and launder with cool water and non-toxic detergent. Fluff in the dryer for a few minutes and then air dry.
Child development in mind
Made with child development in mind. Colors, textures and shape spark tactile, auditory and visual stimulation.
Unbelievably cute
The always smiling chili rattle is hand-stitched with organic cotton yarn, this nontoxic rattle is perfect for a baby's first toy. Perfect for tiny hands to hold and love.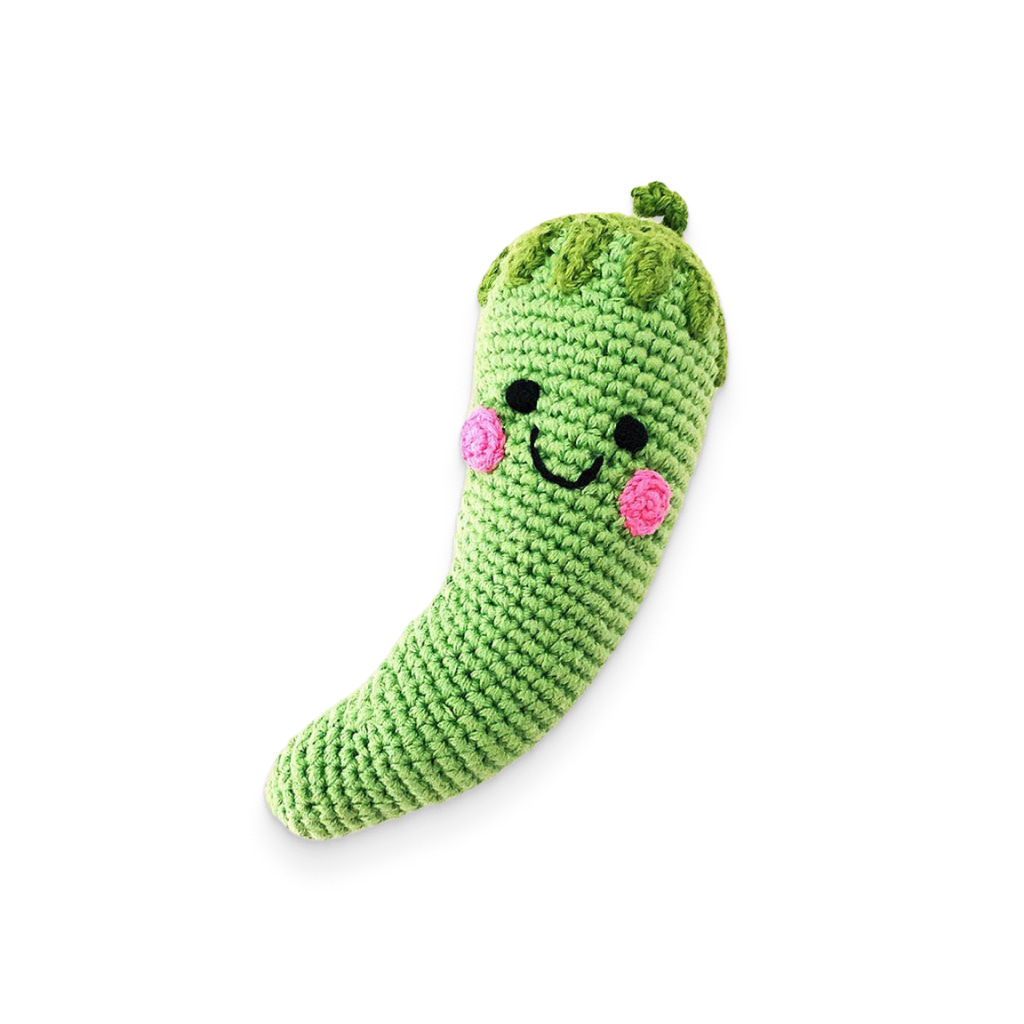 About Pebble
Once upon a time, a young woman from the UK fell in love with a young man from Bangladesh. Eventually they moved to Bangladesh and had a baby. As the new mother cuddled her tiny boy, she couldn't help but notice all of the young women streaming into the garment factories every morning. She was deeply saddened when she discovered that many of these woman had babies back home in their villages, left for months at a time with grandparents while the mom worked in the city. Lack of rural employment for women was separating families and putting the mothers in harmful situations and the babies without their mothers. So this new mom did what she could. She gathered a few women around her and taught them how to knit and crochet little dollies that could be sold in the Western markets. Samantha Morshed dreamed that this would grow and become an alternative source of income for women throughout Bangladesh. 15 years later, her dream is becoming a reality. More than 13,000 women are now employed making Pebble toys in their home village. They walk to work, taking their babies with them. There they sit together, yarn spilling onto their laps as they knit community and love together in each heirloom Pebble toy. Pebble was born out of a love for babies and their mothers. Pebble : Putting Smiles on Faces Worldwide!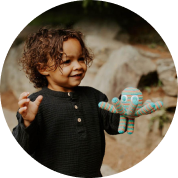 Purchased this toy because of how unique it was.

I bought this for my granddaughter. This is the cutest rattle I think I have ever seen. Very happy with purchase.

Very cute baby toy. Unfortunately, our dog also thought it was a very nice toy. At least she had some fun tearing it up. I would get again as a gift for someone, just not in our house!

So cute! My baby loves this and it is soft so I don't have to worry about her hurting herself as she hits her face/body with it!

My daughter loves this little rattle. It's super easy to clean. I've washed it multiple times with my baby's laundry and it's always come out just fine.

This rattle is super cute. It's thick and makes the rattling sound pretty loud. My baby can't really grab it yet but he follows me with his eyes when I jingle it. He will have it for a long time to play with. Also it's pretty big as well.

This is really cute, and my baby likes it a lot. She's about 5.5 months old. It's easy for her to hold on to and very soft. It sounds like a typical rattle. I've put this through the washing machine in a mesh bag a couple times and let it air dry, and it's held up just fine
Payment & Security
Your payment information is processed securely. We do not store credit card details nor have access to your credit card information.