Description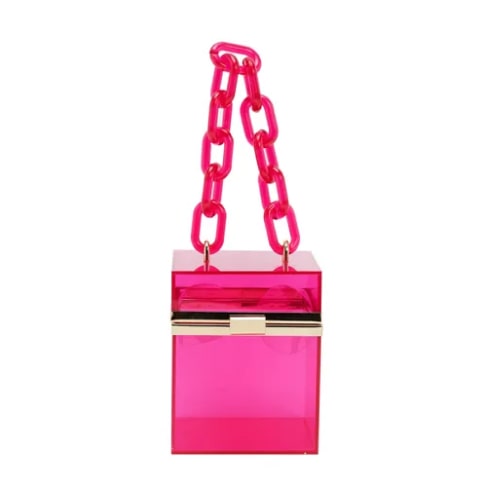 Classy Edgy Box Clutch With Chain
Unique and stylish clutch designed to impress
Are you used to impressing people around you with your stylish look? If so, this Classy Edgy Box Clutch With Chain is a must-have accessory for you! This bag can boast a unique design, high-quality components, durability, etc. Make all the passers-by impressed with this one-of-a-kind stylish bag all the others will definitely dream of!
The one you've been dreaming of
Classy Edgy Box Clutch With Chain
Unique & classy look
Are you fond of clothes and accessories that look really unique and classy? In this case, this clutch is exactly what you're looking for: it has a one-of-a-kind and bright design!
Well-thought-out size
Each accessory is supposed to be not only stylish but also convenient to use. This is exactly what this clutch is able to boast: due to its well-thought-out size, you will be surprised that you've not found it before! Dimensions: 4" W x 5 1/8" H x 4" D.
Design with a chain handle
It's extremely difficult to create a bag handle that will look perfectly. But this one is different: due to a bright chain handle, this clutch looks really cool.
Clean silhouette
The cute clean silhouette makes this bag a fashionable accessory no one will remain indifferent to.
Perfect present
If you have that special somebody in your life that you would like to show your appreciation to with a special gift, get this stylish clutch! Its unique and classy design will definitely impress any woman.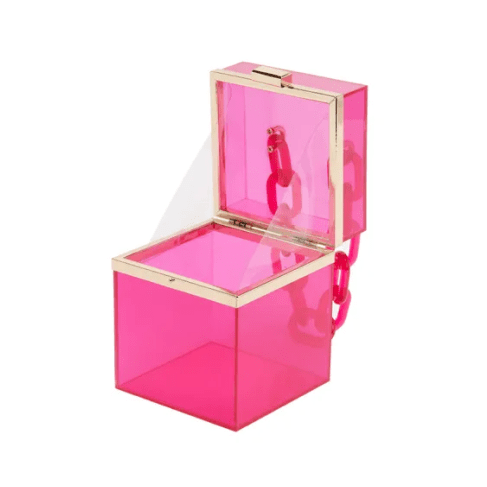 I love this purse. Out of all the clear acrylic purses I seen, this was the best looking one. I love the color and I love the chain. I think the chain makes it look more high end than some strap or something. With this bag I feel like I've just arrived from Milan fashion week. Perfect date clutch!

Gave it to my niece for xmas and she absolutely LOVES it!!! the liquid-like chain sets it apart, as does the rose gold color!

I was worried about buying this purse at first because there weren't too many reviews. But I love it! It looks fancy and feels durable. Now it is small but I don't really put anything in it because it's clear. It doesn't feel fragile to me, but I would not go around be SUPER rough with it either. I would totally recommend this to anyone looking for something cute and stylish.

Great purse, exactly like in the pictures. Good for a wedding or other occasion when you really need to dress up. Very usual design, you will definitely get a lot of attention with this bag. It's bright pink in color and I only had a chance to wear it for two occasions and it held up fine, no scratches and the lock still works fine. Honestly I didn't expect too much, but this bag surpassed all my expectations.

I absolutely love this purse. It is unique! Forget about those boring purses and try this one. I can get my phone & date nite things in it. It is also safe near pools. It locks securely and is not too heavy. The chain was my major concern, but it is actually pretty sturdy and doesn't bite into my hand.

I needed something quick for a wedding and this was perfect, easy to customize and goes with almost anything. You can fit a phone and a small wallet in it. I love this purse! It's very light weight, and pretty.

I purchased this little purse for my granddaughter to carry pretty items for show or necessities wrapped in a lacy hanky for not to show. It is clear, you know. My only negative is the lock is difficult to open. Open it carefully to avoid breaking. A little caution is well worth the effort.... it is simply charming!

Perfect for a night out or some extraordinary occasion, but you gotta be a reeeally brave girl to carry it around on a daily basis, just saying…
Payment & Security
Your payment information is processed securely. We do not store credit card details nor have access to your credit card information.