Description
Designed for fashionable looks
Your new favorite accessory
The extraordinary design of the chain together with its vivid details will add the ultimate modern touch to your regular look.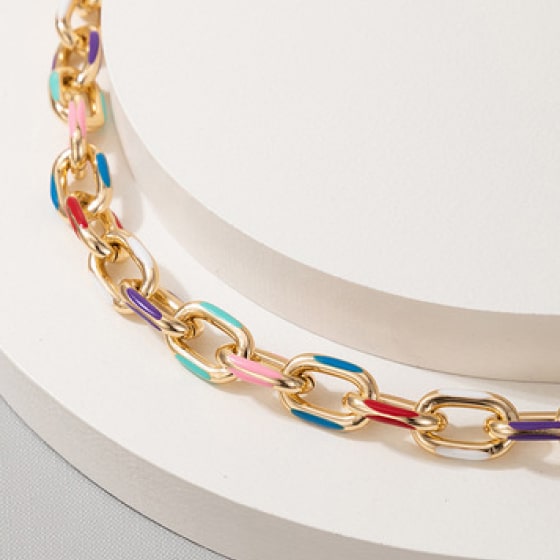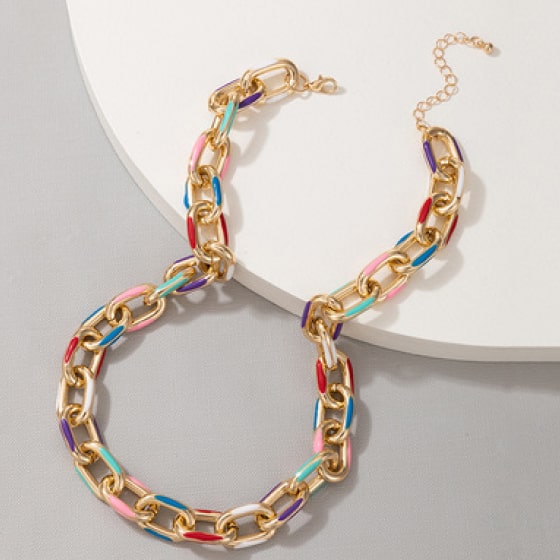 It's all in the details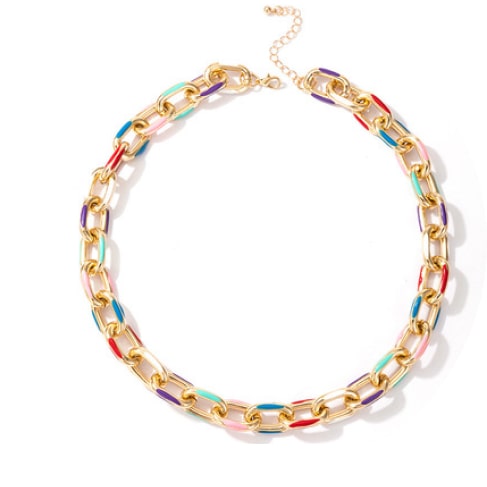 Necklace details
Color: gold-toned. Type of chain: cable. Weight: 1.2 oz . Material: zinc alloy.
Care tips
Store in a dry place in a ziplock bag. Wipe with a soft cloth. To prevent your skin from turning green, coat the chain with clear nail polish before wearing.
An excellent gift
A trendy design of the Colorful Cable Chain necklace won't leave anyone indifferent. This gorgeous accessory will perfectly highlight your facial features and skin tone. It'll become a stunning addition for both casual and classic outfits.
For such a price I expected that the quality would be worse... But it's on top!!!☺Color is really cool! Lying, comfortable, not much hanging and can be worn just like a choker! But on a thick neck it will be difficult to put on, hehe. Lock-hook is a little tight to catch, especially with long nails.

A good chain of gold metal with colored inserts. Not heavy, does not ring when worn. Very beautiful decoration. The chain is the same as in the photo. Looks stylish, not cheap. I absolutely like it!

I'm happy with the order for all 100%! For such a price, even did not expect something "reusable", but was pleasantly surprised. The ideal length, very nice bright color, looks stylish and cool.

Looks like the photos. Good quality and vibrant colours. This necklace fits around my neck well.

Everything is super! Corresponds to the photo and description, looks very cool, I recommend!

Beautiful necklace! The color of the metal is lemon yellow, pleasant! Not heavy

In several places on the necklace there is no color enamel, I think in the process of wearing such places will become more. The surface of the necklace is not smooth, but rough, which I did not really like.

Incredibly stylish chain, great for the images and looks great.

The chain is cool. Looks cool, as in the photo. The buckle is strong.

The chain is very beautiful! Looks much better than in the photo!

A beautiful chain, light, perfectly complements the images.

A beautiful necklace! Looks heavy but is very light.

Beautiful trend chain with interesting weaving.

Good decoration. But the picture looks better

The same as in the photo, the quality is good

Very cool, stylish, does not look cheap.

Beautiful chain for the summer
Payment & Security
Your payment information is processed securely. We do not store credit card details nor have access to your credit card information.