Description
Treat dispenser toy for your dog
Suitable for aggressive chewers
Fun rubber cupcake-shaped dog chew toy has openings on each end for inserting treats, peanut butter, or dog food to use it as a slow feeder. Help your dog fight boredom and stay busy while you're away! Fill with their favorite treats or food, and top it off with some peanut butter to create an engaging puzzle for your pooch.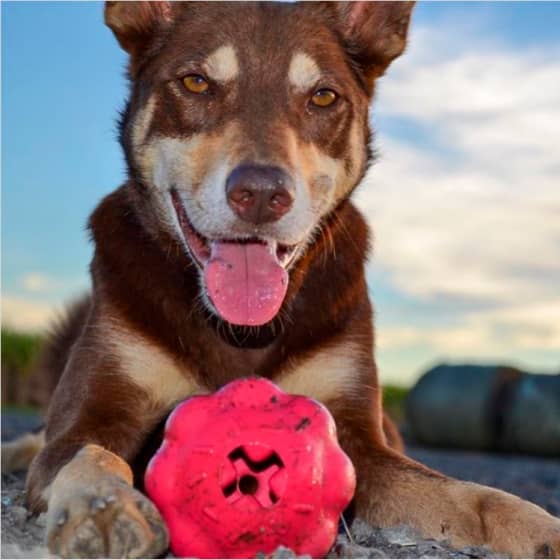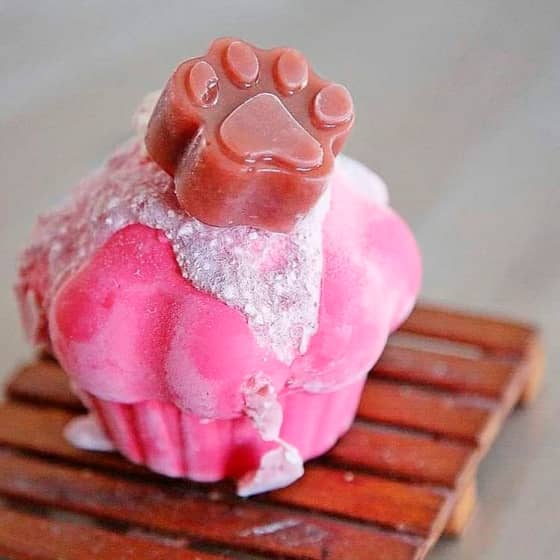 Your dog needs this
Reduces problem chewing, boredom & relieves separation anxiety
Durable chew toy
Durable enough for heavy chewers, yet soft and chewy enough to satisfy your dog's chewing impulse. For medium-sized dogs up to 35 lbs.
Use it as a slow feeder
If your dog is a "speed eater", serve your dog's meals inside this toy. It will slow down eating and keep your dog stimulated and entertained.
Dispenses treats
Help your dog fight boredom by filling the Cupcake toy with kibble and dog treats. The toothed opening helps retain treats, creating a greater challenge for your dog to get at the goodies inside.
Great for dental health
This dog toy helps your dog maintain good oral health. The contours of this toy and the chewy nature of the material helps keep your dog's teeth clean, reducing the build-up of plaque and tartar.
Multipurpose & safe toy
Ideal for use as a treat dispenser. Insert treats to create a challenge for your dog. Use it as a slow feeder. Pack with moist recipes and freeze to extend eating time. It is also a durable chew toy and retrieving toy with an erratic bounce. Material is FDA compliant, non-toxic, and biodegradable. It is sustainably harvested helping to reduce the carbon footprint.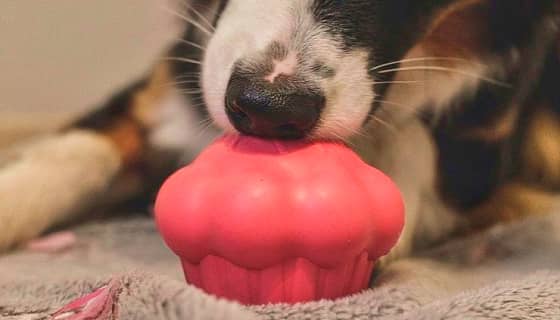 About SodaPup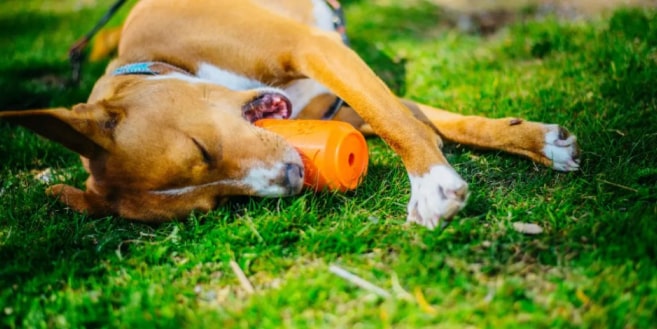 At SodaPup we specialize in creating fun and innovative dog toys for dogs that destroy everything! All of our products are made in the USA and are FDA compliant, meaning they are the safest dog toys in the market today. SodaPup has developed several brands, each with a unique theme that appeals to different consumer segments. Our brands are SodaPup, USA-K9, Industrial Dog, MuttsKickButt, Spotnik, and Harvard's Finest (our brand of grain-free dog treats). SodaPup gives back to the communities it serves, directing contributions to animal shelters as well as dog-related veterans organizations.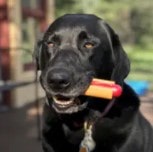 Designed In
Boulder, Colorado
One of the best treat dispenser toys I've tried! I co-taught a puppy class and used to suggest these for enrichment and helping puppies with crate training! Everyone who got one loved it. So durable and works as an awesome toy as well when no treats are inside! The fun shapes are also a plus and I feel are another bonus when putting dog food in there for them to try and get out!

Unique and durable stuffable toy. Perfect for any dog, any size, any age. Also makes a great gift. My golden retriever loves it, he carries it around the house, adorable. One of his favorites and still looks like brand new. As far as the durability; I can't speak on that yet. We will see how these hold up as she plays with them. All in all worth it! If you don't have this toy, buy one now... we currently have two of them :)

I have a lab puppy that can chew through anything, but he has not been able to chew through these. I love that I got two for my purchase. He loves this toy not only to chew on but to play with in the yard. I'll definitely get this one again because it also has holes you could put treats in and cover the end with peanutbutter, freeze, and provide enrichment. Sadie the puppy chooses this toy over every other one when given options. Well worth the purchase.

Really durable rubber, especially for aggressive chewers. Bought it in January and it is still almost perfectly intact 3 months later except for some rubber missing from the bottom edge due to her chewing. Bought this for our one year old Border Collie who chews through most toys with ease. He has had this for 3 months and has only managed some minor teeth marks, try as he may. It is soft enough that it gives a bit as he chews on it. He loves this toy and carries it around everywhere!

This is a super durable toy that my cute but ornery dog hasn't been able to tear apart. Would definitely buy again from this company if their other toys are this strong

Highly recommend it to all dog owners.

My black lab can chew through ANYTHING! This is the only toy that she has that has lasted her a WHOLE YEAR!! And sooo cheap

I bought this toy for my dog for his 6th birthday. He LOVES it! Great quality, almost 1 week in and still intact! I would buy this again!

Would highly recommend it because this is just better and much much more affordable than the competitors.

I'm very happy with the product and my dog loves it.

My dog loves it, I just wish it was a little bigger so it doesn't fit when she rolls under the furniture. She always rolls it under the TV stand and Sofa.

My baby boy loves this toy. He chews on small things so it's been durable. When he's ready for dinner he grabs his cupcake & starts running around like a Tanzmanian devil! А great buy!

We ordered this for our American Pit Bull Terrier's Gotcha Day. He loves, but usually DESTROYS, toys. It has been nearly two weeks and this cupcake is still in ONE PIECE!!!

Much bigger than I thought it would be but our Yorkie loves it! Would buy again.

Cute, but hard to get the dog treat out.

My dog loves this toy! It also seems extremely durable, but I don't have a super chewer, so can't help much on that.

I LOVE these! The price is right too. Not wasting my time or money with any other treat toys

my Pitbull loves this thing!!

I bought two of these for my grand puppers and they really love them. Both of them are chewers and as of today they have not destroyed them. Love them.

I used to buy the Black competitor model and my 2 English Labradors would destroy them in a matter of weeks. I bought this about 3 months ago and they still look brand new! I love these and love the price even more!

Very reasonably priced for the product you get. Will definitely buy it again! I will buy this instead of Kong toys.

Highly durable for dogs who are tough on chewing items. Easy to stuff with their favorite treats and quick clean up.

I have an aggressive five-month-old chewing puppy. This is the most superior quality treat dispenser toy that I have purchased. I now have a total of six.

My dog loves this thing! I did put some wet food in it and froze it, and they loved it but it caused a mess if outside a crate! I would use it as a crate distraction while at work, our puppy is in there most days and it keeps him busy!

This is AMAZING. My dog is obsessed with them. I love that they are a noticeable color also. Very durable especially when most toys have been destroyed.

This is a great item. My dogs are light/medium chewers and it's a little too tough and durable for them. Ha! They mostly lick it to get the treats out. I freeze them sometimes and they really hold up well.

Our black lab loves these!

I bought two! These are great for our 2 dogs. I love that they are dishwasher safe. Easy to put treats, fruit etc and freeze them too. Definitely a good buy.

It is really bouncy to play with and easy to put treats in. I'm going to buy more for the shelter dogs to play with!
Payment & Security
Your payment information is processed securely. We do not store credit card details nor have access to your credit card information.