Description
A beautiful girls' wristwatch
This cute flower designed girls watch is suitable for everyday use and can be the perfect first watch for your little angel.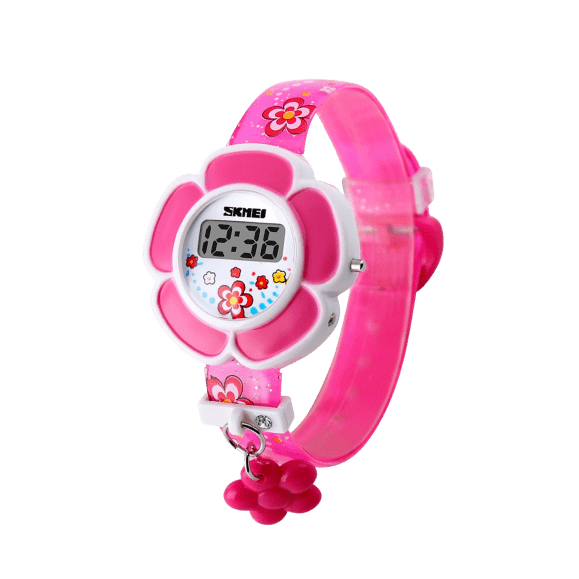 Watch specifications
Flower-like bloom of childhood
Watch details
Watch length: 8". Diameter: 1.2".Case width: 1.3". Case materials: PC. Band materials: PU. Weight: 0.6 ounces.
Easy to read
The kids' toy watch has a large dial and numbers. Easy to adjust the month and the date.
Great design
The watch has a miraculous strap with colorful lifelike cute flowers. Just looking at these lovely and interesting flowers makes kids vigorous and happy.
Comfortable and reliable
High-quality, PU watch strap that can be worn with confidence. Reliable high-hardness glass. Uses healthy environmental protection materials, very suitable for children.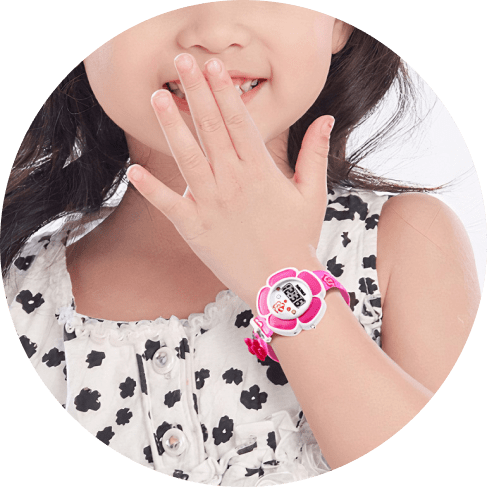 Let the most innocent dreams come true
This cute, cartoon-style watch with its beautiful, lifelike flower is the best choice for a birthday gift, festival gift or visit gift that kids will definitely love. With this cute pink watch, children can read the time easily and correctly.
My daughter liked this watch. It is so cute. It was so pretty. This watch was attractive. It had a very smooth and sleek look. It looks very nice on the wrist. It is very flattering. It fits well. It is very comfortable to wear. It goes on and off easily. It worked without a problem. It kept good time. The quality is very good. This would make a very good gift for a little girl.

This watch was perfect for our 5-year-old granddaughter. She loves anything and everything pink and flowery. The flower artwork on the display is really adorable. It's very nicely done. I posted some close-up photos so you can see the details. The band is comfortable for her to wear. It's a comfortable silicone material, which is also stretchy with lots of adjustments.

The little one loves dressing herself. She puts together outfits and accessorizes. The pink is a nice vivid color, but not bright. A lot of times you find more 'screaming' pink for kids items. I'm happy I found this gorgeous shade. The silicone band is so quick to wipe down/clean. She loves the flowery design and that little pendant on the band.

We really liked this watch. I was a bit nervous about getting it, since my daughter is so active she can tear it. We haven't had it very long but so far they seem better quality than I would have thought. My daughter loves the design of the display and how easy it is to read time. Overall a great present.

I sent this to my 7 year old granddaughter and she was delighted. It works well and isn't too expensive in case the child breaks it or knocks it against something. It seems durable and makes a great gift for a girl.

I like the design and the colors of the watch and how it looks. I gave it to my little granddaughter for last Christmas and forgot to leave the feedback! She wears it all the time to school and to show her little friends!!!

It's was a great watch for my daughter's birthday, then 2 months later a part of the watch broke

Bought this to pair with a nice flower-patterned dress. It is for a six-year old therefore, it's easier than an analog watch with different hands for hours, seconds etc.

Great color, works wonderfully and is a kid friendly screen. Easy to read and great quality. The price is reasonable. I would recommend it.

I purchased this for my little cousin and she loves it. I just wish it were a little bit bigger.

The watch is cute and comfortable. Seems to be pretty decent quality, so we are overall happy with the purchase
Payment & Security
Your payment information is processed securely. We do not store credit card details nor have access to your credit card information.