Description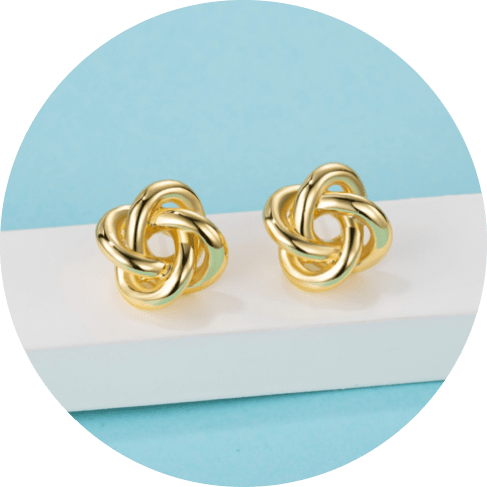 A lovely accessory
Elevate your style with a fashionable piece of jewelry
Any jewelry admirer knows that no look is complete without a pair of beautiful earrings. The knot-style gold-colored earrings will become a perfect addition to both classy and casual outfits.
Product specifications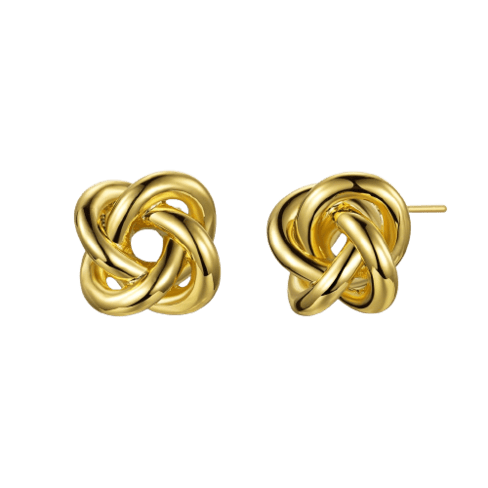 General characteristics
These copper-made earrings are gold plated. The ear pin size is 0.5 in., and the knot size is 0.5 x 0.5 in.
Care tips
Usually, copper jewelry doesn't require any special care. If stained, wash the earrings in warm soapy water, then dry and polish with a soft cloth. To prevent your skin from turning green while wearing the earrings, coat them with clear nail polish.
It's a perfect gift
The knot-style earrings make an amazing gift for any occasion, whether you give it as a birthday or any other present. The earrings are also perfect for a newly blossoming relationship. If you are not yet ready to show the commitment of a wedding ring, the knot earrings are a great choice because they represent love and loyalty.
These earrings are simply perfect!

Beautiful and very delicate. I love putting them on because they look gorgeous.

These earrings are exactly as described and what I was looking for. Great earrings!

I love these earrings!!! They're now my absolute favorites and I highly recommend them!

I am allergic to most metals, but absolutely no problem wearing these 24/7 in my ears.

My husband got me these earrings and I love them! It's perfect for everyday. The design, the size and the quality is just perfect. Thank you!

I just wear these as my everyday studs. Sometimes I wear only these earrings, but I also wear them in the "second piercing" hole with other earrings. They're just perfect!

I love these little earrings, I gave them as bridesmaids gifts and all my bridesmaids were so excited about them! I also got a pair for myself and have gotten lots of compliments on them.

These are super cute earrings I wore during a cross country road trip and for my engagement pictures! They do not irritate my sensitive ears. My only complaint is that the posts are a little long and make sleeping in them a little uncomfortable.
Payment & Security
Your payment information is processed securely. We do not store credit card details nor have access to your credit card information.