Description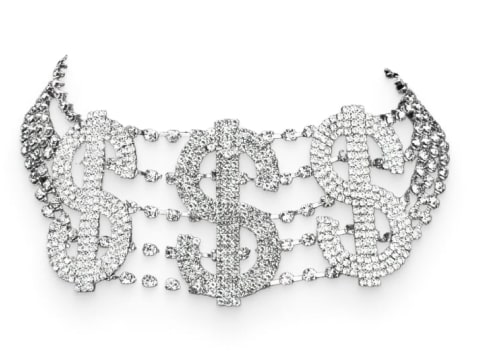 Shine bright
Create an ultra-modern look
A striking design of this fashionable choker together with the shining dollar signs will add the ultimate modern touch to your regular outfits. Look like a million dollars in the Dollar Choker!
The accessory made to turn heads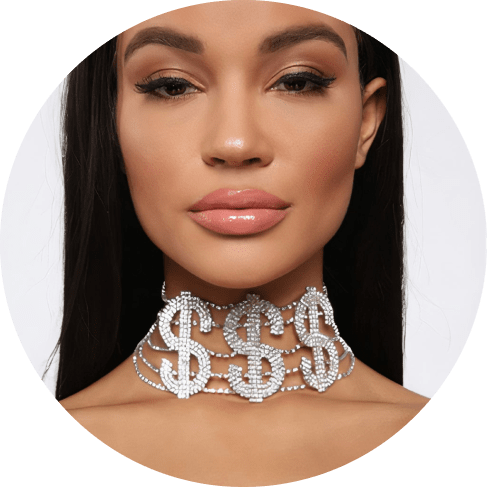 Choker characteristics
This brass choker is crafted with rhinestones and has a beaming silver tone.
High quality
Brass jewelry possesses high corrosion resistance. It's a strong, durable, and long-lasting metal. So, feel free to wear this choker every day!
Perfect for any occasion
Designed to follow the natural curves of a lady's neck and collarbone, the Dollar Choker will look great with any outfit, be it a casual or a party one. It will add a terrific touch to your natural beauty and boost your confidence. Your extravagant look won't be left unnoticed. Be glamorous!
This choker has such an amazing quality and looks sooo chik! The quality is nice, better than I expected. The metal is solid and seems to be durable. Having such an attention-attractor on my neck is very satisfying, I wish I had it earlier. It shines so bright under the soffits, but I didn't try it in the daytime.

It's very big but doesn't look massive. I like how it shines, looks very bright. Not an accessory for everyday use of course, but cool for parties

I'm not a big fan of such accessories, too big and "bold", but this one is nice. It looks really modern, nobody I know has anything like this.

Beautiful thing! Interesting form, bright stones, they are shining and sparkling and I like them so much!!!

I'm feeling a little bit uncomfortable wearing it, too big

Everything is fine, all the pebbles are in their place)

The necklace is beautiful! It super reflects the lights.

It is very beautiful!!! I am delighted

very beautiful i can't wait to wear it
Payment & Security
Your payment information is processed securely. We do not store credit card details nor have access to your credit card information.