Description
Designed for fashionable looks
Your new favorite accessory
The extraordinary design of these Dragon Stud Earrings together with their vivid details will add the ultimate modern touch to your regular look.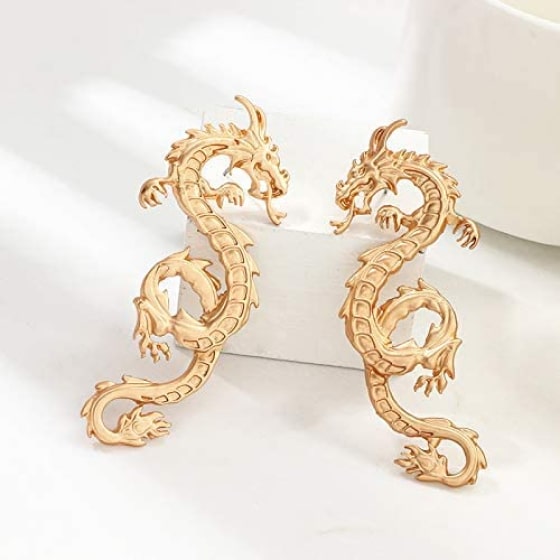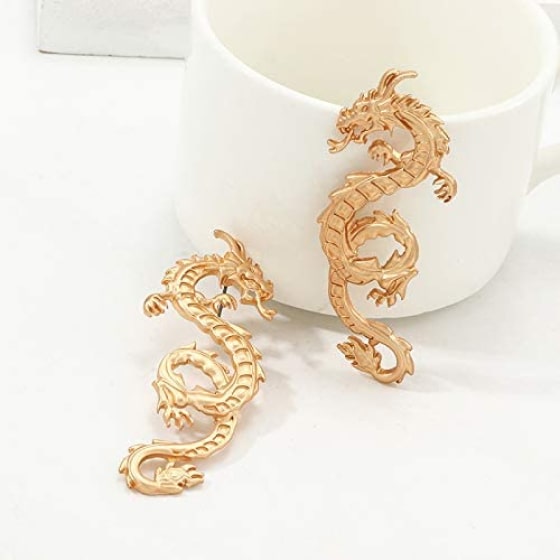 The accessory made to turn heads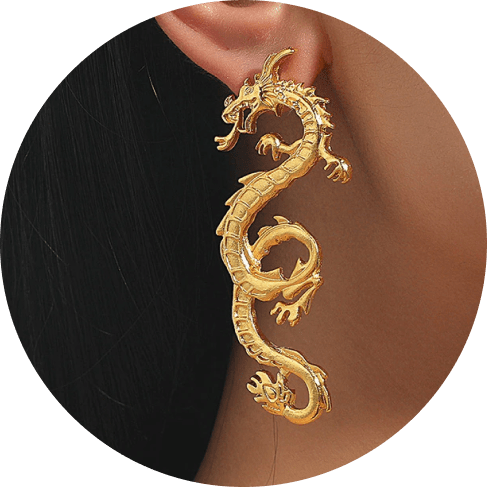 Earrings details
Color: gold. Size: 2.64 in.* 1.04 in. Weight: 0.7 oz. Material: alloy.
High quality
The earrings are made of a strong, durable, and long-lasting metal alloy. So, feel free to wear them every day!
An excellent gift
A trendy design of the Dragon Stud Earrings won't leave a woman indifferent. This gorgeous accessory will perfectly highlight a lady's jawline and skin tone. It'll become a stunning addition for both casual and classic outfits. Besides, a dragon symbolizes power, infinite wisdom, and longevity. Make your significant other feel confident and courageous!
Earrings are quite large, but not heavy. Attract attention. On the day I put them on, I received a lot of compliments from both girls and guys. Do not lose silicone plugs, because without them, the earrings will not hold on your ears. It looks luxurious! Now these are my favorite earrings)

Earrings are unreal fire. Immediately attract the attention of others. Even if hidden under your hair. Heavy, but then you get used to it and do not notice. The fastening seems not very reliable. Once they came out of my ears when they took off the jacket.

Earrings are super stylish. The quality is excellent. Of course, it's hard to walk in them for a long time. But for a spectacular evening out they are perfect.

Earrings are just great. They look massive on the ear. Bright and stylish. But heavy, for every day will not go, by the evening the ears hurt

Bright enough, as in the picture, the lock is a little weak, maybe it will fly off when you wear it

Great earrings. Description correspond, a little heavy, but it's expected.

Great earrings! Very beautiful and noticeable. But a little bit heavy.

Very nice quality and nice length! Absolutely fantastic for the price

Very cool earrings! Spectacular, not too heavy, ears do not hurt!

I'm in love with this earrings! The quality is really good!

Earrings are very beautiful and very bright, I love them

Cool, for fans of Dragons :) but very heavy for me

Beautiful, but heavy, you need to get used to

I just looove them, they are so cool

Beautiful and comfortable
Payment & Security
Your payment information is processed securely. We do not store credit card details nor have access to your credit card information.