Description
Designed with versatility in mind
The right piece of jewelry is a great addition to any look. The rose gold infinity earrings are an elegant accessory that will perfectly highlight the graceful features of your face.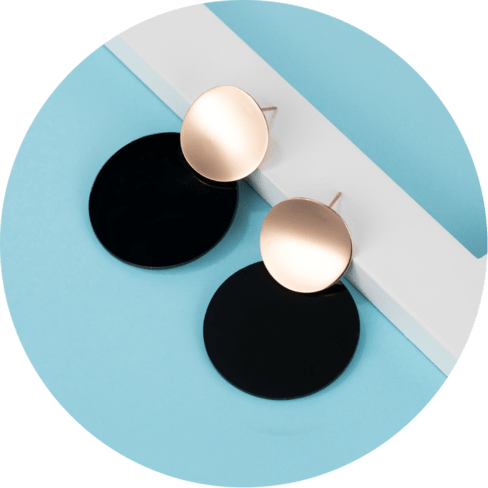 Your head-turning style
It starts with a great pair of earrings
Earrings details
These disc earrings are made of stainless steel. The size of a black circle: 0.8 in. The size of a rose gold-toned circle: 0.4 in. The size of the black-colored circle: 0.8 in.
Easy to take care of
Store the earrings in a flat box to avoid accidental scratches. If stained, wash in soapy water. Wipe with a soft cloth after every use.
Little details for irresistible glam
Inspired by classic jewelry, these pretty earrings can add special charm to your daily looks. Wear them with both classic and casual outfits.
Comfy & stylish
Despite their size, these disc earrings are very lightweight, so they don't feel uncomfortable to your ears when worn.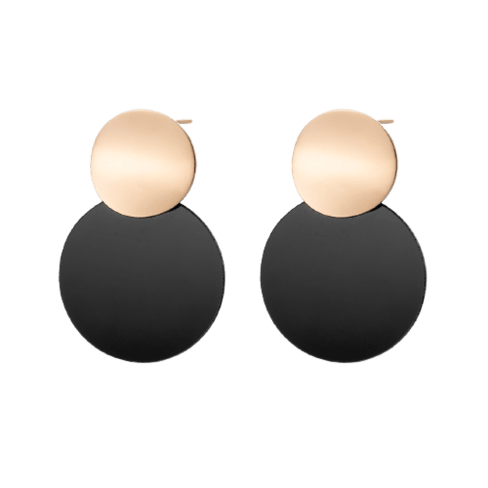 Perfect for any occasion
Whether it's an engagement, birthday, or other party, gold and black-colored earrings are good for any of the above and many other occasions. They go well with any outfit and add gracefulness to your look.
These earrings are beautiful, lightweight, and comfortable.

Absolutely exquisite! Great quality, perfect weight and extremely comfortable.

Really cute! A nice change from my usual hoops.

These are my new favorites. Quality too.

Very pretty earrings. I have received many compliments on them.

They work with everything.

I enjoy wearing these earrings. Very attractive design. Awesome product! Thank you.

These are beautiful, well made earrings. Some of the best I have bought. Well worth the money

Nothing not to dislike with these earrings! Great quality, light to wear. Reasonable price point. I will be reordering another pair for my sister.

I have VERY sensitive earlobes and these have been in all day without any irritation. I got the smaller one and it looks gorgeous.

I bought a couple of earrings for everyday use. This is one of them. It is very comfortable, lightweight and looks nice.

Simple, clean lines. These earrings look very classic and elegant. I hope they are sturdy because I plan to wear them a lot. An excellent purchase and they are worth the price.

A little bigger than I thought, but they are really lightweight, so it's ok
Payment & Security
Your payment information is processed securely. We do not store credit card details nor have access to your credit card information.