Description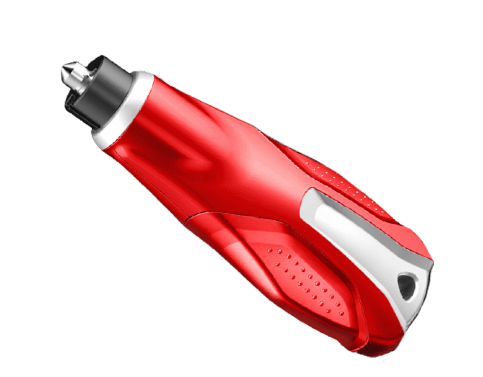 Escape to safety
(All it takes is one tool)
When emergency strikes and you need to get out of your vehicle ASAP, be prepared with this handy Emergency Glass Break Tool.
Convenience that's life-saving (literally)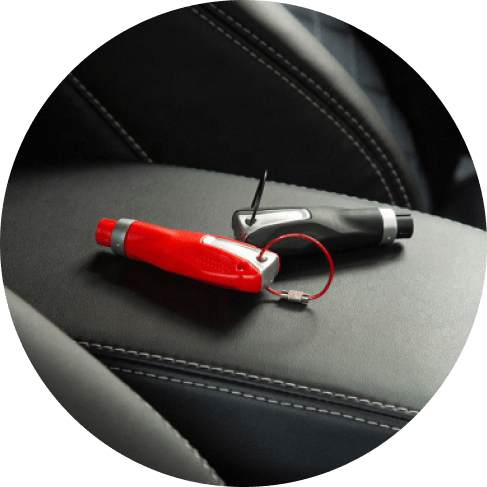 Smash and break
But we're talking about exiting a vehicle after a car crash or emergency situation. Because every second counts. This sleek aluminum tip helps you break down window glass quickly.
Handy and easy to store
Measuring just 3.7" x 1.6" (L x W), this Emergency Glass Break Tool fits into a side pocket or your glove compartment with ease. Its red color also makes it easy to spot.
Every car should be equipped with this tool
Don't risk your window or chances of escaping to safety in the event you are trapped in your vehicle. Our Emergency Glass Break Tool makes an essential safety accessory that every car should have stored on board.
At first I was pretty skeptical if this would work or not, so I wanted to try it on an old truck window we have by our barn. And it works wonderfully! There's a little metal tip that comes out when you firmly press it down. Now, bear in mind you have to apply some force to it, and apply the tool in the correct areas of the window for easier breakage. It's very lightweight and isn't ugly on my keychain. Highly recommend it!

Just as described as the image. It is very lightweight so I don't have an issue with holding it in my keychain. Also I bought this as a gift for myself, but bought more packages to give to family, friends, and co-workers. They were very fond of this gadget.

The build quality is very good, especially at this price point. I purchased it for my wife to keep in our car, and I'm very pleased. The holder has 3M tape on the back, so you can place it anywhere you like in the vehicle. Overall, it's inexpensive, it's well made, and I would recommend it for anyone looking for a little more security in their car.

I thought this would be giant and I'd have to figure out somewhere to store it in my SUV but it's small enough to fit anywhere. It seems pretty durable as well. Hopefully I'll never have to find out, but it makes me feel safer having one since I live in a mountain area where cell service is spotty at best

I got this as a stocking stuffer for my husband - he LOVED it! It fit perfectly on his keychain and was easy to take on and off...kinda the point in an emergency! Hoping to never need to use it, but what a cool gadget to have just in case!! Great product. Highly recommend.

The best quality window breaker keychain there is, and it means business. Easy to operate, must-have for safety in the car

Never know when you might be in an accident and need this tool. It's convenient and goes on your keychain. Nice product!

Perfect. You never know when you need one. Packed with a punch when tested on a piece of wood.

It's a bit too bulky to carry it on the keychain, feels like a set of janitor's keys… But if you keep it in the car, it doesn't take much space at all, so that's my solution. Plus, this way it's handier I think
Payment & Security
Your payment information is processed securely. We do not store credit card details nor have access to your credit card information.