Description
Get all the "oohs" and "ahhs"
Got sore feet? Give 'em a much-deserved pampering. Our EMS Foot Massager is meticulously designed for people who sit or stand for prolonged periods of time for work. Whether you are a cashier at a store or a high-heel-wearing star in the corporate world, discover relaxation for aching feet and legs everyday. Great for whether you are sitting or standing, discover the power of electrical muscle stimulation, which is a great relaxing way to stimulate blood flow and loosen up tired muscles in the feet.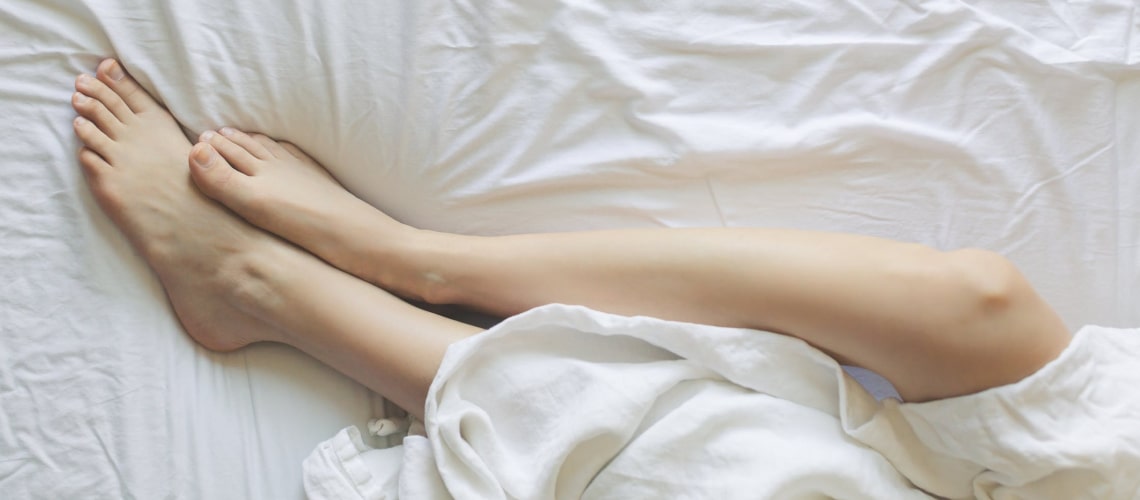 Acupressure to the rescue
Intelligent acupressure technology detects acupuncture points on the feet and sends electrical pulses to simulate massage-like tapping, kneading, and stroking. Experience deep relief not only in your feet, but also ankles, achilles tendons, and calf muscles. Circuit-conductive padding on the mat delivers the acupressure technology so you can relax from a long day.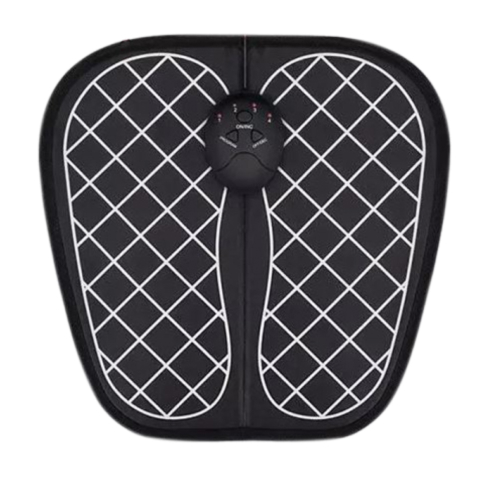 Luxe padding for added comfort
The foot mat is made of soft, flexible polyurethane for durability that brings a luxe feel. The mat is also foldable and portable for easy carrying or storing.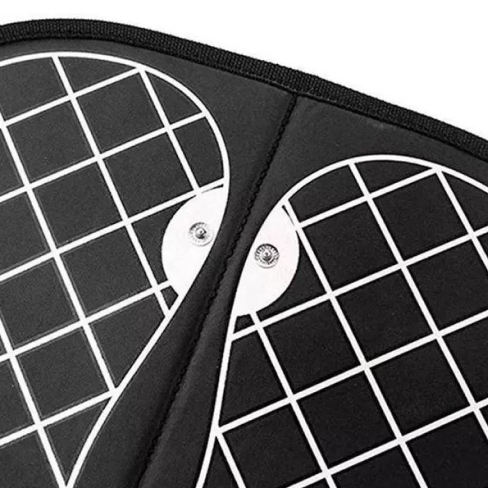 Relax in two easy steps
Place the controller onto the mat and make sure your feet are completely on the mat for six seconds.
Press the power on/off button to initialize the control unit of the mat. Choose a mode on the controller, and relax! Note the treatment cycle will run for 20 minutes and automatically shut off after the selected mode is complete.
Relief on-demand, anytime
Enjoy a relaxing foot massage wherever you are, whether on the couch watching TV, in front of the computer at your desk, or as you stand and watch the sunset. It's possible with our great-to-have EMS Foot Massager. Recommended use is one treatment cycle per a day.
Enjoy (but with precaution)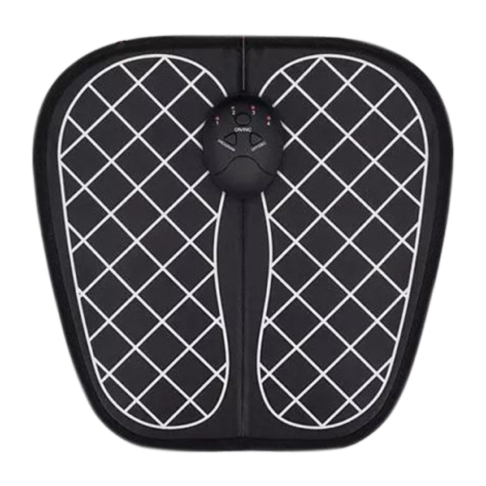 People with heart disease, women who are pregnant or think they may be pregnant, and individuals who have just had surgery SHOULD NOT use this massager. Consult with your doctor or a medical professional to see when it is safe to start use of such EMS devices.
For product integrity, ensure that the padding surface doesn't touch anything metal, and remember to keep the entire pad dry and away from water or liquids. Massager requires two AAA batteries to operate (not included with purchase).
I just received it and I already tried it, I think it does a very effective massage job. It's amazing!

Nice mat, user friendly and self explanatory

At first I could not see and feel the changes, but after the third day I could gradually feel the changes. It not only relaxes the legs but also your whole body remains soothed. You might not see anything for the first 2-3 days, but you will start seeing the notable changes after that. Definitely recommended.

I am 70 and before self isolation I was line dancing twice a week for an hour each time and using the treadmill twice a week for 30 minutes each time. I have been doing this for 8 years. Recently, I noticed that my legs and feet always felt fatigued and achy. Then I started having leg and feet cramps. I could be just be sitting or awakened from sleep. I was alternating between Aleeve and BC arthritis power. It was reaching the point that neither were working. Finding no medical reason for the way I was feeling except over use I came across this massager. For the price and since I could return for free I decided to try it. I have been using it for two weeks. The fatigue and achy feeling is gone. I have not needed to take Aleeve and BC. After the second day of use I have had no feet and leg cramps. I use it once a day in the morning while I have my coffee. I did get the protection. Given the low cost I just want to be sure. However, this is not a complicated massager. I might not need it. A few things you need to know. 1) You will need 2 AAA batteries. They are not included. 2) It will automatically shut off after 15 minutes. 3) When it shuts off be sure to turn it off by pushing the off button. 4) According, to the instruction booklet there are some medical conditions that should not use this massager. 5) At first, the instructions were difficult to follow because they are poorly written. Some one needs to proofread it.

My feet were hurting after cooking all day and when I received this in the afternoon, I figure I'll give it a quick try if I can figure out how to operate. I took it out of the packaging and figured out how to use instinctively without even reviewing the instructions book and felt relief instantly. The instruction book is good and provides clear instructions. Intensity levels are very good and start at a low intensity for a new user and can go to high level for someone who is used to EMS. Highly recommend, love the fold and store feature, very good sturdy design to out on the electronic piece. Good auto shut-off feature after some time and good safety/battery conserve feature that the machine turns off if you remove your feet.

It is a little weird the sensation i used in my hand first and then then in my foot. It definitely stimulates your foot and also helps with the pain.

It generates electric pulses .. feels amazing after a long day

What I love the most about this Electric foot stimulator massager - that it doesn't take any space! It can be folded and put away on the shelf or inside drawer. Easy to start using, and easy operating different levels. It's unlike any other foot massager, it stimulates your foot muscles, which feels strange in the beginning and then it feels nice and relaxing. Great price for this compact massager.

The product is very easy to assemble (battery not included). You can put in your bag when you go on vacation. Make sure you kown what you are buying. This is an Electrical Muscle Stimulation (EMS) with a foot mat not a regular massager. If you are looking for a foot massager please don't waste your time on reading the reviews. I sit all day in the office and don't exercise often, so i need something to boost my blood circulation for my legs. After using it for about two weeks, my legs are not tight as before. Here is the simple instructions for you: Step1. Put your feet on the mat Step2. Press ON/INC (one time you will see red light show on #1, if not press it again) Step3. Press PROGRAM to choose the mode you like (No matter how many times you press, it has 6 mode for you to choose. Choose the mode you feel like it, it doesn't matter at this moment. Once you get use to it, you can explore more) Step 4. Press ON/INC again to start the simulation ( If you don't feel anything at this point, that means the intensity is not high enough for you, you can press ON/INC one more time to increase it. Don't press too many times when 1st using it because it might be too strong. I pressed it many times and it was too much for me in the beginning LoL) I hope this will help the new users on how to start.

I've been standing a lot with wfh. So it's very convenience that I just stand on the pad for 20 minutes each day. The pad is comfortable to stand on too

I found this very easy to use and just 15 seconds morning and evening have helped immensely with my foot circulation and arthritis. Flat, slips under by the bed.

You only need two AAA batteries for the remote control, it's very easy to use, very practical to take with you anywhere, perfect size

t is almost like a TENS unit for your feet. It really helps in relieving sore tired muscles. It is great because it is foldable and can be taken with you. Has different intensities to choose from, So you can pick which level is best for your pain. I would recommend using this product!

I gave it to my grandma and she is so happy. It is so easy to read the instructivo S and easy to use. Remote control is simple to use. This EMS helps relax muscles on her foot. It has different levels for intensity which is the great feature. It is really good.

This massager is a different kind which gives out low frequency pulses and vibrations. It feels very relaxed after massage. Foldable and comes with remote. Very lightweight and easy to carry.

What I liked: Light weight, Compact, very portable. Worked very well. I use it to relax my toes, ankle, feet and calves. I am so impressed with this device and how well it worked for the price.

This massager is easy to use. I like that it's battery powered, so it's portable and with no cord. Note that It is different from a physical massager.

I am happy with this EMS electric food stimulator. It's so easy to read the instructions and easy to use. Remote control is simple to use. It has several different levels for intensity which is the great feature. I have to stand 12 hours at work. This EMS helps relax muscles on my foot. I feel great and awesome. It worths the money

Super good when your relaxing feels like acupuncture

good quality of my new foot massager. i was a bit worried but it's fine.

would be great if the mat was larger, can't stand on it wearing fuzzy socks.

Everything is fine, advise this to everybody

Was unaware there were products for feet. Works good, I think gel would help. Gonna try it out. If it works this gets better.

I have tried the Tens socks. They were too uncomfortable to use. This mat works really great. Not uncomfortable at all and really helps my aching feet. I would recommend this product without hesitation

Works great. I only wish it was a bit larger. I am a size 9 foot and keeping feet together and on pad takes effort.

One I got used to it, I actually started to feel the difference. So it works.

Adore this massager. Thanks to the store!

Given that this is a really low cost , i'm truly astonished with the purchase. The store is great!

Budget from a reputable store? This is perfect!

super nice item! my roommate is delighted with my new massager

This product may have performed better if I used a better quality TENS Unit; one that actually has enough power. The pad ids only as god as the TENS Unit

Bought to help with neuropathy on my soles. I didn't add any conductive gels, because there was no mention in other reviews that it was needed. For my feet, I didn't like it. However, I did lie on it for sections of my back and it conducted adequately to replace sticky pads. I'll keep it as a back massager, I guess.

Everything is fine, delivery fast, quality on top
Payment & Security
Your payment information is processed securely. We do not store credit card details nor have access to your credit card information.