Description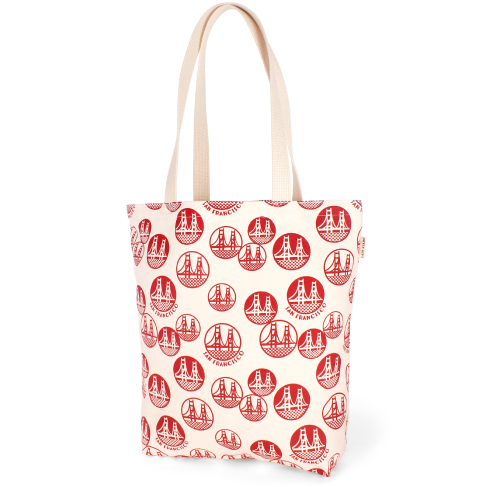 It's not your average tote bag
The humble tote bag. So common that you may have grown bored of hearing about them… but there are no boring things in Lady Alamo's collection! Introducing the Everyday Tote in Lady Alamo's signature prints. These eye-catching beauties are built for every day, but they will feel like a special occasion every time you walk out the door.
A trendy tote bag for daily use
It's a timeless accessory for a reason
Take it with you everywhere
Use it every day to tote your lunch, extra pair of shoes, or whatever is overflowing from your regular handbag.
Environmentally-friendly & durable
Made from 100% organic сotton, it's a reusable and durable alternative to wasteful cheap plastic grocery and shopping bags.
Easy to care and maintain
Care instructions: machine wash cold with like colors only; line dry; do not use bleach; warm iron if needed.
Sizing information & details
The Everyday Tote with GG Bridge print measures approximately 16" x 15" x 5" - ideal size for all your belongings.
Made in the United States of America
You'll be happy to know that the Everyday Tote with GG Bridge is manufactured locally, in the United States of America! By ordering this bag, you support a local business.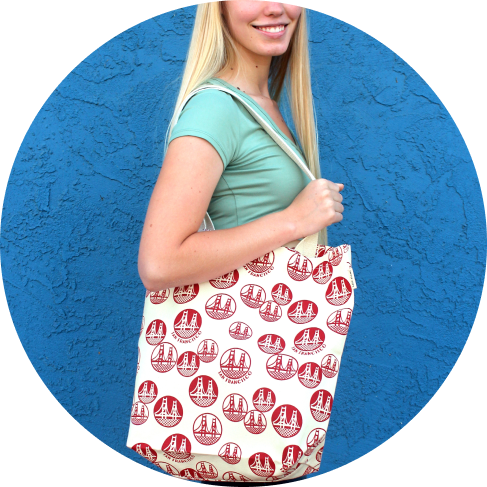 About Lady Alamo
Lady Alamo is an accessories brand based and manufactured in San Francisco. Since 2011, we have been on a mission to bring joy to people's everyday lives with original prints & vibrant colors. In 2011 wife & husband team Yiva & Bryce began printing and sewing bags out of their tiny apartment in San Francisco's Alamo Square neighborhood, home of the Painted Ladies (Alamo Square + Painted Ladies = Lady Alamo). Having since moved into the City's Mission District, the commitment to producing locally and finding happiness through design remains. At Lady Alamo we strive to create everyday items that bring joy with each use. Focusing on natural materials, versatility and of course color, we've created a variety of Zipper Pouches, Backpacks and Reversible bags that you will want to show off every chance you get.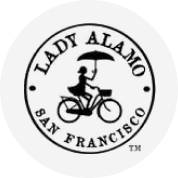 Designed In
San Francisco, California
I like everything about this bag! I use it to mainly carry books and writing supplies around and sometimes it gets really heavy, but holds up okay. The GG pattern is cute. Well constructed and seems to be quite durable. Very pleased so far.

This bag is worth your money! Decent quality bag, no loose weaving or uneven stitches. Long straps, enough to fit your arm in and actually wear it on your shoulders (had issues with other bags before where the straps were just too short) The bag holds up to everyday use just fine and is still looking gorgeous. Was worried about ironing it, with all those logo, but all GG pictures are fine after washing and ironing. Just make sure that the iron is not superhot.

Amazing bag for grocery shopping. Arrived as described, clean and without any damage to it. I've ordered white canvas bags before and it was a disaster, they arrived with black stripes all over them all wrinkled and dirty. Happy to see that Lady Alamo actually cares about customers and delivers things as described!

A great bag for basically anything. Fits my laptop and chargers when I need to grab them with me. The handles are very durable, they don't tear even when the bag is heavy. The cotton is high-quality, smooth and soft. I wish it had a couple of inside pockets maybe, but overall a great product that already lasted me 2 months. Ordering one more for my mom.

This bag is thicker than your typical cloth bag, but still very light. 100% cotton washes easily and keeps its shape. Dried it in my drier with all the other white stuff - came out ok with all the little round logos still clear and bright and the red didn't go anywhere it wasn't supposed to. Happy with this bag, fantastic quality!

I use this bag for some minor grocery shopping and it's just really durable. The bag itself is light, so it adds no additional weight when I put my groceries in. It doesn't close, but I don't need it anyways, so no biggie there. Awesome bag for shopping!

A perfect beach bag that fits my towel, slippers and shorts and still has some extra space. The fabric is easily washable. You'll have to wash it a lot or be really careful where you put it, it's a white bag after all. It has a cool print on the outside, which makes it easier to tell from all the other white canvas bags in my collection. One more thing - the handles are really well-made and wide, they don't cut into your shoulder even when you have a really heavy bag. Great beach bag!

Love this tote bag! I often load a lot of stuff into my bags and this GG bridge bag doesn't mind. Nice quality stitching, thick fabric that is even everywhere. It's really important that we all switch to canvas bags like this to save our planet from all the plastic and paper waste. This bag does the job and makes me feel good for making the right choice.

A simple cotton bag for everyday use. Has the Golden Gate bridge pattern on it. After a week of use the handles are still intact and they don't bite into your arm (usually it's a problem for me). The handles got a bit dirty, so I washed the bag and there's no pilling. Good bag.

The only issue I have with the bag is that the handles are too long for me, when I wear it not on my shoulder, but in my hands it hangs too low and gets dirty real fast. Had to wear it on my shoulder all the time.
Payment & Security
Your payment information is processed securely. We do not store credit card details nor have access to your credit card information.