Description
Men's chain bracelet with stones
A sharp and minimalistic touch to your look
Together with shiny stones, this golden bracelet will give your outfits an incomparable and tasteful kick. The geometrical shapes are classy and restricted, yet the golden foundation and stones balance the minimalism of it all. A perfect tandem of classy forms and bright colors and motifs. Balance is the key, right?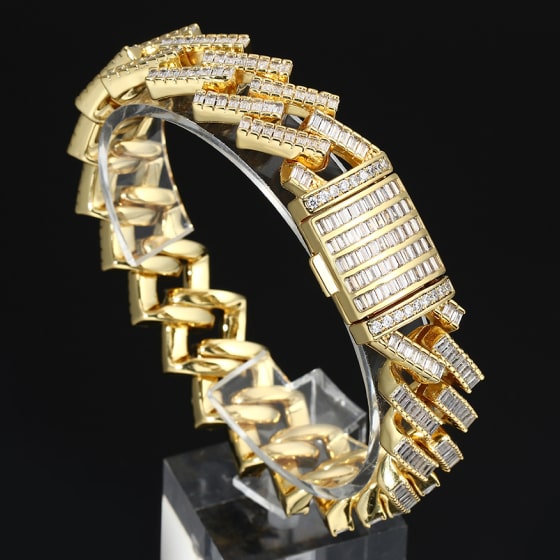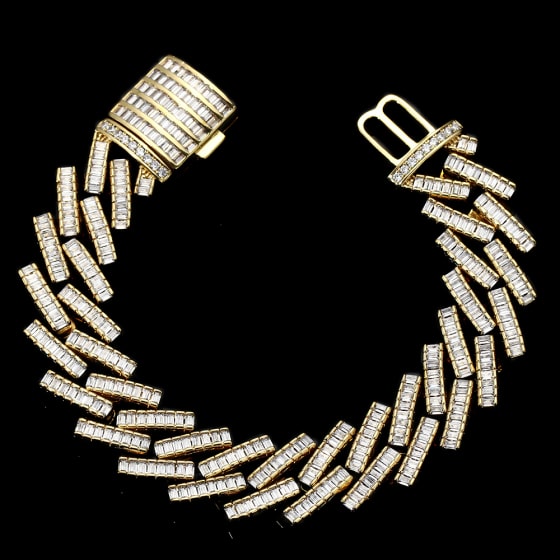 Intricate, simple, modest, gaudy
It can be hard to imagine something with all these qualities, but not impossible!
A luxurious addition to the image
Whether you'll wear it with the casual style, official, or extravagant – you can be sure that you'll look sleek on any occasion.
How to care for it?
The best option is to maintain the brand new look of it is to keep it away from water, and when it gets dirty – rub it with some alcohol.
Made from high-quality materials
Golden-toned brass is corrosion and rust-resistant. It's durable, wear-resistant, and won't crack easily. Take care of it and it'll last for years!
It has the perfect size
The bracelet is 8 inches long, 0.69 inches wide, so it will fit any arm easily. Enjoy the comfort AND the style!
Freedom in style is important
It doesn't really matter who you are, and what style you're the adherent of, you will find the best use for this bracelet. The versatility and design of it are incomparable, and you'll appreciate it!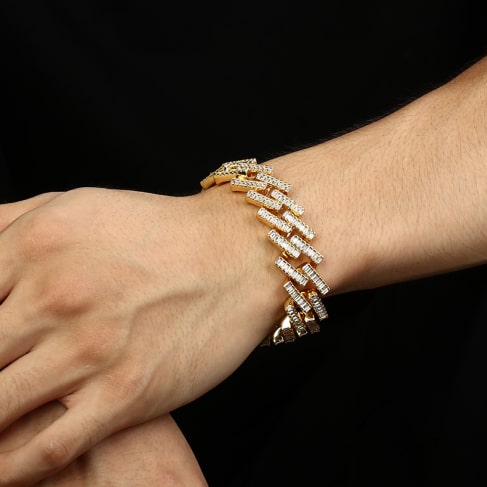 This bracelet is super nice! What I like the most is that the stones are very well set. It's not super dazzling in regular lighting but on fire in the light. Size of the stones make it more believable. It is not heavy but not flimsy like others. Clasp is very nicely made and overall it looks amazing. Definitely big for a female small wrist. I'd like to see it in a smaller size. I definitely recommend this type of bracelet because it states that it's made of golden-toned brass which I think is the key. Hoping it holds true to no tarnish description. Good value & fast shipping.

I bought this because I wanted the look of the expensive Cuban link chains that the celebrities wear. I wasn't expecting it to look so real! When I first opened the package, I noticed how heavy it was. It is not made out of that cheap plastic that costume jewelry is made of. It feels like metal. The "diamonds" look real in the light. You should buy this!

This chain is my absolute favorite. All the stones are individually set and it just sparkles in the light. I would recommend this bracelet to anyone who wants an authentic looking chain but doesn't want to pay the thousands of dollars for a real diamond Cuban chain.

This chain is definitely amazing, high quality and a head turner, you will get a lot of compliments wherever you go, highly recommend it, thank you for making such an awesome product!

Looks like real gold, it's heavy, the clasp is good, the crystals are clear.

Beautifully made, it looks great! Got so many compliments.

Just buy it!! It is beautiful and sooooo sparky. I LOVE IT!

Great bracelet, I love it! My wife got it for me.

Very well made. I love that kind of stuff.

Looks just like the picture!

The sparkle is amazing...

It does look nice no doubt, but there are two things I don't like. The color it's way too yellowish to me. The bracelet itself is too light so sometimes it gets a bit stiff and hard to put on.

Looks pretty good, tough time figuring out how the clasp opens up though

I liked how it shines in the sun but the color faded away so fast!

Seems cheap but looks lit... Hope it holds up!
Payment & Security
Your payment information is processed securely. We do not store credit card details nor have access to your credit card information.