Description
Designed for stylish looks
Elevate your style
Headwear is a must-have accessory for absolutely any affair! Add a gorgeous finishing touch to your look with this elegant Pearl Hair Clip!
Your new favorite accessory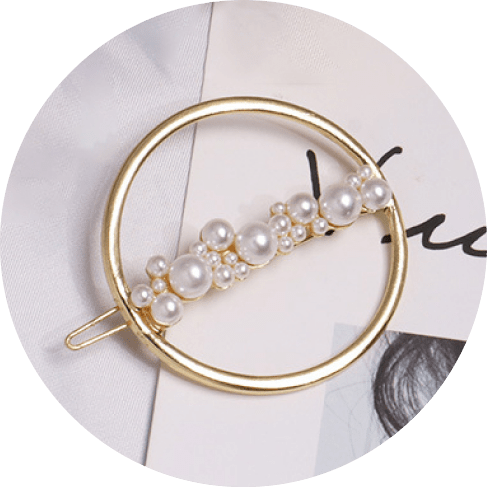 Hair clip characteristics
This stunning Faux Pearl Hair Clip has a lovely golden tone and is decorated with faux pearls. Size: 2.6 in.*2.6 in. Weight: 0.5 oz.
Care tips
Do not submerge in water. Store out of sunlight. Avoid exposing the clip to harsh chemicals and cleaning products.
The accessory made to turn heads
This glamorous Pearl Hair Clip will wonderfully highlight your hairstyle. With its elegant design and delicate details, this accessory will become an amazing addition for both casual and fancy outfits. Your playful look won't be left unnoticed. Unleash your inner fashionista!
I like it! This hair pin looks very elegant and slim, the color is bright, but isn't yellowish. The pearls are small and cute. It holds hair well, even thin one, it doesn't fall.

Simply beautiful. Exactly like the picture. Fits well to the hair and does not fall down. It's very elegant and the material is good .

Beautifull, smaller than I expected but in a good way, definatelly better.

Quality and beautiful hairpin for its cost. Not flimsy. Recommend.

I completely loved the hairpin, it is super cute and gorgeous.

It's very beautiful. I like it

Nice, just like the picture
Payment & Security
Your payment information is processed securely. We do not store credit card details nor have access to your credit card information.