Description
You'll make a statement with this belt
A fashionable & unique accessory
Flowers grace this statement belt with its colorful floral embroidery decorated all around! It combines practical elements with a delicate style. From adding the finishing touch to your trousers to creating a waist by wearing over knits and dresses, you'll be sure to wear this gorgeous belt on repeat.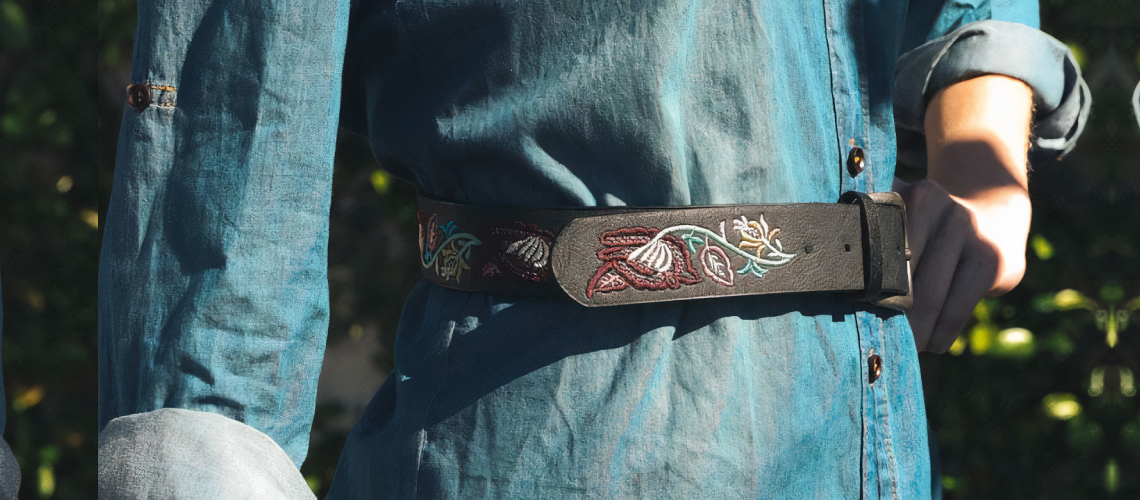 Rock this embroidered belt!
Elegant floral design is a pleasure to wear
Bohemian charm & chic
Channel that boho charm with this amazing leather belt. Adorned with subtle floral embroidery for a lovely, laid-back style.
Unique and intricate detail
Colorful and bold, but altogether wearable as a pop of fun. It's a gorgeous accessory to add some color to any outfit.
Makes a great gift
Are you looking for a beautiful new piece for yourself or a gift for a loved one? The Flower Embroidered Statement Belt is your best choice!
Create eye-catching looks
The vibrant colors of this belt will enhance any outfit! Made to create a simple, slim silhouette, it is fastened with a metal buckle.
A floral aesthetic for your wardrobe
Get ready to be the center of everyone's attention with the Flower Embroidered Statement Belt! A soft material shapes this belt that's decked out with Boho motifs. This trendy belt can be paired with jeans or your favorite maxi dress - the choice is up to you! It will be comfortable whether you're trekking to the office or relaxing around a campfire.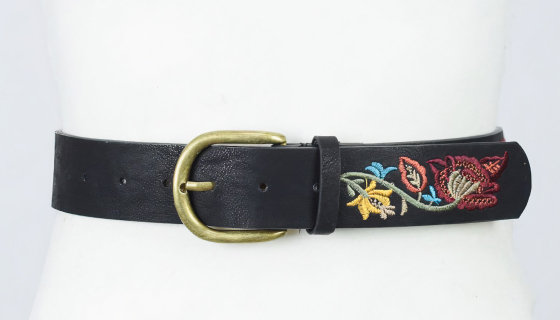 The colors are even more vivid/beautiful than I expected. I also love the buckle design. I wish the holes were spaced a little closer together because I fall in between so I have to wear it too loose or a little tight. This one goes well with my jeans, super happy that I got this one.

Love this belt, so colorful, just what I was looking for! The pattern itself is really well-done and exquisite, with no treads sticking out or any other issues. The buckle is solid metal well assembled, so I don't have to worry about it breaking in the nearest future. Would highly recommend!

Tons of compliments! This belt will take your jeans and t-shirt from drab to fab!

Nice sturdy little belt, bought for my daughter.

It's truly just a reliable, nice-looking belt with a flower pattern embroidery on it. Very sturdy, and plenty of holes for the variety of low/mid/high rise pants. The belt is exactly as it was advertised and is true to size. I definitely recommend it!

My husband was looking to replace old leather belts and didn't want to pay a lot of money for them. He is a senior with a sizeable belly and these belts are firm for comfortable fit and support. The quality is excellent. I am waiting for one I ordered in a small size for myself as there is no reason this cannot be a belt for women as well as men. You will not be disappointed with this purchase.

Best belt I have ever owned. Other belts had lengths too short or too long, or needed additional holes punched. But here the holes are really close to each other, so you will get the right fit for you. It will work well with both brown and blue clothing, but to make sure it goes with all my outfits I grabbed all three colors just to be sure. After wearing this belt for some time now I can say that I'm really happy with the quality of the leather strap itself AND the buckle. The buckle itself is solid, the tongue is well-fixed and not flimsy. The belt's tip has this nice circular shape that just looks great. Will buy more if I new ones

I'm a Texan myself and finding a perfect belt for my shoes was a bit of an issue. I'm really happy with how this one turned out. The floral pattern is just so detailed and so well-done. The quality of the belt is just great - no fraying or tears after a few weeks of use and the belt stays clean for a long time, no grease sticking to it, it doesn't get all shiny and nasty after some time, but it's just an exceptional quality product, get one for yourself now!

The belt... It's really great. It looks like it's really high quality. I think it's really great and the quality is really nice. The black also looks very stylish. I was actually surprised by that. I think I used to have a tan colored one a long time ago. But this is way better than I remember.I don't usually give a five star to anything. But I'm actually going to give this one a five star.

This belt looks fantastic! The package arrived fast and I was initially really happy with it. I just wish that it was a little thinner for wearing with my dresses, but for jeans it's just great. Had an amazing overall experience, minus 1 star for the thickness.
Payment & Security
Your payment information is processed securely. We do not store credit card details nor have access to your credit card information.