Description
Time is quiet and elegant
Enrich your look with this exceptionally good-looking timepiece! Simple design along with a beautiful diamond engraved dial allows you to show your bright personality to the fullest!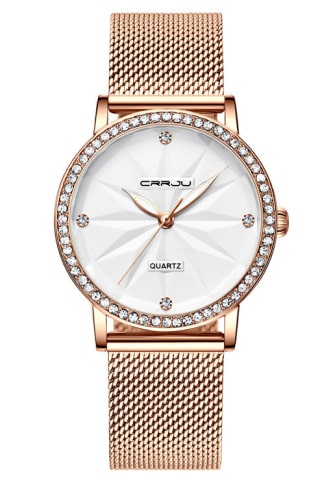 Fabolous watch for women
Watch parameters
Movement: quartz. Dial diameter: 1.4". Band width: 0.7". Band length: 9.8". Case thickness: 0.43". Weight: 2.04 ounces.
Water-resistant
The waterproof features of this beautiful watch allow you to safely wear them on a daily basis, ignoring any water splashing when you wash your hands, walk in the rain, or take a cold shower.
Watch materials
Case materials: alloy. A comfortable-to-wear stainless steel strap. A diamond-encrusted dial shining like the stars.
A great gift
This wrist watch is a great birthday, Christmas, or New Year gift for yourself, your family and friends.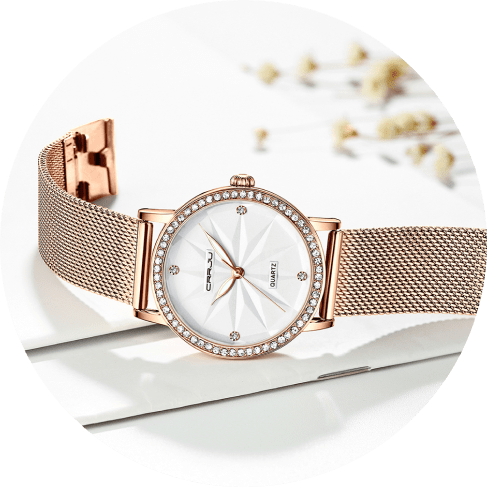 Great for any occasion
This fashionable wrist watch will add elegance to your outfit. Designed with simplicity in mind, its unique style pairs well with both casual and professional attire, making it a timepiece for all occasions.
I think it's a great watch for the price. Looks very stylish! The clasp was easy to adjust if you followed the instructions. The only time I had an issue with it was when the watch slipped off my wrist, but I'm almost sure it was my own fault because I didn't close the clasp properly (it took me a couple times to figure out how to secure that clasp properly, and if you do it in a hurry you might not get it right at times) but the watch didn't get damaged so that's a good thing.

This is a lovely design to look at for the watch face! I also like the fact that the watch is water repellent so I don't have to remove it every time I wash my hands. Unfortunately, I do have a problem keeping the strap latched and so I will probably purchase a new watch band for it. If the manufacturer redesigns the latch to be easier to hook and stay hooked better, then this would be a 5 Star purchase for sure!

I liked the watch but not the strap. It's probably just me. I first tried substituting a magnetic strap that I got from another watch, but that interfered with the timekeeping. Then I tried a silicone one, which was awkward to put on and take off. Finally I went to a watch repair shop and asked for an alternate, metal band, which he fitted to my wrist size. Now I like the watch with its new, matching gold-colored band.

This is a beautiful watch, I just got it so can't say much about how it keeps time. But so far I love it, it's really slim and light weight, but looks expensive. I got it because it's water-resistant, since I often have my hands near water.

The mesh band is great and the watch is relatively thin. I've had it for a while and wear it every day. It keeps perfect time. None of the color has worn off as sometimes happens with inexpensive watches. Nice watch.

I have had this watch for a few days now, so far it keeps almost perfect time, excellent looking watch, easy to read in low light, not too heavy & is comfortable to wear, but the latch on the band keeps opening.

Just purchased this watch. It looks way more expensive than a $9.99 watch. The band was very easy to adjust, and I was amazed that I was able to adjust it right the first time. I couldn't be happier with my purchase.

I love this watch. It is very elegant looking and I really love the band and that it is adjustable! It is very easy to read. Overall, it is definitely worth the money. I have had many compliments on it already!

This watch looks great. It can be very dressy or everyday. It was a little tough figuring out how to adjust the size, but I got it. Wish there were instructions. Otherwise so far, so good.

I love everything about this watch. I was hesitant at first buying the watch because I never had a large faced watch. However it is my favorite now.

This watch looks nice, the wristband is easy to adjust, and so far is keeping accurate time. What more could you want?

The product looks great, and feels like it's a decent quality. I've not had it for a long, but love it so far.

Great watch. Thin and comfortable in the wrist. Nice looking. Great price. Hope it works forever!

The watch has a great look, but no longer keeps time even though it keeps ticking.

What a beautiful watch...it's sleek...and looks like a more expensive timepiece...I love it!!

Arrived earlier than expected, packaged very nicely. Works well, looks nice.

Pretty good for the price
Payment & Security
Your payment information is processed securely. We do not store credit card details nor have access to your credit card information.