Description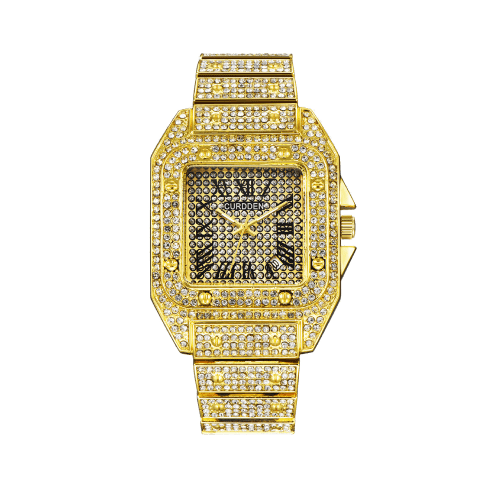 A luxurious accessory
This fabulous Gold Square Watch conveys the very essence of class and sophistication with its vivid details and a lovely square case. Designed for both men and women wanting to create a gorgeous classic look, the Gold Square Watch is a graceful and unique piece of jewelry, perfect for any occasion.
An elegant piece of jewelry
Your head-turning style starts on your wrist
Watch details
The watch is of a bright golden yellow color. Its face and 9.4 in. long band are enchased with rhinestones, creating a beautiful gleam as they catch the light.
Little details for irresistible glam
Inspired by classic jewelry, this stunning watch can add dignity to your daily looks. Wear it with both classic and casual outfits.
Easy to take care of
Keep the watch in a cool, dry place. If needed, dry with a soft cloth. Feel free to wear this watch every day!
High quality
The Gold Square Watch is a high quality watch crafted from stainless steel, the metal that can withstand many impacts.
A timeless gift
Do you want to give your special someone something special for a special occasion? This Gold Square Watch is a great choice! It never goes out of style and lasts forever. Together with warm wishes it will become a pleasant memory.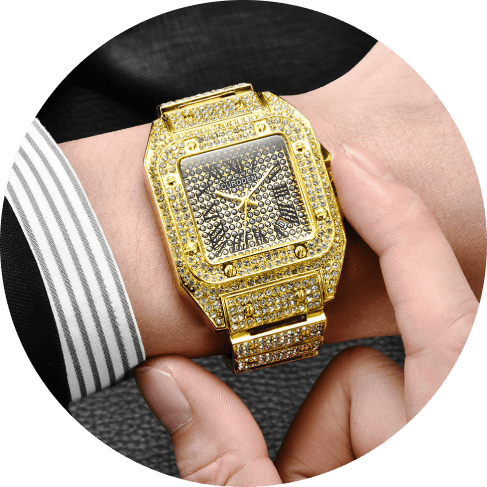 this beautiful watch has exceeded all my expectations ....for the price i paid i did not expect such beauty and quality.. picture perfect and even nicer in reality… simply stunning… i am so in love with my watch...

Looks very bright and more expensive than it is. The stones are all in place, shining and seem durable. I really like it, it doesn't look like golden ones, but it's better, very unusual and cool.

Very satisfied! Thank you so much! Stones are all in place, shimmering and generally look expensive! Reality exceeded expectations

It looks stylish and expensive, even though it's obvious that it's not golden. And the rhinestones are nice.

I bought it as a gift for my husband and he loved it, he said that it's very unusual and stylish.

Beautiful, excellent and very original design. Thank you and I recommend

The quality is excellent. The watch looks very cool and stunning, love it.

The watch is heavy, and the rhinestones are bright.

More yellow than usual but I like it

Original watches, really sparkling!

It looks too bright, as for me
Payment & Security
Your payment information is processed securely. We do not store credit card details nor have access to your credit card information.