Description
A fancy jewelry gift box
Need to store your jewelry somewhere safe? This beautiful gift box will be the perfect choice for you. It can also be a great gift box for you to place your gift inside.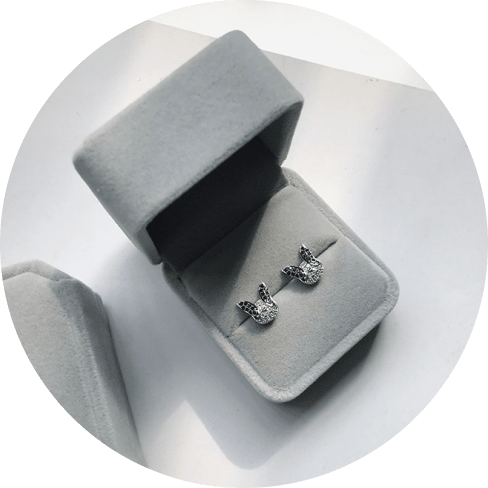 Gift box specifications
Make the surprise even more colorful!
Gift box materials
The gift box is made out of quality materials such as velvet and flannel.
Gift box details
The size of the gift box: 2*2.1*1.5 in. The weight: 1.1 oz.
A great gift
Whether you want to surprise yourself, your friends, or even your significant other, it will make the perfect jewelry or gift box.
Unique design
This gift box has a gentle design that will definitely bring the best emotions out of the person who is receiving this gorgeous gift.
Your gift will be one to remember
If there is a special occasion coming up, you need to have your gift wrapped up and ready in an irresistible gift box. And this elegant gray gift box will be the perfect solution that'll make your gift a memorable one.
Beautiful and just as vibrant as pictured. Whatever ring goes in the box is going to set it off, because the recipient I delivered this box to, was too excited before seeing the ring because the box was so awesome!

Very nice well made get price for two you could use to travel, I use for items I sell, they package easy and with stand shipping. You can use for a gift

Great boxes! The color and size were perfect! No matter what ring you put inside this box will make it look special.

Great items, very cute, well made products. They will be holding wedding day earrings I bought, and a ring

The ring cases are extremely beautiful and help the rings that I have pop like no other recommend 10/10!

You can't beat the quality of these pretty ring boxes. Well made, fast shipping and the price is great!

Perfect for my online beauty store, my customers are going to love them!

Bought this go with a 25th Anniversary gift for my wife...very nice!

Perfect for what I needed it for. Affordable and reliable.

I bought this for a class. They came quickly and are very pretty.

Great quality ! Color true to ad. Priced great!

Used the box for my wedding ceremony. Awesome!

Perfect, just what I ordered

I love these small boxes. They have great color and a great appearance. The fact that it has no branding on it anywhere is perfect. My only issue comes in when I try to stand it up while it's open, to display something. The item is very unbalanced and will fall over constantly if there's something too light to offset the balance forward towards the viewer. If you put something light in it, or if it is on a slight back-facing incline, the box will fall over because it is so lightweight and has no heavy support material in the base.

I like the boxes. They look just like the picture. Just wished that the box was a bit deeper.
Payment & Security
Your payment information is processed securely. We do not store credit card details nor have access to your credit card information.