Description
Board Book Set
If you have a baby or a child of kindergarten age, you're probably looking for ways to boost their learning skills & keep them engaged with educational activities. This set of 3 Board Books brings the fun of Green Toys story time to babies and toddlers, putting a playful new twist on the classic themes of letters, numbers, and sounds. Learn & have fun!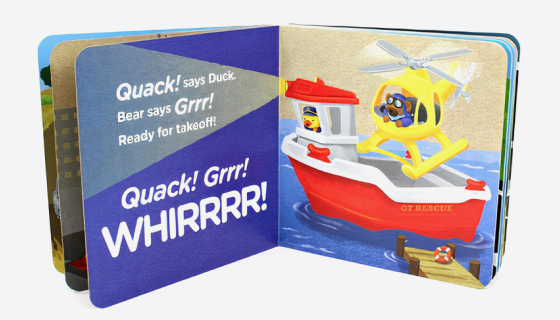 Board Book Set: details and features
Set your kid up for schoolroom success!
Made of sustainable materials
Printed and assembled in the USA on 100% post-consumer recycled paper, these safe, durable books are good for the Earth.
Durable and safe for your little one
Containing no BPA, phthalates, or PVC, these books are safe for children of all ages and will hold up to teething babies and energetic toddlers.
Eco-friendly packaging
The books are packaged in recycled and recyclable materials with no plastic films or twist ties, and printed with soy ink.
Specifications
Dimensions: 5.75" L x 1.75" W x 5.75" H. Weight: 1 lbs. Includes a storage sleeve.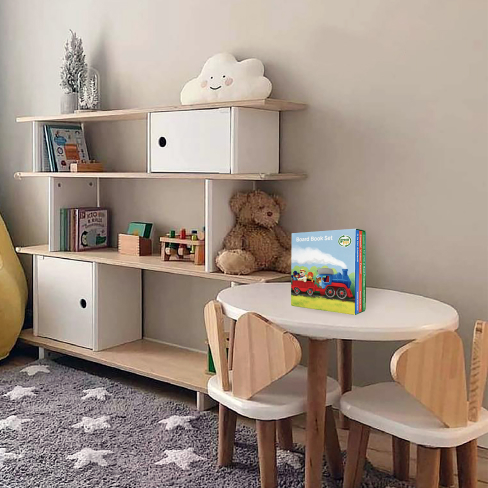 Master the alphabet
In A is for Airplane board book, the journey from A to Z is an adventure through air, land, and sea that brings the alphabet to life.
Nail numbers and counting
Counting to 10 with 2 Best Friends Board Book follows Cow and Mouse as they count from 1 to 10 throughout their busy day. Your baby will learn how to identify numbers and how they function.
Improve language skills
Discover all the fun sounds Green Toys animals and vehicles make in Squeak! Vroom! Zoom! This board book is designed to encourage vocabulary development and help children read aloud. The vibrant, contemporary illustrations also help early learning skills.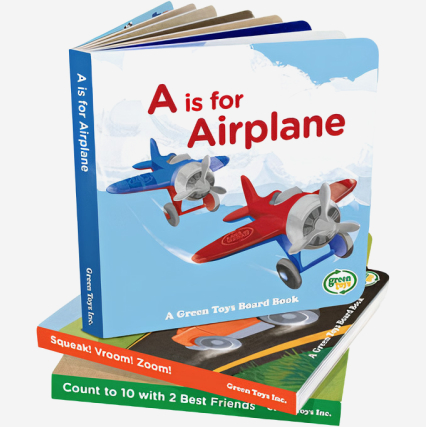 About Green Toys
Made Safe in the USA We're 100% US-made, from manufacturing to assembly to distribution. As a result, we reduce greenhouse gases, energy and save on transportation. Through our tight local supply chain, we maintain stringent quality control and on-site factory presence, provide local jobs, and generate a whole lot of company pride. Recycled Plastic Our products demonstrate that recycling can result in something tangible and meaningful – old can become new. Our toys are living proof that milk jugs, just like the ones in your refrigerator and recycling bin, can ultimately end up back in your playroom. This helps close the loop for kids because they can see their own environmental efforts in action.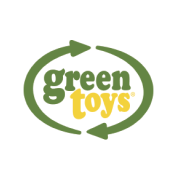 Adorable book made in USA! Love it!!!

This is a nice set of quality books for a good price.

Excellent quality. Perfect for toddlers who want to rip everything out of a book!

The boys love these books and have been enjoying them for months. They have held up very well to some rough treatment.

We love this book set by Green toys. One of our little ones favorite activities. The pictures look great and it keeps us entertained! We love making the animal sounds and transportation sounds!

Love these board books! Great stories and also a plus that they are non-toxic and made in USA! Perfect gift for a baby shower or 1 year old birthday!

Toddler loves these books. She was able to name all the objects and was so proud of herself. Cute illustrations and easy to teach ABCs. They match the green toys brand well. Great set for a gift.

This set is also made with recycled materials and in the great USA! The ink is a soy ink, so I'm not worried at all with my little one handling the books. They come in a nice cardboard storage box, but, we have opted to not use this. We just added the books individually to our bookcase.

Outstanding! Our new little infant-almost-toddler cousin loves it, and so do his parents and grandparents. They are well written, colorful and engaging. And a bonus is that they are made in the USA by a company that makes green toys from recycles milk bottles.

These books are perfect for our 6 month old grandson. He loves looking at the pictures, bright colors and nice story line. They are well made and a good deal for the three books. Just the right size to hold, while he's being held to read to. I would recommend them for sure!

This set of books is adorable for any little child. My son loves these books! They have been opened and closed so many times and still look amazing. I love the box they come in as I like to try to keep them together. All three books are very cute and durable. The pictures are perfect for little minds to look at. Love that my son has some of the toys pictured, so he gets so excited and points to his plane or his truck, it definitely makes it seem like the books were made for him, it adds some personalization in a way. Overall, I recommend these for any little child and these along with one of their planes or trucks would be an amazing gift!

The stories are educational but fun. Nicer than the typical "A is for Apple" book. The books don't have the nice shiny coating that most board books have, so not sure how long they'd last with a baby who puts everything in his mouth.

These are cute books. They are sturdy and very colorful. The reason for 4 stars instead of 5 is because they aren't as thick as most cardboard books.

Pictures are bright and colorful, they are well made like you would expect from Green Toys
Payment & Security
Your payment information is processed securely. We do not store credit card details nor have access to your credit card information.