Description
Helicopter by the Green Toys™
Classic helicopter made from 100% recycled milk jugs
Up, up, and away! The high-flying Green Toys Helicopter is ready for action! This environmentally responsible chopper is made in the USA from 100% recycled plastic milk jugs. As sturdy and durable as toys come, it's designed to withstand active play and soaring imaginations. This helicopter features two spinning rotors and sleek skids on the bottom for easy landings. Recommended for ages 2 and up.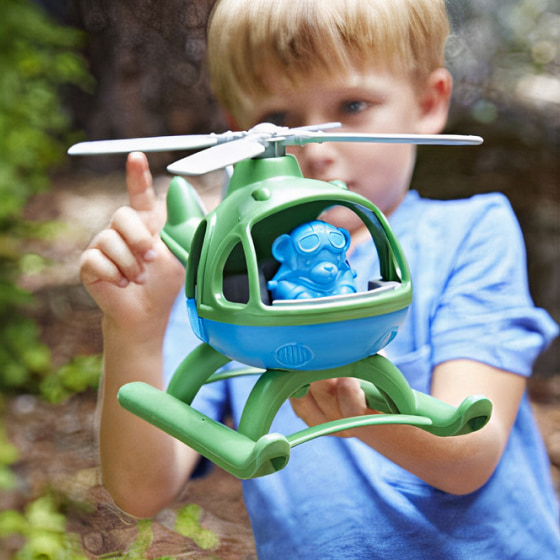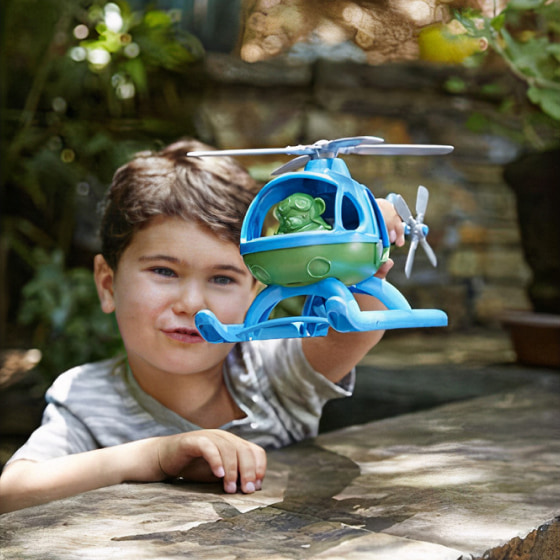 Take flight and have a blast!
About the helicopter by the Green Toys™
A classic toys with an eco twist
This helicopter is manufactured in the USA with a tight, local supply chain that minimizes the carbon footprint and supports the domestic economy. Made from 100% recycled plastic milk jugs that save energy and reduce greenhouse gas emissions.
Safe for your kid
This super-safe toy meets FDA food contact standards and contains no BPA, phthalates, PVC, or external coatings, eliminating the fear of toxins and lead paint. It's also dishwasher safe, making it great for both indoor and outdoor play.
Encourages imaginative play
This helicopter includes a pilot bear figure, encouraging imaginative role play and creative make-believe adventures. The character fits perfectly in the spacious cockpit, which is complete with a full dashboard and the Green Toys'' signature 8-track.
Eco-friendly packaging
Packing of this helicopter toy has been done using recycled and recyclable materials including soy ink prints which further helps contribute towards a healthier environment.
Details and care
Dimensions: 9.63" L x 6.13" W x 5.88" H . Weight: 0.39 lbs. Number of parts: 2. Dishwasher safe. Ages: 2 years and up.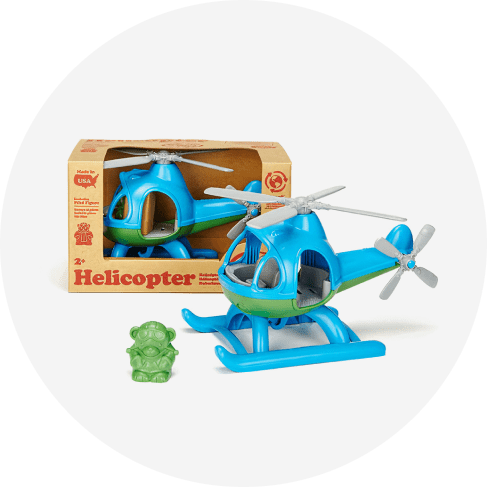 About Green Toys
Made Safe in the USA We're 100% US-made, from manufacturing to assembly to distribution. As a result, we reduce greenhouse gases, energy and save on transportation. Through our tight local supply chain, we maintain stringent quality control and on-site factory presence, provide local jobs, and generate a whole lot of company pride. Recycled Plastic Our products demonstrate that recycling can result in something tangible and meaningful – old can become new. Our toys are living proof that milk jugs, just like the ones in your refrigerator and recycling bin, can ultimately end up back in your playroom. This helps close the loop for kids because they can see their own environmental efforts in action.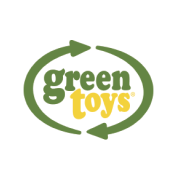 I work for a helicopter company and use this in my table set up for PR's. Excellent item at a great price!

Great toy! Very sturdy and my grands love it! Have had it for over a year now and still looks great with heavy use by 2 toddlers!!

These toys are great for children of any age. They're lightweight but incredibly sturdy...no sharp or rough edges, and usually a very good price.

My son LOVES this helicopter. Only thing I will say is that the little bear does not stay put inside the helicopter but this doesn't matter to me nor my son he LOVES IT.

My son really likes this helicopter. It's easy for him to hold and fly around the house with his hands, pretending. The little guy in comes with tends to fall out. The helicopter blades spin around. A great toy for my 2.5 year old.

My son loves his helicopter and it makes bath time much easier. I can get him cleaned up while he's playing with this toy. It's wonderful! He even takes it out with him when in the car, it just keeps him entertained. It's really well made and easy to clean. Perfect toy no batteries and noises.

Our 3 year old loves all his Green Toys, especially this helicopter! This goes with him to the tub, the pool or gets to fly around the house making emergency landings daily! It is a great brand and everything we have bought from Green Toys has been well-made and able to take a toddler's jubilant play! The toy was nicely packaged and would make a nice gift for any young child.

I am honestly impressed at the durability of this toy. I run a daycare and it has gotten some good smashing done on it. I love the simplicity of the toy. No extra bobbles or stickers or noises (thank goodness). It came with a little single piece bear, which was a nice surprise! It makes me think of those toys that are made of recycled material and are supposedly good for the planet. Definitely worth the purchase and my kids love this helicopter so much, they fight over it constantly.

Very impressed with the quality of this little helicopter. So sturdy and great attention to detail. Both propellers work beautifully. There's a hook underneath for attaching twine or a ribbon for lots of daring rescues. And inside there is plenty of room for cargo or as many passengers can be crammed in behind the pilot's seat. I thought the pilot was a creepy little monkey at first glance from the pictures, but he's actually a cute little bear. My son ditched the bear unfortunately so his Paw Patrol pups or mini Buzz Lightyear could fly this chopper. The pilot seat has a big square protrusion so the bear pilot can fit on top - not bad for the bear, but more crowded for other would-be pilots. The 3 year old hasn't seemed to mind this cramped pilot chair tho, so I have no complaints either. My husband and I were both very impressed with the generous size and high quality of this helicopter!

Great product. Love that it is made from recycled plastic. The only negative is that the bear that comes with doesn't stay in the seat. It falls out of the toy is topped at all. A bit frustrating for a three year old.

Kid likes it. It seems rather indestructible. Wish the hook had a purpose or attachment for it.

Cute Helicopter. My son uses it in the bath and dry land. Lost a star because the bear falls out.
Payment & Security
Your payment information is processed securely. We do not store credit card details nor have access to your credit card information.