Description
Smooth, hairless skin for up to eight weeks
No more shaving or painful waxing. Our Hair Removal Spray allows you spray and wipe for immediate hair-free skin anywhere -- from legs to armpits and face.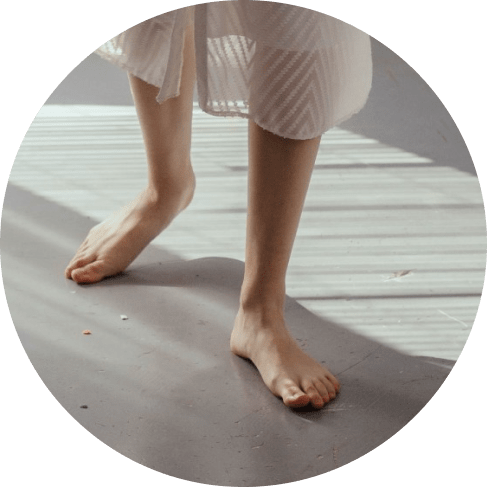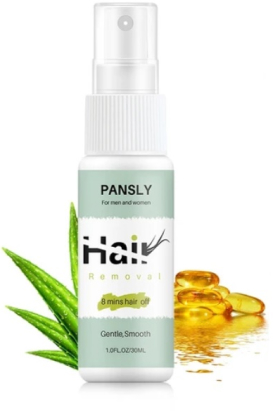 Nourishing ingredients
Our spray consists of aloe leaf juice, allantoin, chrysanthellum, and glyceryl stearate to moisturize, soothe, and aid in anti-inflammatory repair of the skin. Hair removal is usually associated with redness, but our soothing cocktail of soothing ingredients can help minimize post-hair removal irritation.
Smooth skin is just five steps away
Before full-on use, remember to patch test somewhere inconspicuous and wait 24 hours to see if there is any adverse skin reaction. If everything is fine, proceed with full usage.
Step 1: Wash the hair removal area clean and dry.
Step 2: Spray the designated hair removal area and wait for eight minutes.
Step 3: Use a towel or paper towel and wipe against the direction of hair growth.
Step 4: Wash the skin clean with water.
Step 5: Apply moisturizer or lotion if desired.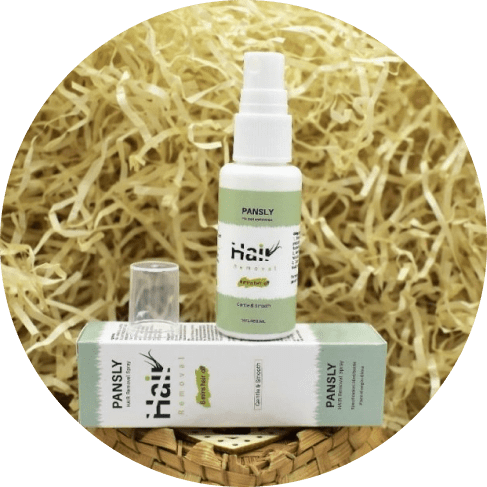 Standard-size use
Get 30ml of product that is good for up to three years.
Store with care
It's suggested that you store this bottle in an area not accessible to children and that is cool and dry, and away from direct sunlight or fire.
I bought this just to try this. I didn't have any expectations at all actully.because I have try many products,since you know some of this items doesn't work at all.but this does work, I been trying for over a week and I started notice some bald spots already. I will need to buy more for next.

arrive so quiackly, and This hair remove spray is definitely what I have been wanting for a long time. the price and quality is good,This inhibitor is a good helper for people with fast hair growth. Helps my skin to be smoother .

First packed in effect is pretty good yo, privacy is clean, hair removal cream is through the skin test, very mild ingredients do not cause allergic skin, it adopts the unique innovation soft mud technology will have a light faint scent, the taste is very good, hair removal cream also added a lot of special skin care ingredients, can say, hair removal skin care one pace reachs the designated position.

Excellent product, I'm very pleased with the performance. Removes hair perfectly after leaving the cream on for recommended 6 minutes. With this product I've not had to do a retouch as is the case with some other hair removal creams I have used. This product was also sold at a fraction of the price I would normally pay on the high street so excellent value for money which is an added bonus.

Hair removes, irritation does not cause, the skin is lotion well calms. Recommend.

For the time being, we'll be watching, it doesn't irritate the skin with 8 min of time

I have never used hair removal cream before. This thing is amazing! ! ! Really! ! After wiping the smooth, silky, moisturizing, soft and supple skin, I spent ten minutes on the test stickers on the legs! ! No hair anymore! No burning! No redness or tenderness! No allergic reactions! ! Just beautiful and smooth moisturizing skin.

Product has a good smell. Did not irritate my skin and leave it smooth. So far I like it. It came really fast as well. Good alternative for laser hair removal in given situation.

Very tender smooth smell and feel after use, love that it's not a harsh chemical scent. I've noticed how hairs got softer and thinner also grow slower. Can't wait for the final results

The effect is amazing and impressive. Finally , won't be tortured by the hair underarms any more. It enables to remove the hair in a short instant. After using it for several times , I have found that the hair of it is reduced to regrow and the skin under the arm feels smooth and tender. As a result of it , it makes me more confident in the public.

I like to use nair to remove hair done there, because I get hair bumps when I use a razor. I decided to give this a try. It was worth it. The it was easy to apply, no burning feeling I get when I use Nair and the smell isn't as strong. But I get the same clean results.

I have been using these for years. If you use the peeling action quickly instead of pulling it up, there will not be much pain or redness. If you pull up and away from the skin, you will be injured and leave a red mark. Sometimes even bruises. The sooner you do, the better. When taking it out, keep it close to the skin. Smooth the hair in the same direction and peel it off the skin in the other direction. quickly!

The hair on my arm is a little long. I used other products before and it grows repeatedly. A friend recently recommended this product. After using it for a period of time, I found that it is really not too long, and it has become thinner and softer. It really surprised me. I will continue to use it.

The first part is the leg, which feels good and clean, and it is not tight after use. Then the armpit is used. The effect is obvious without legs. After spraying twice, the mousse bubble must be close to the part. This effect is good. During the rubbing process, the force is too strong, and the feeling is a little sting. But the effect is still very satisfactory. It is very clean, and the key is not so obvious The black spot of

The hair removal spray has a great effect. The hair removal is clean without leaving marks. The ingredients are also very gentle and not irritating. After ten minutes of spraying on the legs, it will be cleaned with a light rub. The skin is still tender and smooth after use. The smell, the water is cleaned as soon as it is washed, I feel very good, a super favorite.

I have started using it since it arrived and it has been great, it's very easy and practical, I apply it after waxing and the results have been visible, I even carry it with me on my trip because it's very comfortable to load since it doesn't take up space, I'm sure I'll buy it again

I have been two weeks earlier than expected, just need to try it, thanks

After only 5 minutes most of the hairs were ready to be swiped off, but I left it on for 10 mins for good measure. It was SO satisfying watching all the long hairs disappear with the cream in neat little lines. You just run the spatula under the tap to rinse off each section of cream and then just keep going til it's all off. Then rinse your legs with warm water and give them a wash with some mild soap if you want to. The cream doesn't smell bad at all, not like the old veet creams did. My legs were silky smooth afterwards and no hairs were missed by the cream.

I have a lot of hair on my body, but it also annoys me. In summer, I am afraid to wear shorts and short sleeves, because it will make me look strange.I use a lot of hair suppressor products, but over time the hair grows back and it gives me headaches.When I was very uncertain, my friend recommended this product to me.But when I used it, I found I was wrong.Simple, practical and effective!

I used this spray I was so amazed. works as advertised.This stuff works like a charm! I tested on the leg first to make sure i didn't have a reaction.it worked perfect am so happy with product and i do recommend it!

I absolutely hate shaving anything. But getting majority of my body waxed is pretty expensive. The first time I ever shaved my legs in high school I used this & it worked so I decided to give it a go again. The first time I used it I put it on using my hands, which I would not recommend, since it came out super blotchy and I had to do it again. The next day I used the spatula provided which gave me great results. Now I left it on for 10 mins because I also noticed on the first day when I rubbed it on with my hands that it didn't get my thinner hair.

This is the only hair remover I can use. It's great on sensitive skin as long as you get the timing down right. It took me a while to find the line between removing hair and not burning my skin.

I am delighted with this product!! It works as it says it does! I'm still early in the process of using it, but I saw results almost immediately. There are no words to describe the peace of mind and the freedom that this product has given me. Thank you so much to the inventor of this fantastic product!!! I wish you every success -- and please don't stop making it!

Just used this on my legs, I'm impressed. I went about 2-3 months without shaving my legs and tried this product on super coarse Hispanic hair. Nair usually doesn't work on my legs but this product did. Bravo!

Wow! This product is working. I have used it for 11 days and I'm already seeing great results. . I feel so satisfied with this product. I'm loving it so much.I really recommend it to everyone.

Noticed big difference right away and it's amazing. Fantastic product!I love the spray aspect of it goes on very easy and washes off easy. The only thing I would recommend is that you wait at least 10 minutes . I was pleased with the results! Try it and you wont regret it!

I think this product is amazing! My legs have never felt so soft before and it does a great job in removing hair. You just have to make sure that you spray it where you want the hair removed because if you don't, obviously, hair will still be there.

This product works really good, I'm a woman battling embarrassing facial hairs and has tried every kind of product till I came across this one. It's not only reducing the hair growth but is also preventing the unsightly bumps after shaving.

I really rate this product. I have thick black hair and this is the only thing that doesn't cause insane itching and ingrown hairs on regrowth of my bikin line. Sorry for the detail! It is good though. Gets rid of the hair effectively but isn't too harsh for that delicate skin. Doesn't smell as brutal as you might expect being for tough hair. Let's face it - none of them smell nice!

I'm so glad I got this. So much better than shaving. Looks like it will last at least two months if used every week or so. I mostly use for facial hair because, beards on women, not cool.

My wife loves this hair remover! She has very sensitive skin and almost everything she has tried like this hair remover ends up breaking here out bumps all over her skin or making her skin look sunburned! But this spray does what it's supposed to do and leaves her skin so soft and smooth! This product is definitely a keeper for her!

Very useful! My legs are soo pretty. Thank to the store!

Really like the product. Buy it for the 2nd time! Recommend to all women. The result is great

It does not irritate the skin and does not smell any bad. The hair removal spray does not irritate the skin, and it does not feel any discomfort. The hair is clean, and the skin feels smooth and slippery after being removed. What's more, it is very satisfied. It has a lot of content. It's very easy to use. It's very clean. It doesn't have any discomfort or bad smell. Very satisfied!

So far it is working I think. It is ok not the best but it is slowing down the growth.

I was totally disappointed in this product for the fact that its so tiny there's barely enough to do both legs.

This is advertised as if it removes hair and keeps it from growing back. This is NOT the hair removal product. I was disappointed because I was ready to use it for hair removal. Pansly makes a different spray for that. Will report back after using as an inhibitor for a while.

I've been using it for two days and my hair grows overnight ... like significantly... it's a nightmare. So far , my legs feel so soft and for the first time , my leg hair did not appear as it usually does so soon. It's a process. Keep using

This is a compact and easy to use spray. Just spray and go. There is no scent associated with it. I have very sensitive skin and am able to use with no problems. But no significant result after two month of use
Payment & Security
Your payment information is processed securely. We do not store credit card details nor have access to your credit card information.