Description
Hum + flap away
Let a friend of nature stay -- forever. Our Happy Hummingbird Plant Stake captures this bird in a blissful state of harmony, so you can add that playful touch to any planter or vase of your choice.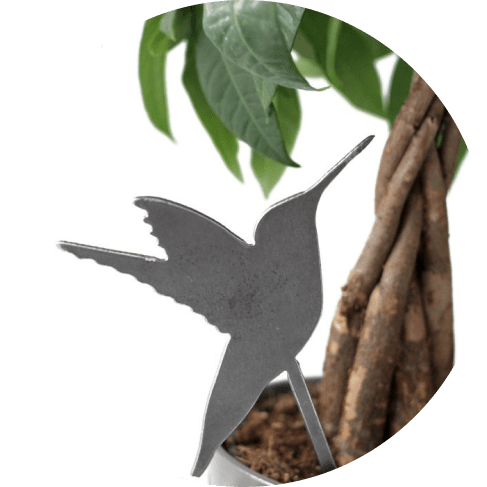 For real-life garden fun
You can almost hear those chirps
Personality is key
So make your plants stand out with this sturdy, cute stake that takes your plant from blah to "wow."
Work it indoors or out
Stick this hummingbird plant stake into any desktop vase or outdoor plant for a touch of detail. It measures 9" in height with a width of 5".
A great gift
Treat those greenthumbers or nature enthusiasts to a unique decorative piece.
Detailed craftsmanship
Highland Ridge plasma-cuts all its metal pieces for stellar detail and smooth curves and corners.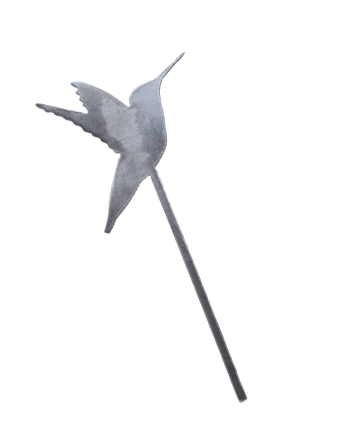 Industrial, farmhouse decor
Get the best in modern decor inspired by the countryside with Highland Ridge and its collection of beautiful garden and home decor pieces. Everything is made with love and care from Tennessee in the U.S.A. for authentic rustic pieces.
strong metal. perfectly sturdy even in windy days

I really like this hummingbird garden stake.

A lovely garden decoration.

beautiful accent to my outdoor potted plants.

I am so glad to have this pretty little bird in my garden

Now my garden is even prettier with this bird!

I guess I was expecting it to be really cheap quality, but it is actually really nice.

It came so fast I was even shocked, and even liked it more when I put it in my garden. it's just perfect.

I put this in a flower pot and it has been admired so. The stake is sturdy and the sculpture of the hummingbird is striking.

Instead of using this in an outdoor planter, I put it inside a floral arrangement -- it looks great.

Bought it for my daughter as a gift but when it came I fell in love with it so I had to buy another one for myself

Placed in large flower pots on my deck. Less expensive than the ones I bought at the hardware store/garden center.

This piece is well made and sturdy. Happy with it and believe it will last longer than just a season out in the sun.

Love how it looks in my large flower pots on my deck. Lots of compliments and "Where did you get that?"

We just had a sidewalk paved and the area landscaped. Looking for just the right touch to a small area near the patio. It is perfect and gets lots of compliments. It makes me smile every time I pass it. Thanks for making such a unique, quality item. I'm sure it will give us years of pleasure.

Cute but smaller than anticipated. My fault for not paying attention to the measurements. It is really cute and looks good sitting in one of my plants at home.

Newest addition to my garden, I like it, but the metal post is a bit short to me
Payment & Security
Your payment information is processed securely. We do not store credit card details nor have access to your credit card information.