Description
A wonderful storage solution!
Give your furry friend a stylish treat with this trendy treat jar. Perfect for pet lovers, the "Hooper" treat jar is a splendid storage solution, whether storing your pet's favorite food or hiding human treats.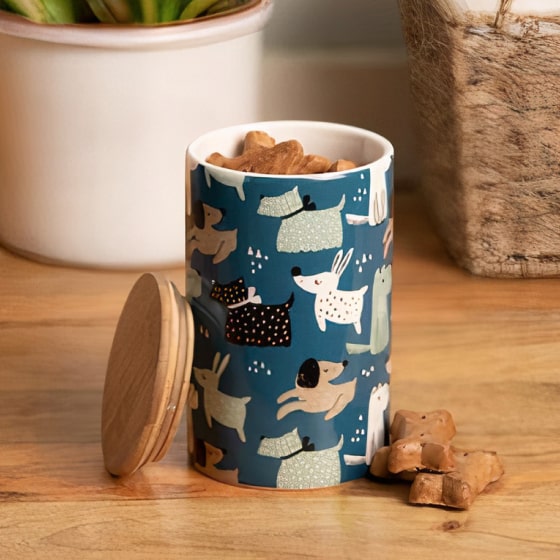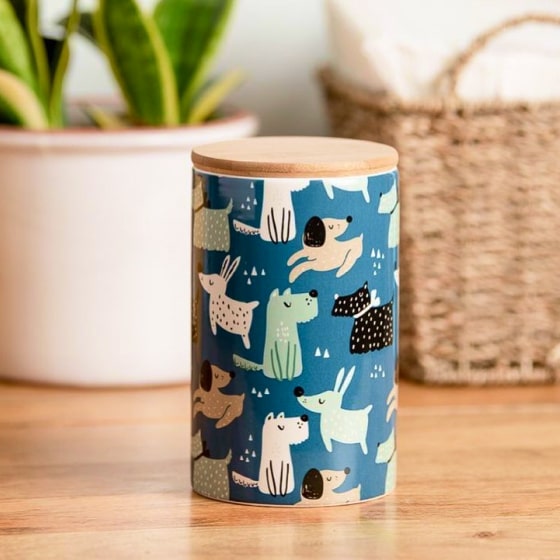 Treat jar features
The jar for all the delicious treats for your pets
Durable materials
Crafted from 100% FDA-approved ceramic, silicone, and sustainably-sourced bamboo; imported.
Vibrant visual design
Vivid, glossy exterior blends your pet's personality with your home's existing decor.
Keeps food dry and fresh
Breathable bamboo lid aerates food, enhancing freshness; airtight silicone seal keeps out moisture, humidity, contaminants, and pests.
Chic storage solution
Measures 6-1/2-inches tall by 4-inches wide with a 32 oz capacity; filled with Fido's favorite food or used to store your own gourmet goodies, like cookies, crackers, coffee, tea, and spices.
Reliable and convenient storage jar
Each colorful container is crafted from heavyweight, FDA-approved ceramic that stands strong against slippage and spills. A breathable bamboo lid and airtight silicone seal keep contents fresh while blocking moisture, contaminants, and pests. Main canister is dishwasher-safe; hand wash the bamboo lid then towel dry.
This is beautiful and of great quality. It was exactly what I was expecting.

Use this for our dog's treats. It is a very attractive container and the lid seals very well.

pretty to look at and easy to clean.

Great quality, great look.

Love it! A little small but very cute and subtle jar for dog treats matches my kitchen perfectly. Only wish is if it was a little more air tight with the seal.

I like that it is long enough to keep our dog's bully sticks in.

I highly recommend it. My only regret is not buying more than one.

Cute pattern, but also a nice quality jar. Perfect size.

Good price for a quality product; want to buy more

I love this treat holder. It's a little smaller than I would have liked but it fits my dog's small treats perfectly. it's perfect enough that it doesn't take up a lot of room in the pantry. I love the color of it

Nice quality product, exceeded my expectations for the price.

This is a cute treat jar.

I am so picky, but this treat holder is adorable. Makes me happy every time I see it.

Absolutely love this dog jar. Very pretty and modern looking.

We have a new puppy and love having an attractive treat jar to keep on the counter.

Very pretty dog treat jar. It's not that heavy so it can get a bit wobbly and fits a good number of treats. Lightens up my pet's eating area very nicely.

The jar is adorable and actually holds a lot more treats than I expected. Super happy with this purchase!

It's styling and it keeps treats fresh. What more could you want? I really like this. My dogs are fans of salmon jerky sticks. They fit perfectly.

Very cute little jar for the smaller treats I like to keep easily accessible. Has a nice seal to keep the lid secure too.

Love this it looks super great on the counter. And I like how airtight it is. I've had several people ask me where I've gotten it because they think it's adorable too

This is just what I was looking for on my nightstand. It looks classy and holds a good amount of treats for my dog. Every night my dog waits by my bedside for his nightly snack.

This dog treat container fits the perfect amount of treats. It seems durable and the lid is easy to open but still keeps treats fresh.

This cute, sturdy and easy to clean treat container is perfect for our family. We were storing the treats in a plastic bag. This is much cleaner and WAY more cute than a plastic bag! They even recognize it as the "treat" container. 💕
Payment & Security
Your payment information is processed securely. We do not store credit card details nor have access to your credit card information.