Description
Encourages creative play
Suitable for sidewalk art and play
Made with non-toxic and natural ingredients, the Eco-Kids Hopscotch Chalk set is perfect for Easter egg hunts or some exciting arts and crafts project. Get yourself and your kids in the Easter spirit by playing in the beautiful spring weather with your very own carton of eggs... whoops! We mean chalk!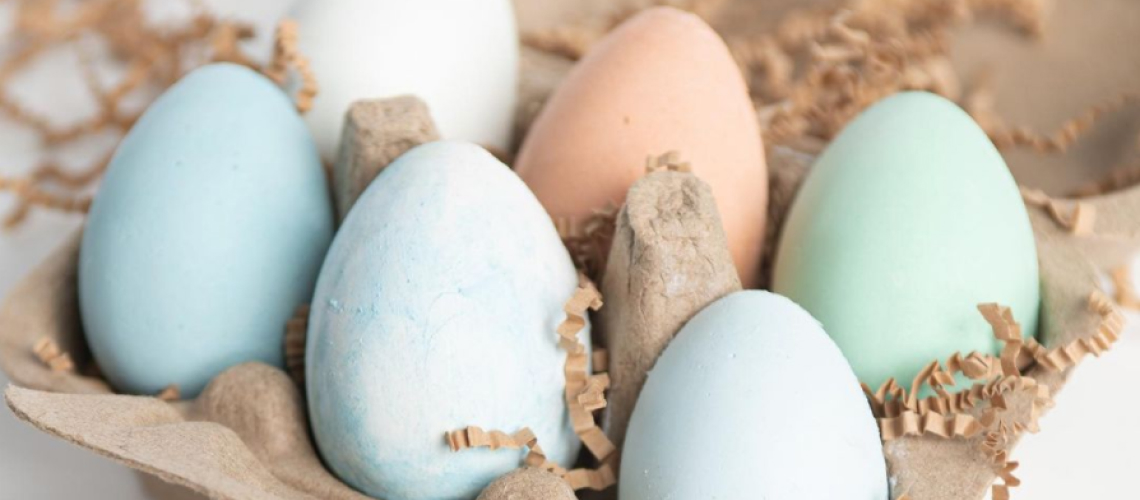 Fun for the whole family
This set was created for easy drawing
Pretty pastel hues
This engaging kit features six chalk eggs in colorful pastel hues, along with everything your child needs to decorate and display their own eco-friendly egg masterpieces!
Sizing information & details
You will receive a case of 6 pieces of half egg-shaped chalk per unit. Approximate dimensions: 6" x 4" x 3".
Comfortable for kids
Chalks in this set are egg-shaped to accommodate children's hands, and the soft edge makes for easy line drawing.
Natural ingredients equals peace of mind
Safe, non-toxic, washable chalk eggs are made from all-natural materials: chalks and natural pigments packed in cardboard carton.
For children big and small
Easy to wash from sidewalks and driveways, this eggstraordinary, simply superlative, top-notch hopscotch chalk set encourages outdoor exercise and loads of laughter! Made with love and care in small batches in Portland, Maine, this set was designed to be safe to play with and non-toxic for your kids and the environment!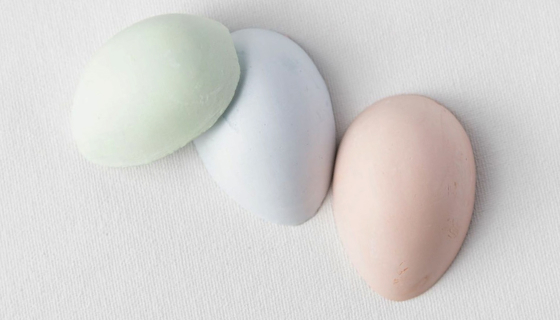 About eco-kids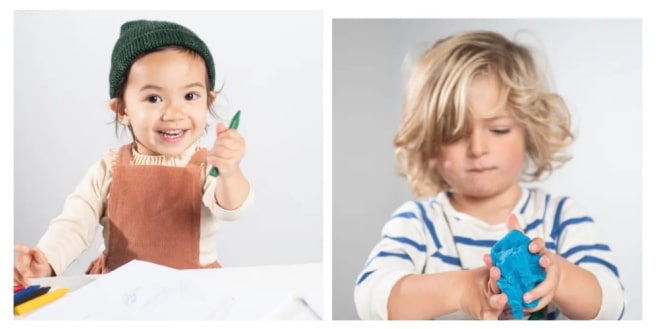 eco-kids started as a family run business that produces all natural art supplies. It began simply, as all good things do, with the molding dough recipe Cammie's mom made for her as a child. After incorporating natural ingredients into the recipe, the dough was transformed into eco-dough, rich in color, soft in texture, with a delicate aroma like no other. In 2008 Cammie and Kip began selling it at farmers markets. From there, Eco-kids evolved. This woman owned business lives by the mantra — creative play the natural way. Products are developed with this belief in mind. From using non-toxic, natural ingredients to the unique packaging, Eco-kids works with environmentally friendly companies from around the United States to bring you fresh ideas in the world of art supplies. The kids test and ensure the art supplies are fun to play with — after all, that's what it's all about.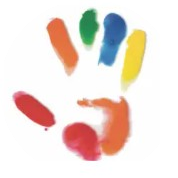 Designed In
Portland, Maine
My grandson loves these! He is two so he enjoys working on his letters and numbers on the driveway with these.

These egg shaped sidewalk chalks were a perfect fit for my grandson's little toddler fists. Have handy wipes ready!

These chalk eggs are adorable and great for small hands. Unlike, stick chalk, the egg shape makes it easy for small hands to put pressure on them with out breaking! Highly recommended for toddlers.

I got these for my 19-month old and she uses them all the time. The shape is easy to hold and the colors are great. They come in an egg-like carton which makes storage easy and neat. When my daughter gets excited and throws the chalk, it doesn't break. I will definitely buy these again.

I bought these as a last minute Easter gift for my daughter and when they arrived I couldn't even wait for the Easter bunny to bring them! I ended up opening them right away, and we colored the patio together as a family. These are a lot of fun, I definitely recommend them to anyone considering chalk as a gift for any occasion
Payment & Security
Your payment information is processed securely. We do not store credit card details nor have access to your credit card information.