Description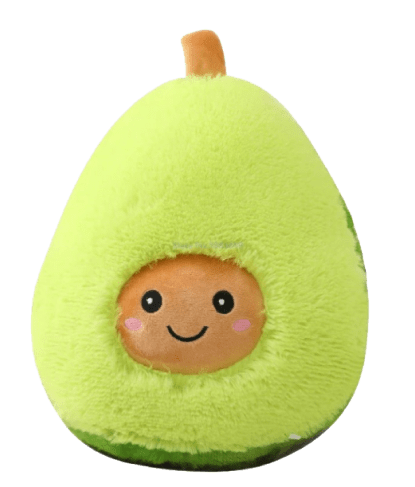 The happiest fruit out there
(Yes, avocado is a fruit). And a very healthy one -- known for its omega-3 fatty acids, protein, riboflavin, and more. It's no wonder our Huggable Plush Avocado Toy has such a huge smile on its face. A symbol of happiness, joy, and great health, this cuddly plush is a great gift for any child, nutritionist, or avocado fanatic in your life!
100% polyester fiber. 100% love.
Squishy. Cuddly. Loveable. This avocado plush will serve up a healthy dose of love and joy to anyone recipient. Our 9.5 x 9.5 in Avocado Toy is great for children as little as three years old -- and adults up to any age. No one can resist such a happy, contagious smile. Plus, the plush doesn't shed or clump for a fuss-free hug bud.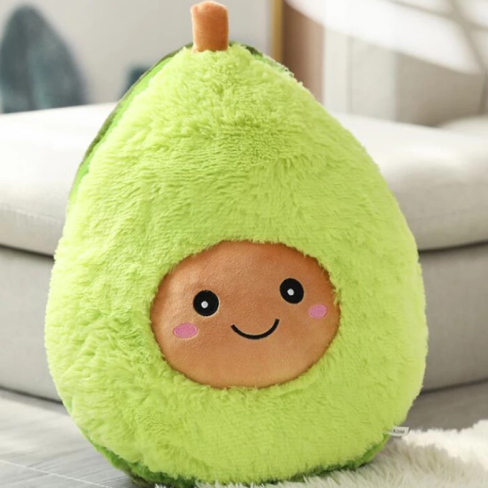 Super-cuddly roommate
Got room for one more in your apartment or dorm room? Need an extra buddy for your dog? Let our super-friendly Huggable Plush Avocado Toy in. It makes a great bed mate or couch mate for lazy afternoons lounging around and cold nights cuddled in bed with Netflix.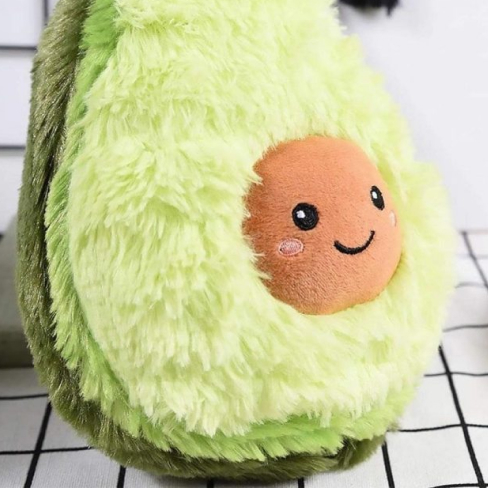 This is one of those products its hard to review because there isnt much to expect!!! But anyways, my gf tagged me in a post with a picture of this exact same avocado. Its smaller than I thought but its really cute and soft and my gf loved it so im happy with the product.

I'm very pleased with this product! I bought this as a present for my girlfriend and was surprised by how large it is, which makes it perfect for hugging! The stitching, materials, and detail of this avocado were of wonderful quality and the cute little face has the most contagious smile!

Delivered intact. Corresponds to the description. I indicated the wrong index, but the store settled everything and the order came. Thank you seller!

Much better than expected. Best qualitative, odorless, very cute, fluffy and soft. I recommend!!

I had seen these stuffed avocados when I was at an arcade in a claw machine with my nephew. We were trying to get one to but weren't successful. So happy they sell them on here. I was worried it would be really small but it was a pretty good size. My nephew loves it. Thank you!

Bought it for the girlfriend, she absolutely loves it. It's super cute and feels to be built very well.

This was a gift for my daughters 13th birthday. She loves these little plushies. I thought it was a little small for the price but she loves it. It is actually well made and extremely soft. One of her new favorites.

It's super fluffy and cute. I bought it for my brother and he adores it. If someone loves avocados or slushies or both, this guy is a good choice. Oh, but do keep in mind, this Avacado is not a small plushie nor is it super big. It's medium sized, big enough to cuddle and squish in your arms but small enough that it's not a pillow.

Cool toy! came for 2 weeks!!:) soft and pleasant to the touch, the size corresponds to the description, does not smell anything. Only the tail, here, not in the place where the store is written, so 4⭐

The plushie is adorable and it's a great gift. I got it for my girlfriend and she was so happy with it. The product quality is great and the material is so soft you just can't resist buying it. Would definitely recommend buying and the price is definitely worth it.

SO CUTE AND SOFT! way too pricey in my opinion but .....how can I resist? This keeps selling out all the time so the moment it was in stocked again I had to get it 💚it's the perfect size to cuddle with ✨

Very cute! This pillow was a gift for my stepdaughter and she loved it!

My teenage daughter had seen this and went crazy over it (not sure why - it's just a stuffed avocado)! She loves it and I have to admit it's pretty cute and well made.

So soft. So cute. They have become a part of our family. Pro tip: you can smooth or rough the fur of their face to give them sideburns or angry eyebrows, etc.

Super cute, plush, and provides a nice gift. Great for avocado lovers or kids! A little pricey but it's a good quality crafted product.

My wife loved it. She saw one exactly like this one, but bigger at a store, but she was looking for something not as big, so I went online trying to see if I could find something similar. When I gave this to her as a gift, she was so happy. She definitely loved it.

My mom is a cancer survivor and when I got this for her, had no idea how much it would make us both laugh and smile!!! We both love avocados, but the adorable personality on the face of this particular pit cannot be understated. TOO CUTE!

This is the most adorable thing I have ever seen!!! I absolutely love it! Nothing bad to say about it at all.

Really glad I got this. It's a gift for my niece's birthday and I know she'll love it! It's super soft and about the size of my head.

Christmas gift for my sister and she loves it! Super soft and cute.

It's very soft and cute. It's not too big and not too small. The only odd thing was a bit of a certain smell to it, but probably due to the packaging it was in. Over all, very good!

I don't like avocados to eat myself, but my granddaughter loves them. She saw the picture of this pillow online and put it on her wish list on the spot. I was pleased to discover that it is even cuter and fluffier than it appeared online. She will love it!

Bought this for my new nephew's baby shower. After seeing the first ultrasound, my young niece and nephew named the unborn baby "Baby Avocado." This was the perfect gift and can be used anywhere in the house including the baby's room.

I bought this as a gift to my young daughter, the plush is very soft like a teddy bear and she loves it, it is now one of her favorite toys and she hugs it everyday. Highly recommended.

It's very soft and cute. It's not too big and not too small. very good!

This is the cutest little avocado I've ever seen. It adds a little pop of color to my room, and I love it! It was a bit pricey, but shucks its so cute!!

This is a perfect gift for my niece, she loves avocados!! This pillow is really soft and most of all it is probably the cutest pillow out there!

My little girl loves her "Abby-cado" takes it with her everywhere. "It's so soft and I love her, you'll probably want to get one." Direct quote from my daughter.

I love it!!! The size is perfect for the price. It's so fluffy... I just love it! I made the purchase without consulting my husband lol.

This was absolutely exactly what I was hoping for. It was a gift. They love it. Very cute, well stitched.
Payment & Security
Your payment information is processed securely. We do not store credit card details nor have access to your credit card information.